Hamilton Beach 12 Cup Coffee Maker, Programmable Brewstation Summit Dispensing Coffee Machine Review

Hamilton Beach 12-Cup Coffee Maker (Click For Price)
---
Hamilton Beach 12 Cup Coffee Maker
The Hamilton Beach 12 Cup Coffee Maker is a brewstation that I have found to be one that is just ideal for making a lot of great tasting coffee for when you are serving family and friends and it's  extremely easy to use because of its one hand dispensing system. This brewstation by Hamilton Beach has no carafe to worry about breaking or keeping clean and there is no need for pouring and there are no chances for spills. That means, there are simply no messes to have to worry about with this Hamilton Beach coffee maker.
Hamilton Beach: Brew 12 or 1 Cup On The Go
Hamilton Beach 12 Cup Coffee Maker Programmable Brewstation Summit Dispensing is the ideal coffee maker for anyone who is a super fan of coffee and wants to be able to use their favorite coffee in a coffee machine that will over and over again produce delicious coffee. The Hamilton Beach coffee maker has the ability to brew multiple cups of coffee and it can also brew one delicious and fresh brewed cup at a time making it an extremely versatile brewstation. I enjoy the ability to be able to program the brewstation as well. It allows you to choose from bold to regular brewed coffee and you can even brew some iced coffee when you are in the mood for something cool and refreshing. You can choose to brew the entire 12 cup capacity or you can choose to brew just small batches of coffee when you know that you are not going to go through 12 cups of coffee. This is a great feature because it saves on money because you won't be wasting any of your favorite coffee.
"Hamilton Beach is a life saver with the adjustable auto shutoff system!"- Espresso Gurus
Another great feature that is quite helpful that comes with this Hamilton Beach 12 cup coffee maker is its adjustable auto shutoff system. This is a programmable shutoff system that allows you to set it to automatically shut off anywhere from 0 to 4 hours. This way it keeps the coffee warm for you as long as you need it and if you happen to forget to turn off this coffee machine it will do so for you at the time that you have programmed it to do so. Just a great feature to have.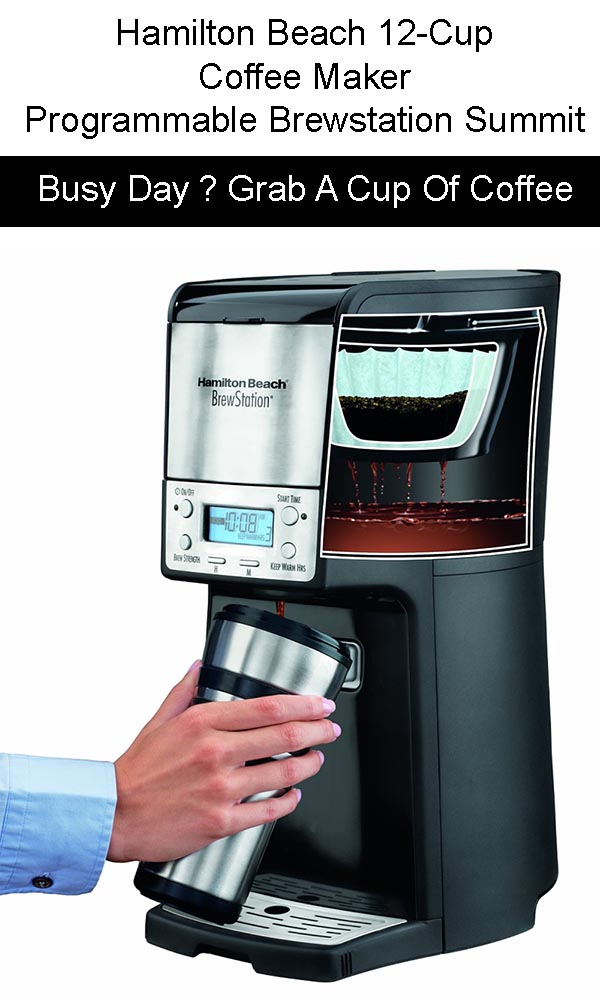 Hamilton Beach 12-Cup Coffee Maker (Click For Price)
No need of carafe with Hamilton Beach 12 cup coffee maker, Coffee stays hot inside the machine.
You'll also love the fact that this coffee maker has a very gentle warming heater for the coffee and that is how it keeps the coffee at the ideal temperature for you. Because there is no carafe with Hamilton Beach 12 cup coffee maker there is no hot plate like with other coffee machines. So this means you'll never have to worry about any scorched coffee or any carafes with burned bottoms to have to clean up. You will always have fresh tasting perfect coffee every time you go to serve yourself a cup.
Sleek Look & Stainless Steel Control Panel – Hamilton Beach
On top of all the wonderful features Hamilton Beach 12 cup coffee maker comes with it is also a very nice looking machine with its sleek look and stainless steel control panel it's going to look great in any kitchen. It also doesn't take up much room on your kitchen counter either because it's only 16 inches tall and the overall depth of this coffee maker is just 9.25 inches so it's pretty compact as well.
Enclosed Brewing System: No Fuss, No Mess & Time Saver
Its enclosed brewing system is what most coffee drinkers love about this coffee maker because it cuts down on a lot of work that other coffee machines put you through and because of this system it will always be at the right temperature and will hold the flavor of your favorite coffee for hours on end.

Hamilton Beach 12-Cup Coffee Maker (Click For Price)
It's Quick & Easy To Refill The Hamilton Beach 12 Cup Coffee Maker
The ease of use is unbelievable. There's no need to fill a heavy and often times awkward glass carafe that needs to be poured into the coffee machine. All you have to do here is add the water directly to the machine and add your favorite coffee either to a paper filter or use the permanent filter. Once brewed all you have to do is fill your favorite coffee cup with coffee right out of the coffee machine itself.




The Verdict: Hamilton Beach 12 Cup Coffee Maker A Great Value For The Money!
Hamilton Beach has out done it self with the 12 cup coffee maker. It's a great coffee machine that wont break the bank and at the same time brew a quality cup of coffee every time. Must have in the kitchen for anyone who is one the go and never seems to have time get a cup of coffee. This coffee maker will make sure that you have your daily cup in your hand before you leave the house.
(To Order Click The Link Below)


Hamilton Beach 12-Cup Coffee Maker (Click To Order)
---
If Hamilton Beach 12- Cup Coffee Maker is just not for you, then use the Amazon search tool below to find another coffee maker.