Hamilton Beach 12 Cup Stainless Steel Twist Lid Percolator Review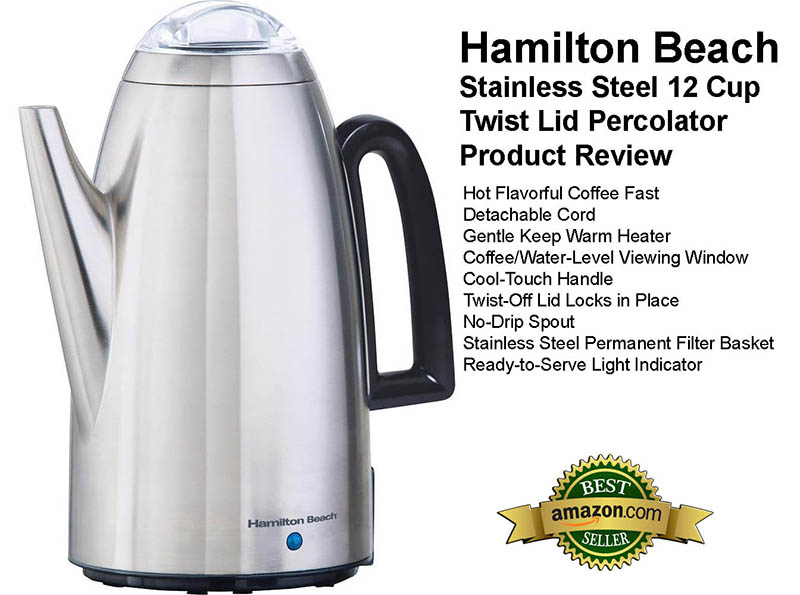 (For The Latest Price Click Here)
---
Hamilton Beach Twist Lid Percolator
As great as those single serves and automatic coffee makers may be, there are some coffee drinkers, like myself who prefer a lot less bells and whistles when it comes to coffee brewing. This is why when I first tried out this Hamilton Beach Twist Lid Percolator, it was love at first brew. Here you have a way to brew your coffee with utter simplicity and no worries about trying to figure out how to brew this type of coffee, this kind of latte, espresso, and so on. This percolator is as simple as it gets when it comes to brewing a delicious cup of coffee.
Go Back In Time With Hamilton Beach Twist Lid Percolator: Retro Design
Hamilton Beach Twist Lid Percolator is the type of coffee maker that takes you back to the past and if you are into anything retro then the Hamilton Beach Percolator is going to fit right in. This is a attractive stainless steel percolator that won't take up much room in your kitchen and will add a little retro class to your overall kitchen décor. Even though this percolator is a blast from the past, it still has a nice sleek and even somewhat modern look to it so that even the most modern kitchen will be enhanced by it's great looking design.




Hamilton Beach Twist Lid Percolator Is Fast Compared To Others!
You might think that because it's a percolator that it's going to take a long time to brew some great tasting coffee for you. However, that couldn't be further from the truth because the coffee you brew in this Hamilton Beach Twist Lid Percolator is brewed a lot faster than the percolators of your mother or grandmother's time. It may not be as fast as some of those more complicated coffee makers on the market but you'll be well rewarded for the wait when you discover just how great the coffee tastes brewed in one of these percolators.
Easy To View Water Level – Twist Off Glass Lid – Ready To Serve Light
Hamilton Beach Twist Lid Percolator has an easy to view and convenient coffee/water level so you will know just how much coffee or water is left in the pot and it has a really nice twist off lid that also locks into place when brewing and serving. The lid is glass so you can also see when your coffee is brewing. When it's ready to be served there is a "ready to serve" light that goes on so you won't be kept guessing about when the coffee is done and ready to serve. This light will let you know when the brew cycle is done and the keep hot mode has begun. Hamilton Beach Twist Lid Percolator will keep your coffee hot as long as you need it to with its "keep warm heater".
Hamilton Beach Twist Lid Percolator – Detachable Power Cord
Hamilton Beach Twist Lid Percolator comes with a cord you can detach which makes it very convenient because you can then take the entire percolator over to a table for serving you and others right where they are sitting. It also has a very cool to the touch handle and a spout that is no drip so it makes it easy to pour without spilling any and making a mess. The removable cord also makes it a lot easier to clean and to store away if you don't want to keep the percolator on your counter.
Hamilton Beach Twist Lid Percolator – Quickly brews 12 Cups Under 12 Mins
Hamilton Beach Twist Lid Percolator makes great tasting coffee and for the kind of coffee maker it is it can still brews coffee pretty quickly. In fact it can brew one cup in under a minute which means you can brew the entire 12 cup capacity in under 12 minutes. Not only does it brew quickly, it is also extremely easy to clean because the permanent stainless steel filter can come right out and easily go into your dishwasher for quick and easy clean up.
The Verdict: Hamilton Beach Twist Lid Percolator – Winner!
Finally, with Hamilton Beach Twist Lid Percolator you'll never have to worry about breaking those fragile coffee carafes that come with the more complicated coffee makers and cost almost as much as buying a new coffee maker. Instead you will have something that not only is durable but also very reliable each time you brew a pot of your favorite coffee.




---
Hamilton Beach Twist Lid Percolator Customer Ratings

To Order Your Hamilton Beach Twist Lid Percolator Click The Link Below
Hamilton Beach Twist Lid Percolator, Stainless Steel, 12-Cup (Click To Order)
---
To search for your favorite products use the Amazon search tool below.