Hamilton Beach Coffee Maker: Grind and Brew Single Serve Review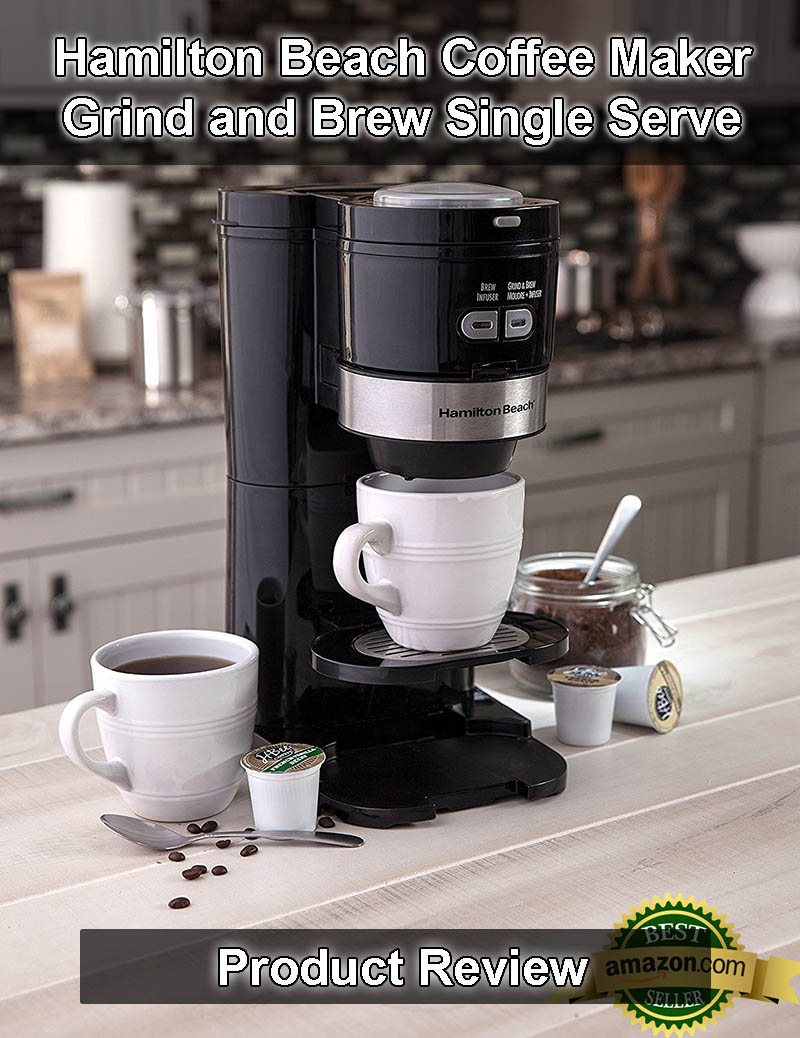 Hamilton Beach Coffee Maker (Click For Latest Price)
---
Hamilton Beach Coffee Maker
Product Review: Grind and Brew Single Serve
As an avid coffee drinker, one that demands great tasting coffee every time you want a cup, I am always looking for a coffee maker that will get the job done. Most people who prefer that their coffee be fresh beyond fresh understand that the only way to get that is from fresh ground coffee. Hamilton Beach seems to understand that and this Hamilton Beach Coffee Maker Grind and Brew Single Serve offers avid coffee drinkers the opportunity to not only brew fresh coffee whenever they like but also grind their own coffee so they are ensured the freshest cup of coffee around, right in their own kitchen.
---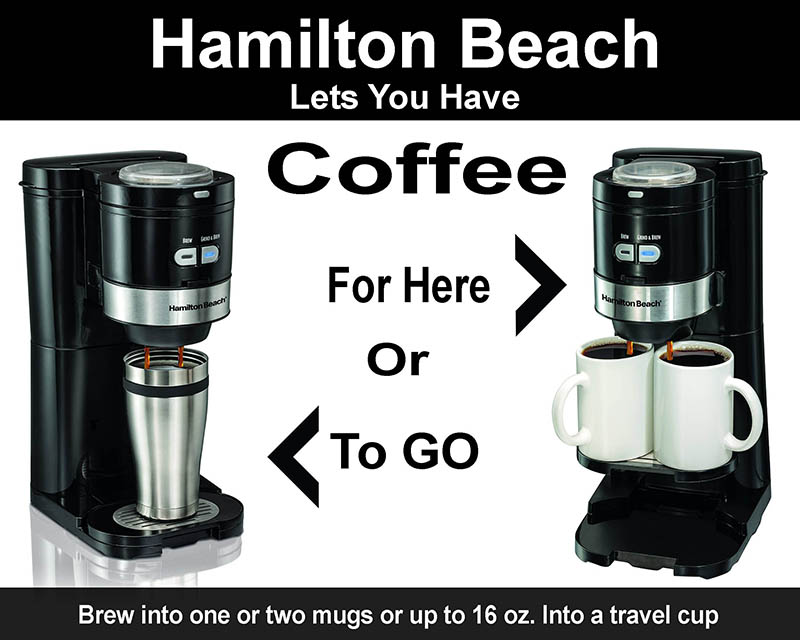 "With Hamilton Beach It's All About What You Want." – Espresso Gurus
I find this Hamilton Beach Coffee Maker – Grind and Brew Single Serve ideal for that first shot of morning coffee when you only have time to brew just one cup and have to take off for work. You can quickly grind whatever coffee beans you want and then brew up to 16 ounces of fresh coffee that will pour nicely into your travel mug and off you go. Couldn't ask much more from a single serve grind and brew coffee maker.
Hamilton Beach – Brew What You Need Only!
This coffee maker is ideal for the coffee drinker who just wants that first jump start in the morning and doesn't want to have to brew half a pot or a full pot of coffee and then worry about wasting the rest of their coffee. This is not only convenient but in the end it saves you a lot of money on coffee and we all know that coffee isn't always cheap, especially if you drink some of the more exotic types of coffee that there is on the market.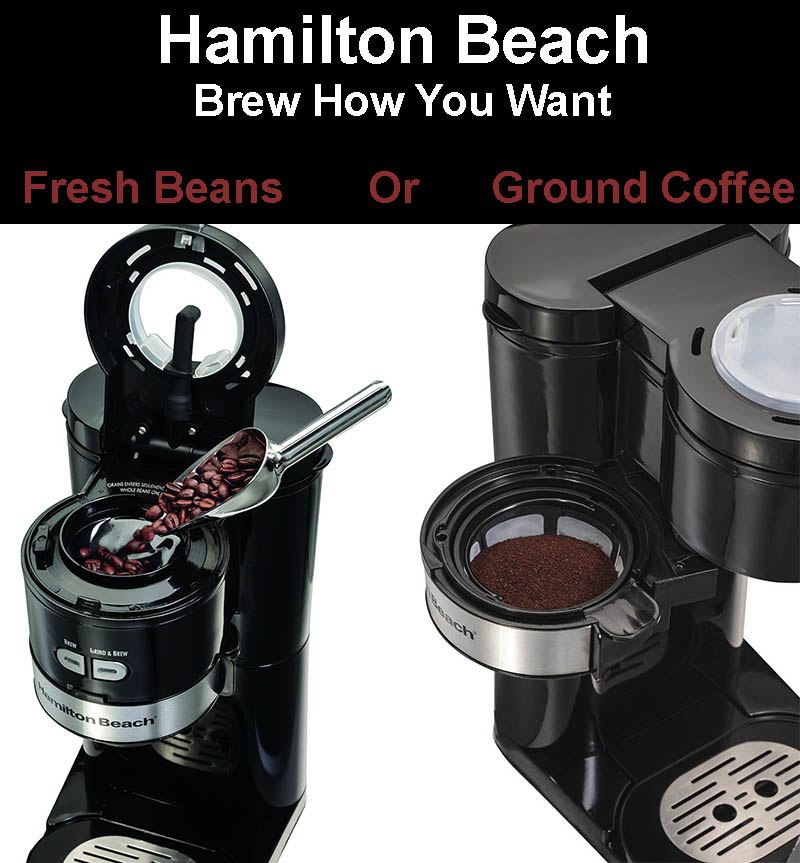 Hamilton Beach Is Easy To Use & Quick
I really enjoy just how easy this coffee maker is to use. All you have to do is simply fill the bean chamber up, no need for measuring since it holds just the amount you need for a delicious cup of coffee, add your water and simply press the button that says "Grind/Brew" and before you know it you are served up one delicious cup of freshly brewed coffee. Now, if you are concerned about the fact that it brews only single serve, no problems there, it's so fast in its brewing time that even if you want to serve someone else a cup of coffee, you can do so in no time flat. This means that if you have different flavors of coffee you can easily serve family and friends a different cup coffee depending upon their own preferences.




Automatic Rinse Cycle – A Life Saver Feature Built In
One feature that this Hamilton Beach Coffee Maker has that is really an asset is that it has an automatic rinse cycle that helps to clean out the grinding chamber. By doing this it prevents the grinder from getting clogged so you never have to worry about any clogs to clean out before brewing your next cup of coffee.
Hamilton Beach – Use Coffee Beans Or Pre-Ground Coffee
So, what if you don't have any coffee beans that need to be ground? No problem there. This coffee maker will also let you add your favorite pre-ground coffee in its permanent filter basket and then all you have to do after its filled is just press "Brew" and it will quickly brew you up your favorite pre-ground cup of coffee.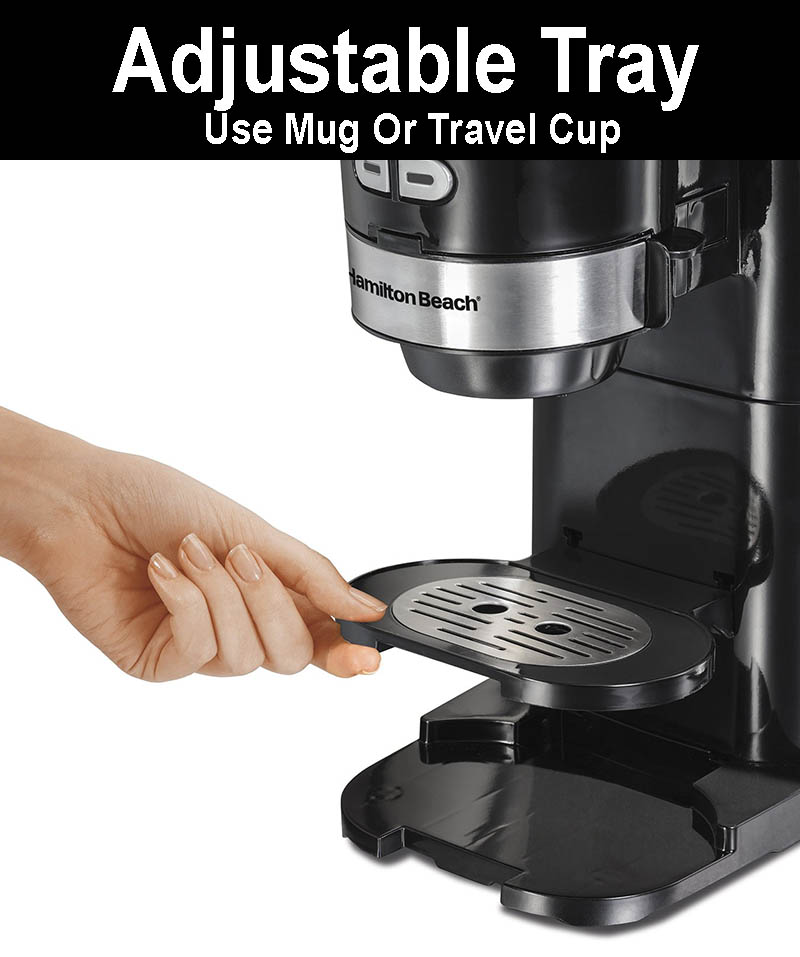 Any Cup Size Will Do Since Hamilton Beach Coffee Maker Has An Adjustable Tray.
This coffee maker also has an easy to use adjustable cup rest that will allow you to use your traditional style coffee mug or you can use your travel size mug so you can take your coffee with you wherever you go. So you can either make a 16 ounce travel mug full of coffee or you can also make two eight ounce cups at the same time because it also comes with a dual spout that delivers two streams of coffee at the same time.
The Verdict: Hamilton Beach Single Serve Is One Of The Best Single Serve Coffee Makers Out There.
Best of all Hamilton Beach Coffee Maker Grind and Brew Single Serve is a super easy coffee maker to use. It has two big buttons on the front that gives you one touch operation which makes brewing your favorite coffee simple as could be. Once you have filled it up with your coffee and water, push one of the buttons and before you know it, coffee is done. This coffee maker will also shut off automatically once the brew cycle is over so you never have to worry about turning it off yourself. If your still looking for another opinion then look at the customer ratings on this amazing coffee maker below.
---
Hamilton Beach Coffee Maker Customer Ratings

Want To Order? Click The Link Below For The Lowest Price!

Hamilton Beach Coffee Maker (Click For Lowest Price)
---
Hamilton Beach Grind & Brew Single Serve Coffee Maker Video Review

Hamilton Beach Coffee Maker (Click For Lowest Price)
---
Want to search for more option? Use the Amazon search tool below and have it delivered to you today!