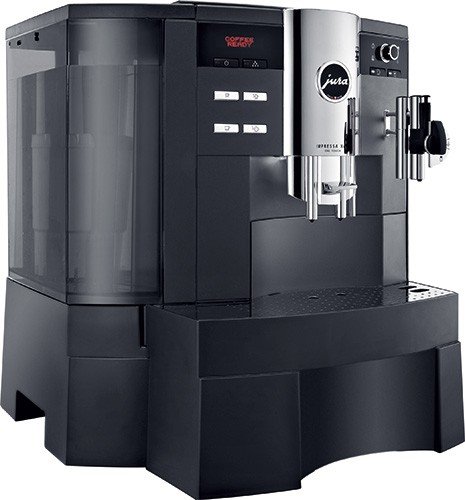 Jura Impressa XS90 (Click For Latest Price)
Jura Impressa XS90: Product Review
If you are a big time coffee drinker and are looking for an extremely high performance coffee center then you shouldn't need to look much further than the Jura Impressa XS90 One Touch Automatic Coffee Center. This coffee center by Jura has a one touch system that lets you make a variety of different hot beverages like cappuccino, lattes, espresso and more and without ever having to move the cup from its position on the drain tray.
High Performance 15 Bar Pump & Two Thermo Block Heating Systems
The Jura Impressa has a high performance 15 bar pump with two thermo block heating systems and the burr grinder has six different settings with an active bean level monitoring system so it ensures that you will have perfectly fresh ground coffee each time you want to brew. It also has a nice energy saving mode that not only will help you save on energy but in the end will help you save on money.
12 Drinks Pre-Programmed
The Jura Impressa is a total coffee center that not only includes the ability to brew cappuccino but also latte macchiato and ten other different types of coffee beverages at the touch of a button. It takes out all the hassles and all the guesswork for you so that you never have to worry about making a mistake when you are trying to brew one of your favorite hot beverages.
Jura Impressa Comes With "Intelligent Pre Brew Aroma System"
This coffee center will get the best out of each and every blend and roast of coffee that you give it to grind and brew with it's "Intelligent Pre Brew Aroma System. It's optimum blend of both small and large grains is guaranteed by the six different settings on the precision grinder and it has an active bean level system that monitors the beans being ground to ensure that the grinder on the Jura Impressa never runs on empty. All you have to do is turn and press the Rotary Switch and you can vary all of the settings in order to suit your own personal taste or the tastes of others.




User Friendly Digital Display
This Jura Impressa has a great display dialogue system that has clear legible red symbols that will indicate when one of the maintenance programs needs to be activated so that the machine can easily maintain itself in order to continually produce high quality and great tasting coffee over and over again. This coffee center will also walk you through all the necessary operating and programming steps in a choice of seven different languages as well. You can also use the Jura Impressa's energy saving mode when it suits the situation to help you save money and energy without giving up any of the different coffee specialties that come with the machine. Also, if you are planning not to use this coffee center for a while, you can use the machine's built-in main switch to shut off all the power to the main power supply.
50+ Cups Of Coffee Capacity
This coffee center is ideal for the person who drinks a lot of coffee and loves to entertain those who feel the same way about coffee as they do because it has a capacity of 50 cups with its 1.5 gallon water tank and grinder that holds 10 ounces of coffee beans and the grounds container holds up to 40 portions at once. This means that this machine would also work well in a small or medium office or even for a small cafe.
Easy To Clean & Maintain
You'll be happy to know that the Jura Impressa is relatively easy to use and makes perfect coffee beverages each and every time you use it without you having to do much more than push a simple button to get what you want. Clean up of this coffee center is also extremely easy and some say that it's easier than cleaning your standard coffee pot, so that's a major plus for this coffee center.
Each Button Is Programmable
This coffee center is nice looking and very well constructed and it gives the user great ability to be able to customize each button on the machine in order to make whatever kind of coffee they want for their style, taste and even cup size. Another really nice thing about this coffee center is that it is very quiet when compared to other similar models on the market.
Jura Impressa: Barista In A Machine
This machine is ideal for the person that has little to no experience in making specialty coffees because it not only does all the work for you but walks you through various steps in order to make the 12 different varieties that the machine can produce. Even without any experience this machine will allow the user to brew coffee as if they were a seasoned barista. That's why this machine is not only ideal for the home kitchen but also for those who own a small cafe. This coffee center is so easy to use that even employees who have never made specialty coffee before can use the machine with great success and provide customers with deliciously brewed coffee never realizing that the cafe doesn't even have a real barista making the brew.




The Verdict: Jura Impressa "Worth Every Penny!"
Yes, the Jura Impressa is quite expensive but if you can afford it, then it's well worth every penny that you spend on it. As for a small cafe owner, the price tag really isn't all that much if you are concerned about brewing some of the best tasting coffee around for your customers. There's no doubt that they'll be pleased and more than likely will keep coming back for more delicious freshly ground coffees. It's also a good investment for those who have a small to medium office and want to keep their employees happy with a coffee center that has enough variety of coffee choices to keep everyone happy. In the long run, it will end up saving you money.

Jura Impressa XS90 (Click For Latest Price)
Still not convinced Jura Impressa XS90 is the best choice for all of your coffee needs? Take a look at what other customers have to say about it.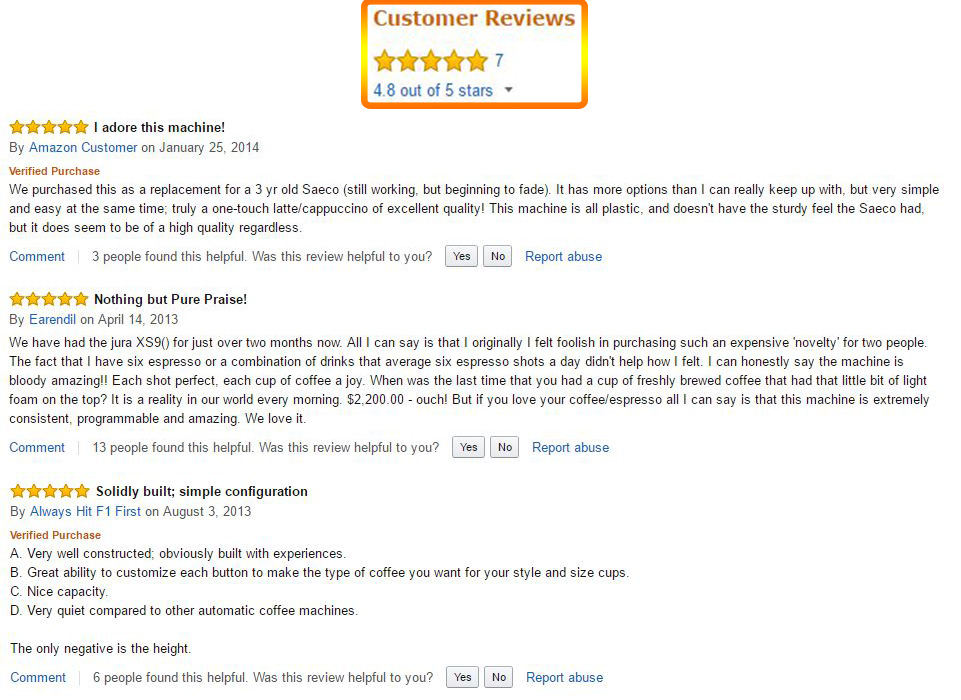 Want to check out other options? Use the Amazon search tool below and get the latest prices on anything.