La Pavoni BAR-T 2V-B Commercial Espresso Machine Review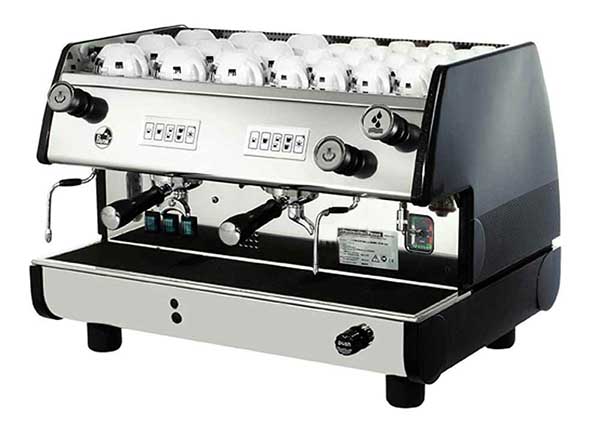 La Pavoni BAR-T 2V-B Commercial Espresso Machine (Price)
---
La Pavoni BAR-T 2V-B
La Pavoni's quest for an immaculate espresso coffee machine started from researching creative ideas and building panels in thermoplastic materials and increasing the pace of production cycle significantly. Today it considers ergonomics as one of the key factors in making a worthwhile espresso machine.




Professional Grade Commercial Espresso Machine
La Pavoni BAR T 2V Black commercial espresso machine is an excellent espresso machine for those learning to make espresso and for professional baristas as well. It is an electronic programmable dosing espresso machine with additional features of digital control pad and microprocessor. With the help of four cup size selections, it has the ability to process continuous brewing and has a stop button as well. It possesses pressurization system with press-forged nickeled brass groups. Its durability cannot be debated as groups and made of solid brasses which are chrome plated. Since it's a commercial machine therefore there is always a need of making multiple espresso shots simultaneously, a need fulfilled by separate solenoids. The bottom line for all coffee lovers is how well the machine pulls nice crema and that's precisely this machine has to offer.
The choice of barista all over
There are some other unique features of this machine admired by many users in their feedback. First of all its high quality group heads as discussed is a major advantage of its rivals. Benefit of the structure and quality of group heads eliminates any sort of group dripping. Another advantage this machine has is that if by any outside chance the machine needs access for repairs then it can be easily done with the help of its large copper boiler which is equipped with front mounted transversal heat exchangers and has injectors for each group head. There is also a need for consistent water circulation in the machine so that residue does not stick in the values and tubes of the machine which would decrease the performance of the machine. This will eventually lead to thermal stability which the machine has with the help of independent radiator hydraulic system for each group. Another benefit this machine has is of anti-vacuum value which removes any coffee or water liquids from flushing back into the steam wand. It has a 14 liter boiler so that users don't have to fill up the tank every once in a while during rush hours.




La Pavoni BAR-T 2V-B: Cons
Every machine has some drawbacks and la Pavoni bar-T 2V-B volumetric espresso machine is no exception to it. But fortunately there is no such drawback that would sway user's preference for this machine. This machine may require a little extra cleaning because the coffee residue would need cleaning on regular basis. Also it is an expensive machine by some standards but the price is rightfully justified given the value for money that can be derived out of this machine.




---
The Verdict: La Pavoni BAR-T 2V-B
La Pavoni BAR-T 2V-B comes highly recommended for commercial use. The quality of espresso machine has a direct impact on the success of the restaurant/café therefore one needs to make a smart and informed decision regarding espresso machines. La Pavoni has been a success world giving delightful customer experience and to put icing on the cake, it provides free water softener.

La Pavoni BAR-T 2V-B Commercial Espresso Machine (Price)
---
Want to check out other options before you purchase La Pavoni BAR-T 2V-B Commercial Espresso Machine. We have you covered. We have assembled lists of top coffee equipment reviews for both commercial or home & office use. Now you won't have to waste hours of your precious time finding, researching, comparing for the best coffee equipment. Take advantage of our lists of top coffee equipment reviews.
Top Home & Office Coffee Equipment Reviews List
Top Commercial Coffee Equipment Reviews List