Mr. Coffee Mug Warmer for Office/Home Use (Click To Order)
---
Mr. Coffee Mug Warmer
Mug Warmer Review
Lots of times we find it really difficult to find just the right gift for someone we know. This can be especially true if you are trying to find something for the coffee lover. Many times they already have the perfect  coffee maker, coffee grinder, espresso machine, you name it, they already have it in their kitchen. So, why not consider getting them something that's not only thoughtful but is easy to use, inexpensive and different?
So what item could that be? Well, that would be the Mr. Coffee Mug Warmer. This little gift is an item that can be used both in the home or in the office. In fact, it's so inexpensive you can afford to buy more than one for that special coffee lover on your gift list.
Mr. Coffee Mug Warmer for Office/Home Use (Click To Order)
---
Mr. Coffee Mug Warmer "The Perfect Gift"
This Mr. Coffee Mug Warmer is not only easy on the wallet it's also extremely easy to pack up and take with you just about anywhere you want to take it. It's ideal for the person who works at home in their own office to help them keep their individual cup of coffee, hot chocolate or hot tea nice and warm the whole time that they are drinking their favorite hot beverage. We all know how quickly our favorite hot beverages can cool off forcing us to go back to the microwave and re-warm it.
Mr. Coffee Mug Warmer: Compact & Easy To Carry Around
This mug warmer is a nice size so it won't take up much room on your home desk or your office desk. The surface of this coffee warmer also is one that is easy to keep clean because the surface wipes clean quite easily. The warmer itself doesn't use much energy because it just requires 17 watts to keep your hot beverages at just the right temperature. It has a bright indicator light that lets you know whether it's on or not and an easy to flip on and off switch. It also has a nice and convenient cord that isn't too short or too long so it makes it perfect for using just about anywhere and makes it quite easy to store when you're not the mug warmer.




No more going nuts over cold coffee or tea.
Another great thing about his little item is that you can just about use any size coffee cup or mug to warm for as long as you want. You buy your favorite coffee from your favorite coffee shop on the way to work and since their coffee tends to stay pretty warm on the way to work you can then pour the coffee into any size mug and transfer it to your mug warmer where you can keep your coffee warm so you can enjoy your favorite coffee shop coffee at a nice warm temperature instead of it being cold.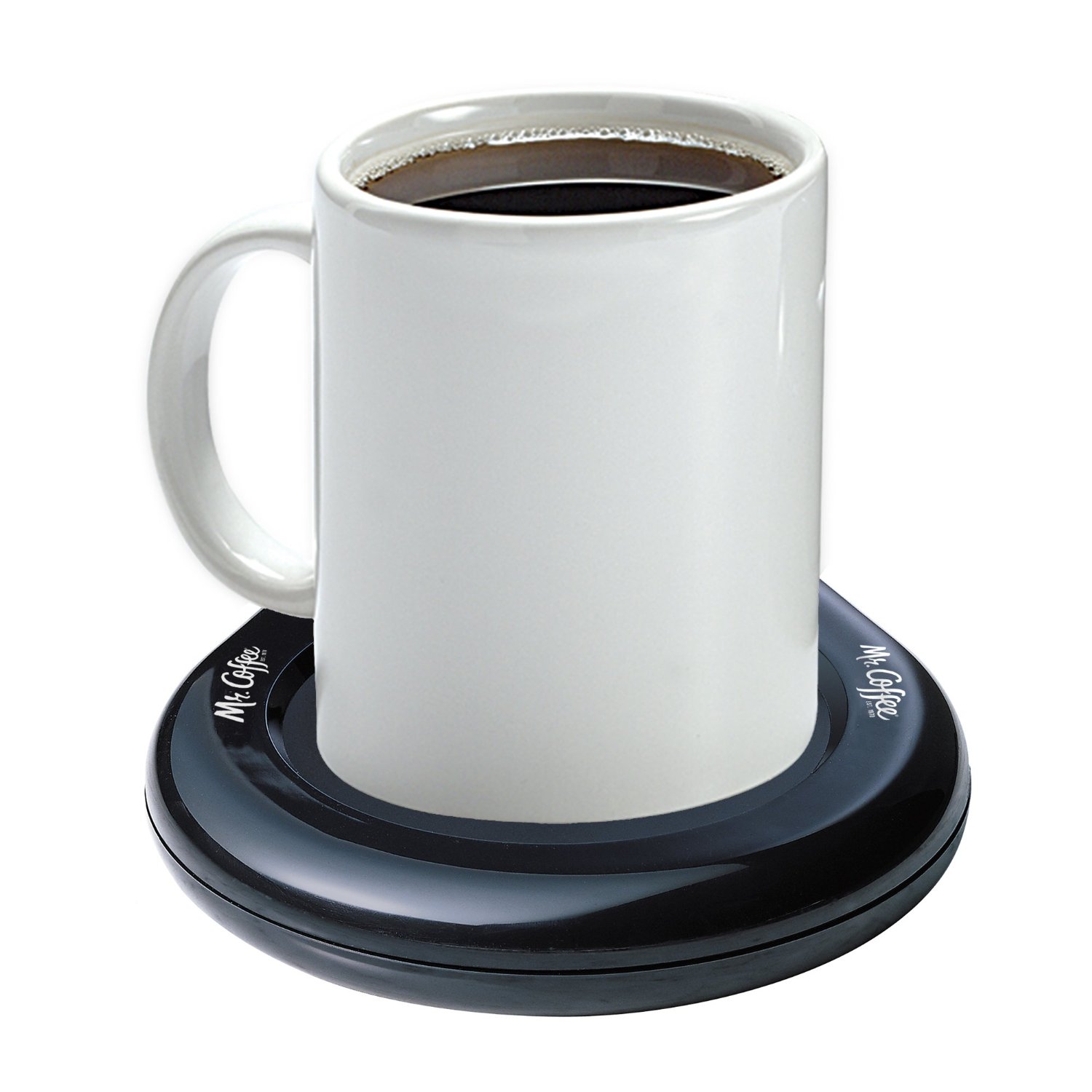 Mr. Coffee Mug Warmer: Size
The small and compact mug warmer measures just 1.3" x 5.2" x 8.6" and weighs only 5.6 ounces so you can see how small and lightweight it is for anyone to use and take anywhere they might want to take it.
"One of the best accessories any coffee lover could buy." – Espresso Gurus
It's a great product that works well for what it is, a mug warmer. This is not something you would use with a hot beverage that's already gone cold. You still need to make sure that the beverage is at the temperature that you prefer it to be. Once you have that warm beverage how you want it, this mug warmer is ideal for maintaining the warmth of your favorite beverage and will keep it warm from the moment you place it on the mug warmer until you no longer use it and you're done with your beverage.
Mr. Coffee Mug Warmer Customer Ratings

Over 4,300+ Satisfied Customer
---
The Verdict: Mr. Coffee Mug Warmer Is a Must Buy!
A lot of people also simply like the sleek look of this little mug warmer too along with it's really good performance. It's sleek and slim design makes it easy to place anywhere you want to put your hot beverage to keep it warm while you are drinking it and doing work at your home desk or workstation at work. You don't have to worry about forgetting about your beverage, picking it up and having a sip of awful tasting cold coffee for example. This will save you time too because you won't need to keep getting up and re-warming your coffee or tea each time it gets cold. Stop thinking about it, click the link below and order yourself the amazing Mr. Coffee cup warmer today and start enjoying hot coffee for hours while working. It's currently on sale for a discounted price (Under $10).

Mr. Coffee Mug Warmer for Office/Home Use (Click To Order)
---
Want to check out other options before you purchase Mr. Coffee Mug Warmer. We have you covered. We have assembled lists of top coffee equipment reviews for both commercial or home & office use. Now you won't have to waste hours of your precious time finding, researching, comparing for the best coffee equipment. Take advantage of our lists of top coffee equipment reviews.
Top Home & Office Coffee Equipment Reviews List
Top Commercial Coffee Equipment Reviews List