Rancilio CLASSE 7 Fully-Automatic Commercial Espresso Machine 3-Group Review
Rancilio CLASSE 7 Fully-Automatic Commercial Espresso Machine 3-Group (For Sale)
---
Rancilio CLASSE 7
Product Review: 3-Group Commercial Espresso Machine
This Rancilio CLASSE 7 espresso machine is fully automatic and is built to handle the needs of a busy coffee shop or coffee house. It's key technical features of this espresso machine include easy to use multi-function on-board computer, an LED work area that is ergonomic and easy to read. It has independent heat exchangers, a pump pressure control gauge, a large 16 liter boiler that has both a pressure control gauge and a temperature control gauge. The entire machine is operated with electric heating. It's a nice looking professional espresso machine that is made from mirror polished stainless steel and comes in black or ice white.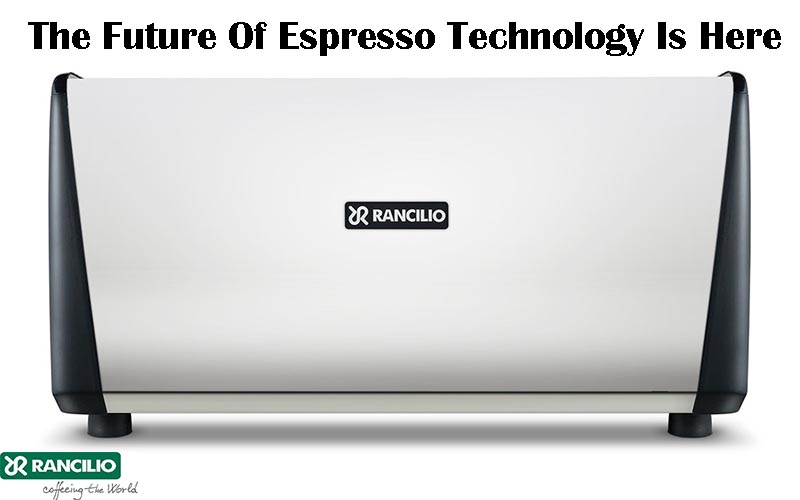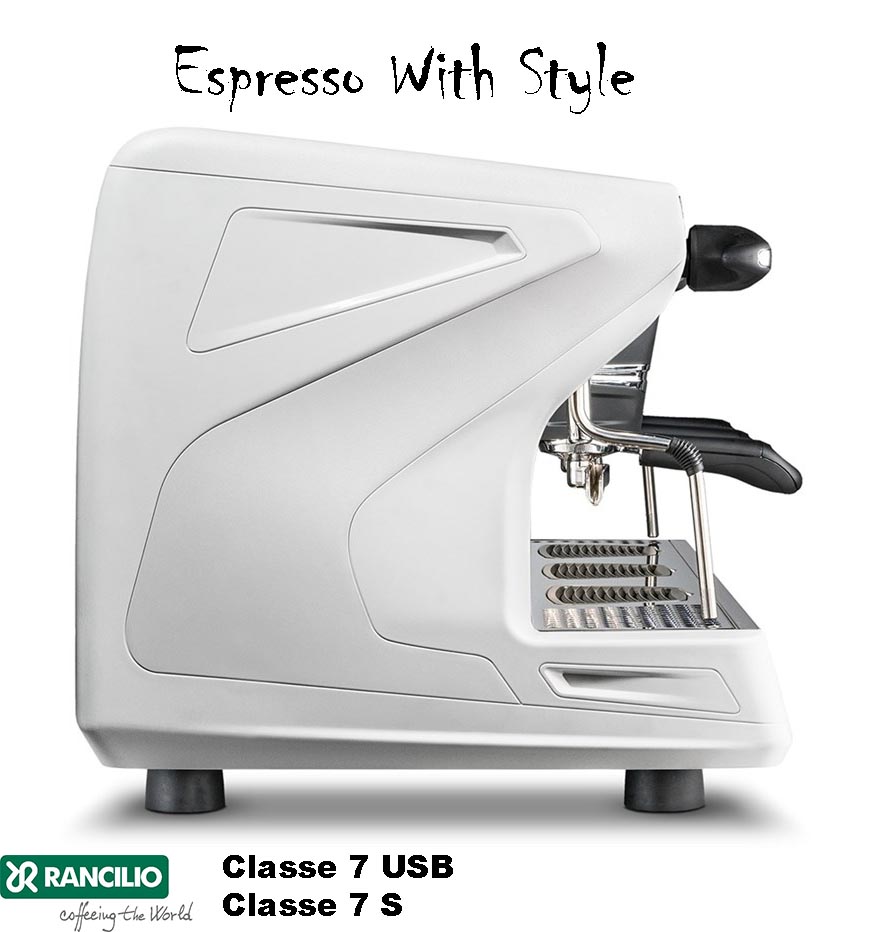 Rancilio CLASSE 7 Fully-Automatic Commercial Espresso Machine 3-Group (For Sale)
If you own a busy coffee house and have customers that enjoy delicious espresso, latte's, cappuccinos, and other hot beverages, this espresso machine has plenty of standard features that will help you get the job done efficiently and quickly for your customers. You should really enjoy the standard features that are explained below:
ABM.07 – Rancilio Classe 7
Also called the Advanced Boiler Management system. This is specially designed software that helps to improve this espresso machine's overall performance especially when it's being used a lot. When a user turns on the heating element to brew espresso, dispense water and steam milk the ABM 07 will turn on the heating element to stop any drops in temperature so that there are constant heating levels.
Easy Fix – Rancilio Classe 7
Is a very powerful tool for maintenance that makes it easier to diagnosis any technical problems there might be with the espresso machine.
Plug & Brew – Rancilio Classe 7
Is the installation program which makes it faster and a lot easier to install the machine in your business. It allows you to immediately program the main functions you want on your espresso machine along with the dosages.
Easy Clean – Rancilio Classe 7
With just the push of the brew button the Easy Clean system will automatically clean your espresso machine. There's a bright LED light on it's control panel that will let you know when your machine is due for it's routine maintenance. This system ensures that you will always get high-quality espresso and at the same time cut down on how long it takes to clean.
Hydro Hub – Rancilio Classe 7
This is a great ergonomic system that is in control of the comprehensive and integrated management system of the hydraulic circuit of all Rancilio espresso and coffee machines. The goal of this system is to make it easier to perform technical assistance operations while making it easier and safer during any kind of maintenance on the espresso machine.
Soft Touch – Rancilio Classe 7
The control panel is equipped with Soft Touch buttons which improves the ergonomics of operating this espresso machine. The buttons are highly responsive and it takes away the strain of that can come from repeatedly pressing on start and stop buttons of most espresso machines.
Ergo Filter Holder – Rancilio Classe 7
Rancilio is all about making things easier and more comfortable and that is why this espresso machine also has a filter holder that has an ergonomic handle. It is designed to make the wrist movement a lot smoother and much more comfortable for the user.
Grid System – Rancilio Classe 7
In order to make cleaning a lot easier, this espresso machine comes with a great work surface with support grids. The Grid System is made from a scratch proof polymer material and is easily removed so it can be washed by hand or in a dishwasher. It also has an efficient system to collect excess liquid and it keeps your work surface cleaner.

If these standards are not enough for you, you can always add other features that can be added upon demand.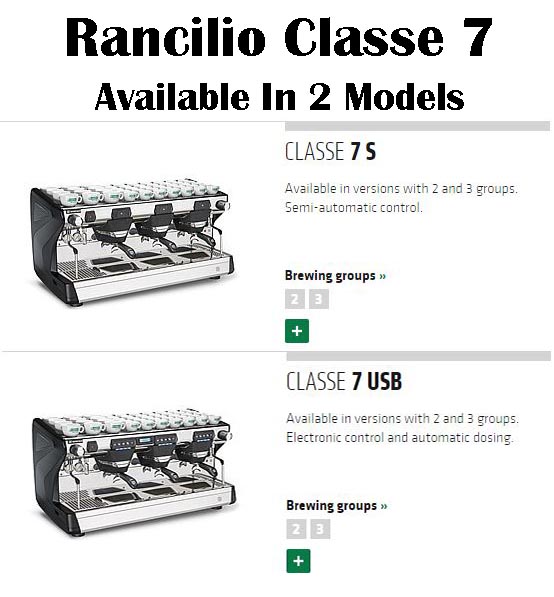 Rancilio CLASSE 7 Fully-Automatic Commercial Espresso Machine 3-Group (For Sale)
I-Steam – Rancilio Classe 7
This is a totally automatic steam wand that lets your milk be heated and frothed. It uses a mix of air and steam to obtain a really soft and extremely compact froth. The water system makes it a very powerful steam wand. It has two buttons you can program for both cappuccinos and latte's. You can heat and froth the milk at the same time or just heat milk only. There is a smart electronic control system that will inject air according to the amount of milk there is in your pitcher. When the perfect programmed temperature has been reached it will turn off automatically. The stainless steel covering of this wand is insulated so it will always be cool to the touch.
C-Lever Steam – Rancilio Classe 7
This is another steam wand you can add to this espresso machine. This one also has two options, one that lets you heat just the milk or to heat and froth at the same time. It has an easy to use valve that when you turn it up will stay open until you move it again. When you turn it down you can regulate the operation of the valve and control the steam. When you let go of the knob altogether it will shut automatically.
Cloud Connect – Rancilio Classe 7
This is an independent and real-time way to control the machine fleet that's in function. This system will show you the complete picture of your coffee, wand and water consumption. It allows you to get detailed statistics on the usage of your Rancilio espresso machine. You can also see technical issues and modify your espresso machines settings by using your smartphone, PC or tablet.
Cup Warmer – Rancilio Classe 7
If you want a space to keep your cups warm then you more than likely will want to add this electric cup warmer. It can keep well over a dozen of your coffee cups at just the right temperature to serve your espresso and other hot beverages at.
Misc. Accessories – Rancilio Classe 7
Finally you can also add a few accessories you might want as well. There is the Pods & Cups Adapter which lets you use a variety of different coffee pods and cups to offer your customers more coffee choices. You can also add a dosing grinder and a water softener.
The Verdict: Rancilio Classe 7 Fully-Automatic Commercial Espresso Machine 3-Group
Overall this is a excellent commercial espresso machine for any busy restaurant or cafe. Built to last and provide quality product every time. This is a machine that is a must for any successful restaurant or cafe.

Rancilio CLASSE 7 Fully-Automatic Commercial Espresso Machine 3-Group (For Sale)
---
Want to check out other options before you purchase Rancilio Classe 7 Fully Automatic Commecial Espresso Machine 3-Group. We have you covered. We have assembled lists of top coffee equipment reviews for both commercial or home & office use. Now you won't have to waste hours of your precious time finding, researching, comparing for the best coffee equipment. Take advantage of our lists of top coffee equipment reviews.
Top Home & Office Coffee Equipment Reviews List
Top Commercial Coffee Equipment Reviews List