South America's: Top Coffees
Most of us don't even think twice about the fact that a lot of the coffee we drink today comes from South America because of so many areas that have the exotic temperatures required to grow our favorite morning brew. However, history shows that coffee wasn't always grown here in fact no one really liked it in South America either. History shows that coffee arrived in South America from the Far East and didn't make a big splash and it took quite some time for the idea of coffee to spread and finally giving root to a coffee empire. Today, South America has the reputation of being one of the biggest exporters of coffee in the world. Here is a list of the top 5 coffees from South America.
---

1. Baggios Coffee – Brazil
Baggios makes the top 5 coffees from South America list because of it's premier coffee planting and processing of really great tasting coffee. The founder of this brand actually emigrated over to Brazil from Italy and started working on coffee farms in 1886. After working for awhile on these farms he decided to buy his own farm and the company continues to be one of the biggest and most popular brands in Brazil.
---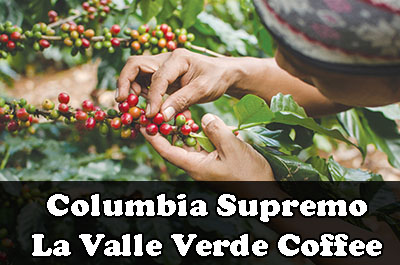 2. Columbia Supremo La Valle Verde Coffee– Columbia
This coffee makes the top 5 coffees from South America list because of it's Arabica beans that have a rich flavor that is slightly sweet. This coffee comes from the Central Valley of Columbia and is hand harvested and then immediately processed using a method that removes the pulp and then washes it again to remove any excess pulp. It is a light to medium roast and has a nice heady aroma, rich flavor and has a good balance of body and acidity.




---

3. Organic Peru Andes Gold Coffee – Peru
The Andes Gold Coffee makes the top 5 coffees from South America list due to it's depth, low acidity and its gentle smoothness. This Peruvian coffee is grown right at the edge of the Amazon jungle as well as the Andes Mountains. This coffee has been harvested for generations by only local farmers and they take pride in their coffee farms. Most of their coffee farms are smaller than an acre in size and mostly family owned. The coffee beans are harvested without the use of any chemicals and each batch is hand selected and processed organically. This coffee has a great flavor and aroma and has a nutty and sweet after taste.
---

4. Organic Bolivia Colonial Caranavi Fair Trade Coffee – Bolivia
This organic coffee from Bolivia makes the top 5 coffees from South America list because of it's light body and sweet fruity flavor. It's fruity undertones are produced because of the trees being cultivated near orange, lemon and other various fruit trees. After brewing it often produces a nutty and chocolate flavor as well, depending upon how you brew it. This coffee is known to be grown without using any pesticides, is harvested by hand and actually dried on raised patio beds that are constantly tended by the farmers to ensure even drying and an even roast.
---

5. Juan Valdez Coffee – Columbia
Juan Valdez hits the top 5 coffees from South America simply because it's the largest of them all and this brand actually unites more than 500,000 coffee producers who have all joined together to offer the world the best properties of Colombian coffee. This is a very popular coffee chain that sells coffee in whole beans, ground coffee, decaffeinated and caffeinated coffee as well as freeze dried coffee under its famous Juan Valdez logo. They supply coffee to Chile, Spain, Ecuador and the United States, just to name a few. The coffee produced by the Juan Valdez brand is known to have medium to high acidity and has a very pronounced aroma and they have enough coffee profiles that can basically satisfy any palate. The beans are all hand picked to ensure that the top quality coffee beans are always used in the production of their coffees. That wraps up top 5 coffees from South America.
If you found this article interesting please support us by following, liking and sharing. If you have a favorite coffee from South America that we left out please leave your comment in the comment section below and we will add it to the the next list.




---
Read Next:
1. How to treat cellulite with coffee?
2. How To Make Iced Matcha Almond Milk Latte?
3. Coffee's Effects On The Mind