Elemental Coffee Roasters Ranked The Best Coffee Shop In Oklahoma, Find Out Why?




One of the many reasons that makes Elemental Coffee Roasters the best coffee provider of Oklahoma State is that everyone has the opportunity to choose from a number of ways to have their coffees served to them which includes French press, pourover, Chemex and also with brunch. This variety has enabled them to serve a wide range of people with particular tastes.




Located in Oklahoma City, Elemental Coffee Roasters is a small-batch roastery and café. They have taken it upon themselves to source, import, sample, roast and distribute the best coffee available around the world. Just like any other great coffee company, it too has a strong passion for the development of the community dedicated to producing the finest coffee while providing the customer service in the best possible manner with utmost courtesy. Without respect and courtesy, one cannot expect to become the best coffee café even if it has the best coffee available. So Elemental Coffee seeks to generate a desire for coffee in both individuals and companies as they participate in current sourcing projects.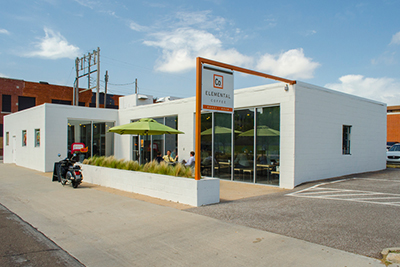 Just like fruit or vegetable, coffee too is an agricultural commodity. Its flavor and appeal will similarly change from season to season and also from batch to batch. So Elemental Coffee has done well to provide only that coffee which is in its purest form and has never done anything to change or enhance the natural properties of the coffee. They believe that a lot of intensive work was put to it from picking to processing so the consumer has the right to enjoy the coffee which has the most effort put in the coffee.

Guatemala Antigua Decaf Coffee, Whole Bean, 16-ounce Bags (Click Here To Order)
Star of Elemental Coffee Roasters: Guatemala Decaf
One of the most loved espressos at Elemental Coffee Roaster is the Guatemala Decaf which costs in range from $11.50 to $54.63 depending on its size with the grind option of aeropress, drip, espresso, French press, pourover and whole bean. This decaf is not wimpy and it has the unique ability to hold its own even without the caffeine. The current decaf is a Mountain Water Processed coffee from Guatemala. It is a Mountain Water Process which is completely natural and chemical-free decaffeination process that has the ability to eradicate almost 100% of the caffeine while preserving excellent taste. This blend is known to be grown in the Huehueenango region at 1100-1800 masl and is the property of Typica, Caturram Bourbon and Catuai varietals. It will simply give you a smooth mouth feel.
We would love to hear your thoughts. Whether you agree or disagree, leave your comments below. Support us by using the social media buttons below.




Elemental Coffee Roasters Ranked Best Coffee Shop In Oklahoma: Video