The Best Coffee Shop in Alabama Ranked – 2017

---
2017 Best Coffee Shop In Alabama
Whether you are just visiting Alabama or you live there, there is nothing like finding a wonderful coffee shop where you can enjoy some delicious coffee as well as great tasting food and good service. Of all the different coffee shops that are to be found in the state of Alabama there is one in particular that can be considered the best coffee shop in Alabama. That coffee shop and cafe would be The Southern Grind Coffee House.
The Southern Grind Coffee House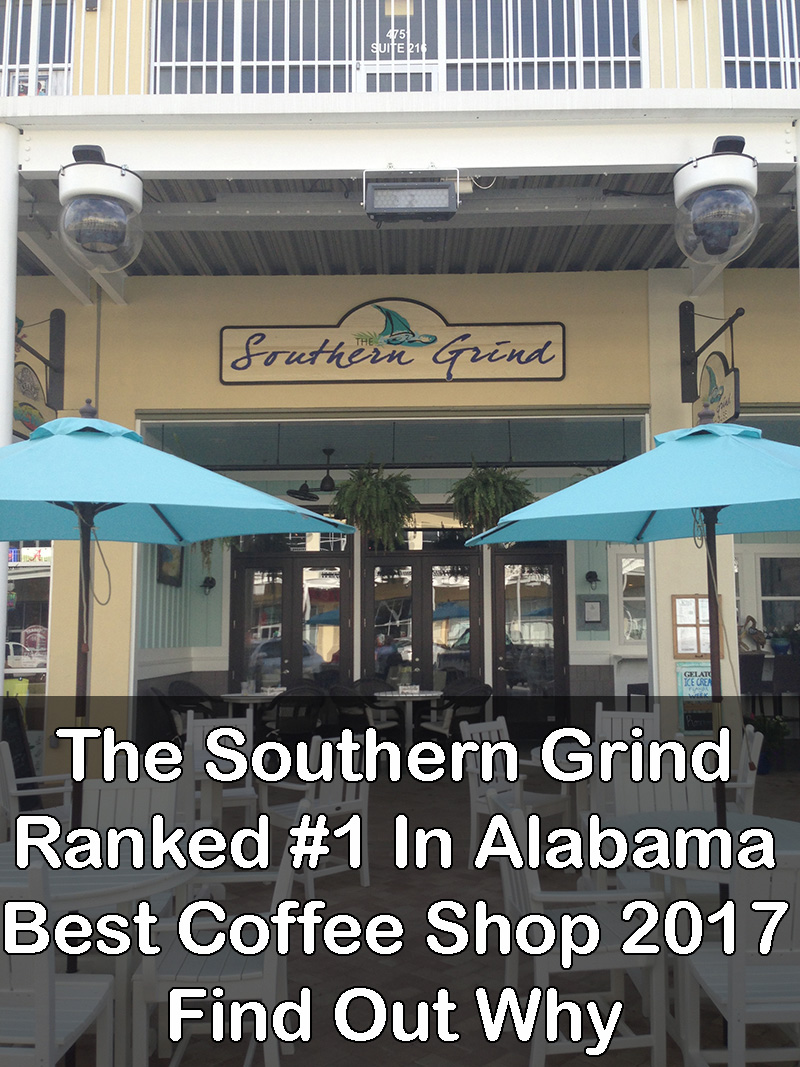 ---
---
The Southern Grind – Taste Of The South
The Southern Grind Coffee House is a coffee shop and cafe that is beautifully designed and offers a quaint and adorable atmosphere that all of its customers enjoy immensely. Not only is the atmosphere of this charming cafe a key note that helps propel it to the best coffee shop in Alabama but you'll be amazed at the delicious varieties of coffees they have to offer. Not only do they serve up some great tasting coffee but it doesn't stop with just that. This quaint little bistro also serves up some tempting gelatos, cheesy delights, and so much more.
The Southern Grind Coffee House: The Vision
The Southern Grind Coffee House was the vision of Jim McPhillip and his wife Jaime. It was something they both had wanted to do for many years, owning their own cafe. Living in Orange Beach, Alabama they were able to make that vision become a reality because at the time there seemed to be a need for the type of coffee house they eventually created.
Jaime's Touch
His wife Jaime was able to take her interior design talents to help create the quaint and charming atmosphere you find at The Southern Grind Coffee House. Through her talents they were able to create an atmosphere that is both warm and inviting. It's truly a place where anyone can enjoy a delicious cup of coffee while eating something delicious or even while shopping for unique gifts, teas, coffees and even original artwork done by Jaime herself.




The Background
Both Jim and Jaime come from a small town and they wanted to create a place where any family could come and play dominoes, cards, celebrate birthdays or just simply hang out together. They created their charming cafe with their own daughter, Maddy in mind and you will often see her there along with her parents. This charming little coffee shop also includes a wonderful porch outside where customers can sit and relax even with their dogs.
Not Just A Coffee Shop But More…
Along with a wide variety of beverages and different foods to enjoy Jim and Jaime offer a delightful and unique shopping experience included with their coffee shop. They offer a huge variety of one of a kind gift items, different kinds of home décor items, original artwork and handmade items by Jim and Jaime that include handmade jewelry, wooden crosses, flags, serving trays, recycled driftwood and many other ocean themed art for home décor.
The Amazing Menu At The Southern Grind Coffee House
One of the biggest reasons why we chose The Southern Grind Coffee House as the Best Coffee House in Alabama was because not only do they serve deliciously brewed coffee such as Americana, Cafe Breve, Caramel Macchiato, and much more, but also because their menu offers far beyond just a few beverages and snacks. They also offer their customers a pretty well rounded out menu that includes breakfast and lunch/dinner.
You can expect delicious and well made meals that give you that great home cooked feel with that comfort food feeling you got when mom cooked your meals.
The breakfast menu you can choose from such items as:
Chicken Biscuit – This is a delicious seasoned and breaded filet of chicken that's served on a buttermilk biscuit that can be topped with cheese, bacon and an egg.
Breakfast Biscuit – Which is a delicious buttermilk biscuit with egg, cheese, and a choice of ham, sausage or bacon.
Jalapeno Potato Scramble – If you love it hot this is the one for you. It's eggs scrambled with cheddar, jalapenos, a special seasoned potato mix and a choice of ham, bacon, or sausage served with a side of your favorite toast.
Mozzarella, Tomato & Basil Breakfast – This is one of their newer and quite popular items which is eggs scrambled with mozzarella, grape tomatoes and fresh basil and is served with a side of ham, bacon or sausage with your favorite toast.
The Wharf Breakfast – This eggs scrambled with a choice of bacon, ham, or sausage with seasoned breakfast potatoes and toast on the side.
The Southern Grind Coffee House: Other Items
Other items found on the breakfast menu include a Croissandwich, Breakfast Bagel Sandwich, Egg Scramble, Breakfast Burger, Belgian Waffles, Belgian Waffles with Strawberries and Cream, Bagels, Croissants, Biscuits, Natural Oatmeal, Organic Yogurt and Granola Parfait, Fruits in season, Cheese Grits, Brownies, Cinnamon Rolls, Muffins and Cookies.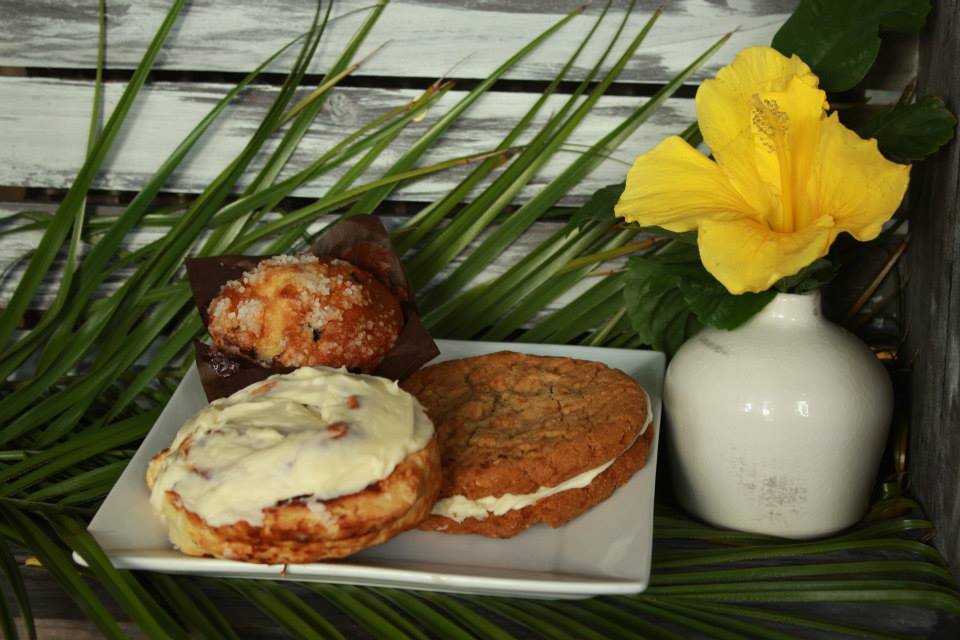 The Southern Grind Breakfast
Breakfast at the Southern Grind Coffee House can be a wonderful way to start off your day. But if you are also looking for a great place to enjoy lunch or even a light dinner, you're going to want to come by then when they are serving up some really scrumptious foods that are surely going to make your taste buds quite happy.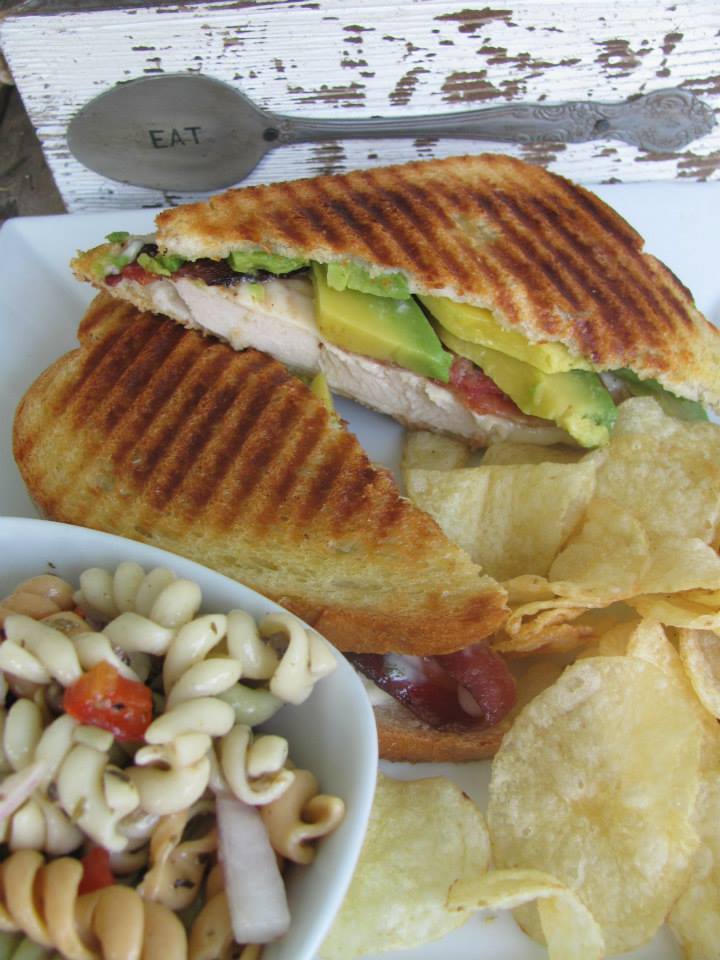 The Best Panini You Will Ever Have
This little cafe offers a great choice of Paninis, sandwiches, and wraps all of which are served with chips and a choice of pasta salad, cucumber salad or even German potato salad. Here are just a few of the tempting items you can choose from for lunch and/or dinner:
Turkey Pesto Panini – This is a delicious Panini that has sliced turkey breast with pesto, mozzarella cheese, tomato, fresh basil, salt and pepper that is served on a fresh ciabatta roll.
Ranch Chicken & Bacon Panini – This one has grilled chicken breast, bacon, avocado, provolone cheese topped with ranch dressing and served on sourdough bread.
Chicken Salad Sandwich – This is Jaime's own special recipe for grilled chicken with red grapes, walnuts, celery and special spices all mixed together and served on a soft and flaky croissant.
Chicken Fiesta Wrap – This is a wrap that is filled with grilled chicken breast, cheddar cheese, roasted corn, tomato, lettuce and a special fiesta seasoning that's served in a grilled flour wrap and comes with a side of ranch for dipping.
Chipotle Chicken Club Flatbread Melt – This is a newer item that is made with grilled chicken breast, cheddar cheese, bacon and chipotle sauce. It's placed in their own handmade flatbread that is hand stretched and then topped with tomato and lettuce.
The Southern Grind Coffee House: Cheeseburgers
You can also choose from the standard Cheeseburger along with other delicious items such as Turkey Club Panin, Chicken Mozzarella Panini, Buffalo Chicken Panini, Honey Mustard Chicken Panini, Grilled or Fried Chicken Breast Sandwich, French Dip, Triple Cheese Panini, Chicken Club Wrap, and Turkey Bacon Avocado Wrap. They also offer their customers a variety of Quesadillas and even pizza.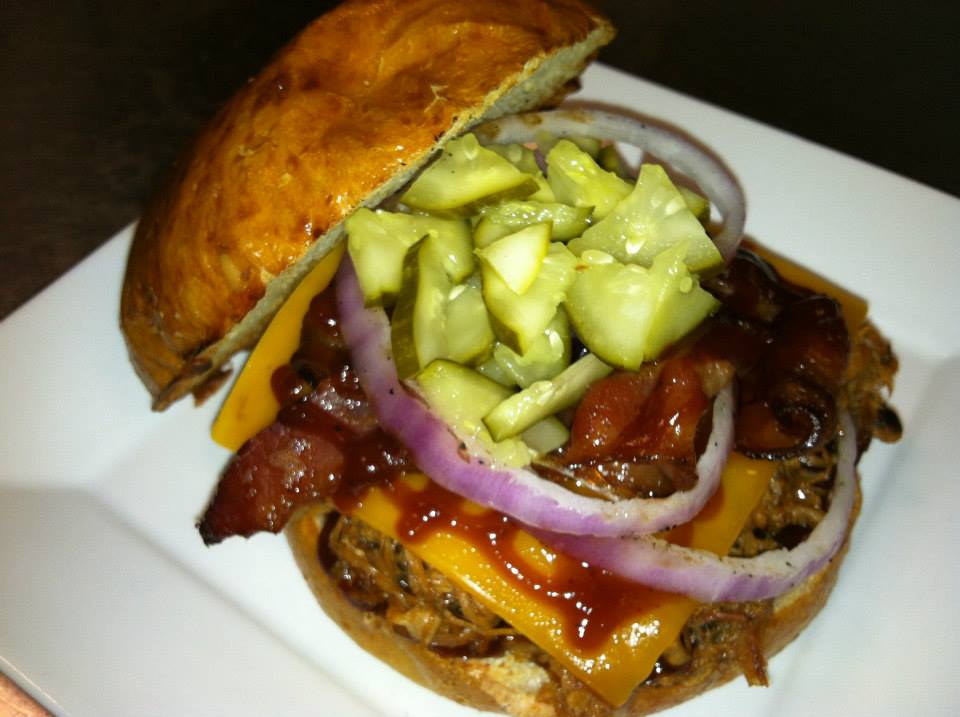 The Southern Grind's Awesome Salads
If this isn't enough to convince you to come in and try The Southern Grind Coffee House let's not forget that they also serve a variety of salads that include: Pear & Pecan Salad, Ceasar Salad, Cobb Salad, Apple & Walnut Salad, Mango Salsa Chicken Salad, and of course a House Salad. As for soup, that changes each day with fresh made Soup Du Jour served with their own homemade cornbread.
If Not Salads Then Smoothies, Shakes & Fresh Italian Gelato Will Do.
If you are looking for something other than coffee and a meal The Southern Grind Coffee House is a cafe that aims to please. They also offer a variety of shakes, smoothies and fresh Italian gelato. Some of the shakes and smoothies that you can choose from are Four Berry, Peach, Pear, Apricot and Mango Tropic. You can also choose to have a Gelato Shake that can be made from whatever flavor of gelato that you want. You can also treat yourself to a Belgian Waffle Gelato Sundae, a Brownie Gelato Sundae, Plain Gelato Sundae and more.
The Southern Grind Coffee House: Catering Service
Another key thing that caught our eye for establishing The Southern Grind Coffee House as the Best Coffee Shop in Alabama is that on top of all the things they offer to their customers, they top it off by catering. The Southern Grind Coffee House can help with any and all of the following types of events:
Book Club Events
Open Mike Nights
Red Hat Club Events
Study Groups
Private Parties
Musicians
Mom's Clubs
Single's Night
Date Night
Family Night
Cards and Dominoes
Home Decor & Design Night
Women's Club Events
Book Signings
High Tea
Business Meetings
Chess Club
Holiday Events
Birthdays
And even, get this Dog Socials at the Pooch Porch! What more could you ask for?
There's More To The Southern Grind Coffee House
Well, there actually is more. Not only does this cafe offer delicious coffee, food, desserts, catering, a unique shopping experience all together in one place, you'll be happy to know that the service you receive while visiting this coffee shop is top notch as well. The staff is well trained and they understand how important it is to the owners that all their customers leave happy. The staff are vital in helping to not just take care of the customers but also helping to create the quaint and comfortable atmosphere that each customer experiences when they visit The Southern Grind Coffee House.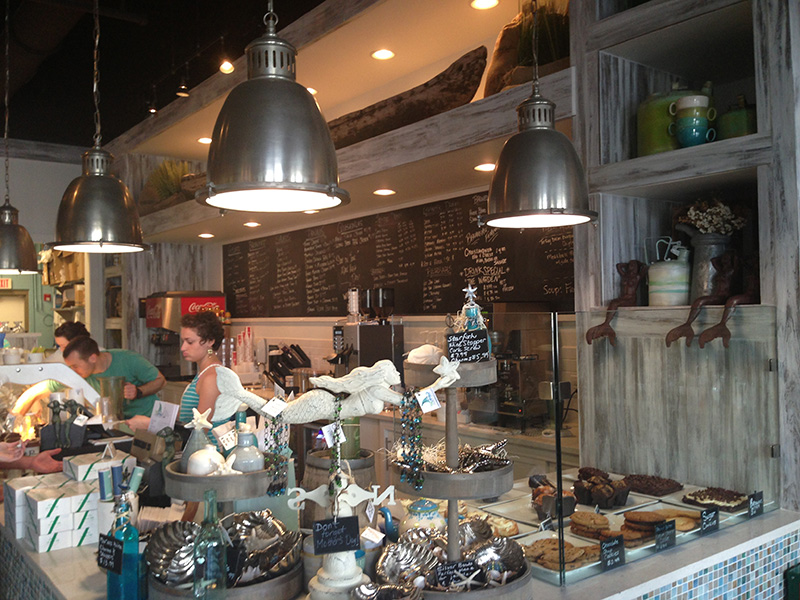 Visit The Southern Grind Coffee House Today
If you live near this great little cafe and haven't stopped in yet, we highly recommend that you do so and discover just why we think that The Southern Grind Coffee House is the Best Coffee Shop in Alabama.
The Southern Grind Coffee House In Media

The Southern Grind Coffee House Experience
If on the other hand you are considering visiting the state of Alabama we highly suggest that you take a trip to Orange Beach and stop in at The Southern Grind Coffee House for a lovely and delicious experience that you are sure to be talking about for some time after.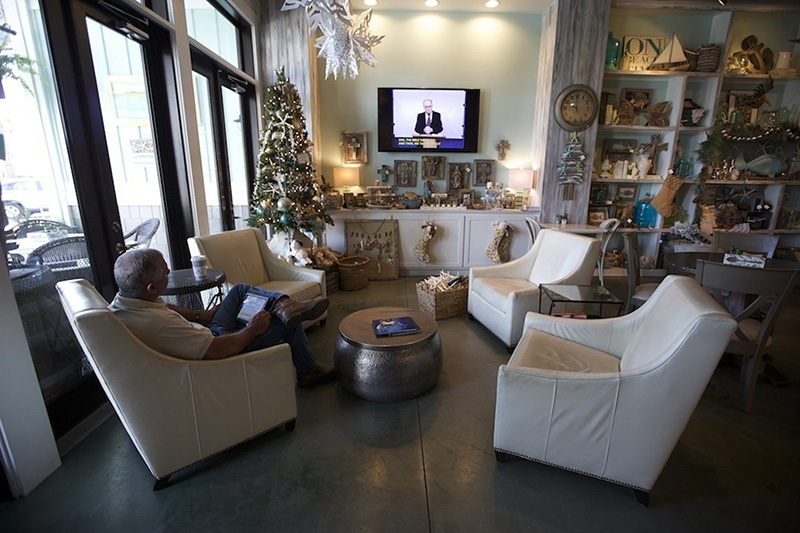 If you are interested in visiting The Southern Grind Coffee House here's the information you will need to find them and find out more about this charming cafe nestled in the charming town of Orange Beach.
Location & Contact Information
Address: 4751 Main St. Ste 116, Orange Beach, AL 36561
Phone: 251-923-3265
Email: info@thesoutherngrind.com
Website: http://www.thesoutherngrind.com
Owners: Jim and Jaime McPhillip
Twitter: @TheSouthrnGrind
Facebook: https://www.facebook.com/TheSouthernGrindCoffeeHouse/
Hours of Operation
Monday – Thursday open 7:00 am to 7:00 pm
Friday – Sunday open 7:00 am to 10:00 pm
For Prices and Catering
If you are looking for prices or more information on their catering you will need to contact them personally by just giving them a call at 251-923-3265, they'll be happy to answer any questions that you might have.




If you are taking a trip to Orange Beach as part of your vacation, make sure that after you have checked our top pick for the Best Coffee Shop in Alabama, you check out some of the great things you can do while visiting this quaint spot. Here are just a few things you might be interested in.
Boat Tours – There are a variety of different boat tours you can take that include Dolphin Fun Cruises, Distraction Charters, Orange Beach Sailing Charters and Sunset cruises.
The Wharf – This is where The Southern Grind Coffee House is located. Here you'll find lots of shopping, movies, laser tag, ice skating rink and tons more.
Adventure Island – This is a nice amusement park that offers a variety of different rides, an arcade, go carts, wall climbing and mini golf. Great place for the entire family.
Orange Beach Waterfront Park – Great place to go to see the beach, offers lots of outdoor activities, nature walks and different parks for all ages.
Parasailing & Paragliding – If you are adventurous you'll be happy to know there are several different businesses that offer the opportunity to both para-sail and para-glide.
Fishing Charters & Tours – Orange Beach offers 37 different fishing charters and tours so you are bound to find just what you are looking for when visiting Orange Beach. Or if you prefer, you can rent your own boat from a choice of six different boat rentals in the area.
Game Centers – There are three different game centers that you can take the kids to. There's Fat Daddy's Arcade, Sharky's Family Adventure Park and Arena The Next Level.
---
WHAT TO READ NEXT:
Best Coffee Shop In Every State 2017 – List
Best Coffee Shop In Every State 2016 – List