---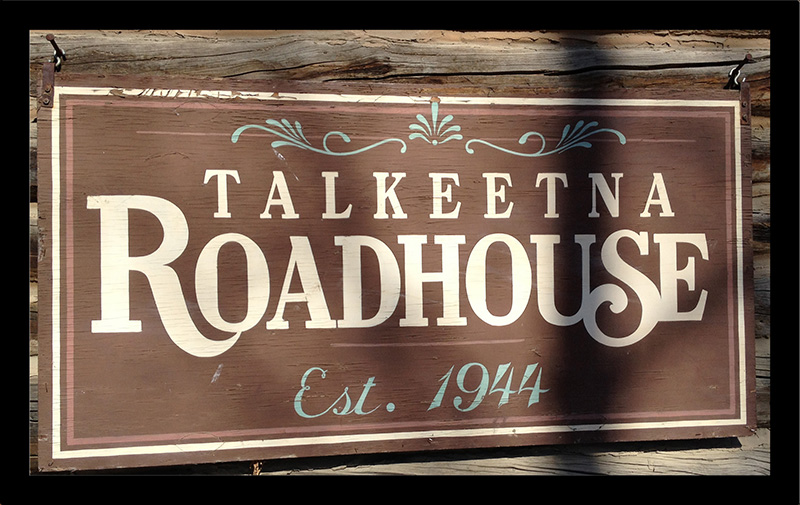 Talkeetna Roadhouse
Ranked #1 In Alaska
When it comes to the best coffee shop in Alaska, we've delightfully discovered that the Talkeetna Roadhouse fits the bill. We chose this coffee shop and cafe for a variety of different reasons. Talkeetna Roadhouse is a cafe that combines not only great tasting coffee but huge amounts of great tasting food in a very historic and fun filled atmosphere.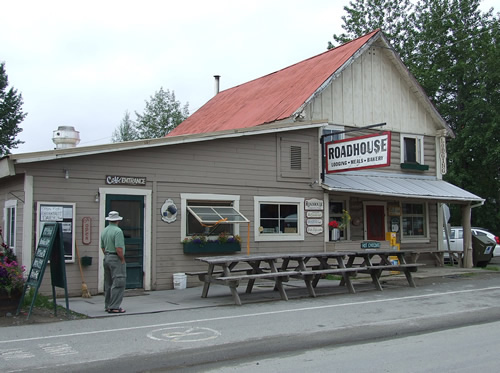 Talkeetna Roadhouse: History
The Talkeetna Roadhouse not only has a cool name but is so filled with history that anyone who wants to learn more about Alaska can do so just by visiting this unique historic roadhouse cafe which was started in 1914 and finished around 1917. The Talkeetna Roadhouse was built by brothers Frank and Ed lee. During this time they had to get their goods and supplies by having them shipped up the Susitna River on what were known as flat bottom boats where they were dropped off in the town of Talkeetna and were hauled by a team of horses.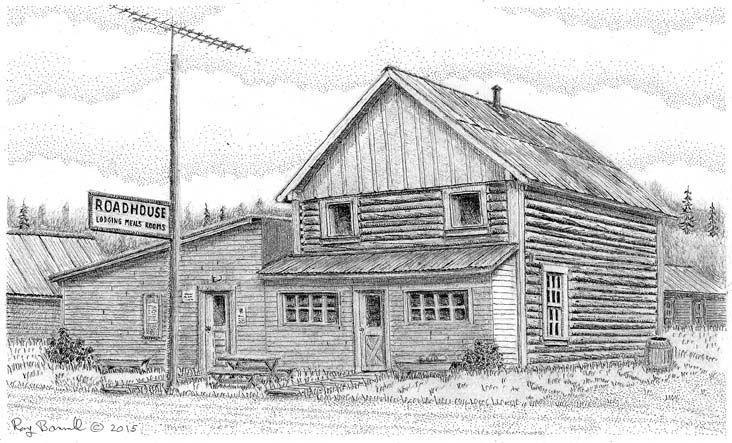 In the early 1920's Talkeetna was the encampment for the Alaska Railroad and work was done to connect the railroad line from Seward, Alaska to Fairbanks. President Harding even stopped to visit Talkeetna when he was on his way to pound in the golden spike in Nenana that completed the railroad.
After the railroad was finished workers became fewer and fewer but that didn't change the popularity of the Talkeetna Roadhouse in fact it began to attract those who loved to climb mountains, go fishing, ski and many other outdoor adventures. Even though the roadhouse was serving food to all those who stopped by at that time, it truly didn't become an actual "destination" and true "Roadhouse" until the 1940's when the cafe added rooms and plumbing.
Talkeetna Roadhouse: Owners History
There have been a variety of owners throughout the years with Bella MacDonald being the first owner in it's early days. However, probably the most famous owners of this cafe would be Carroll and Verna Close. They owned Talkeetna Roadhouse from 1951 to 1978 when they retired. During the time they owned the cafe it became famous for it's huge plates of home cooked food. They cooked all the food on a wood cook stove and included family style suppers they always served at 6:00 pm on the dot.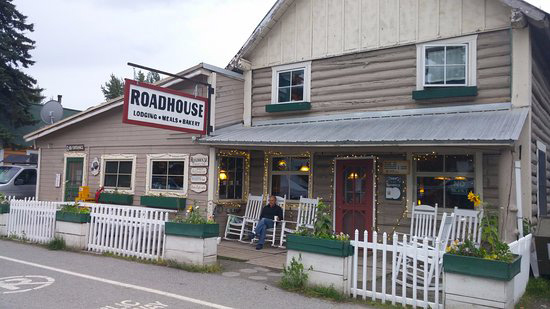 Talkeetna Roadhouse: Current Owners
The current owner of Talkeetna Roadhouse, Trisha Costello, who bought the coffee shop in 1996 with the help of her father Tim Costello, does all that she can to keep this unique coffee shop running the same way it has always been run from it's very beginning. It's filled with the spirit of the days that are long gone and helps people learn what it was like in Alaska over a hundred years ago. Trisha does all that she can to give the cafe a home away from home atmosphere that travelers and locals have grown accustomed to. She continues to make sure that when the food is called "homemade", it truly is homemade.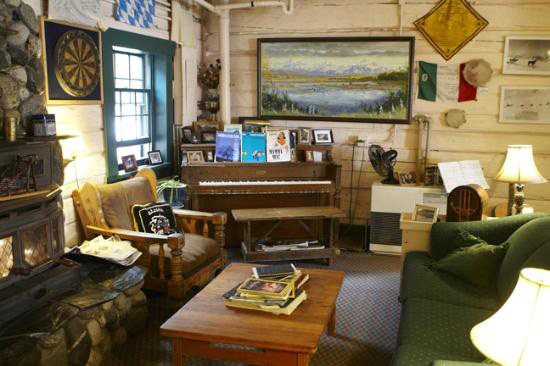 Talkeetna Roadhouse makes you experience the past in the present.
When you enter Talkeetna Roadhouse you feel as if you are instantly transported back in time as you leave the hustle and bustle of the present world behind you. Talkeetna Roadhouse is a traditional roadhouse style cafe. This means that all customers sit together at huge tables. It's the way of days gone by and gives people the opportunity to actually socialize up close and personal with people they may otherwise never get the opportunity to meet in such a manner.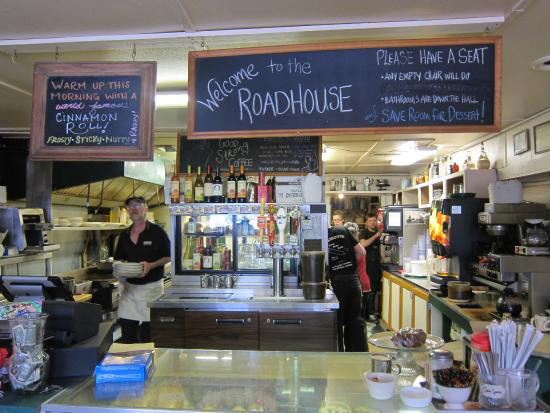 Why Talkeetna Roadhouse Is The Best Coffee Shop In Alaska?
What makes Talkeetna the best coffee shop in Alaska is that it combines a cafe with a bakery with history at the same time. Another unique thing about this coffee shop is that it also offers not only some of the best food in the area but they also offer rooms and cabins that their patrons can choose to stay in during their visit to Talkeetna, Alaska.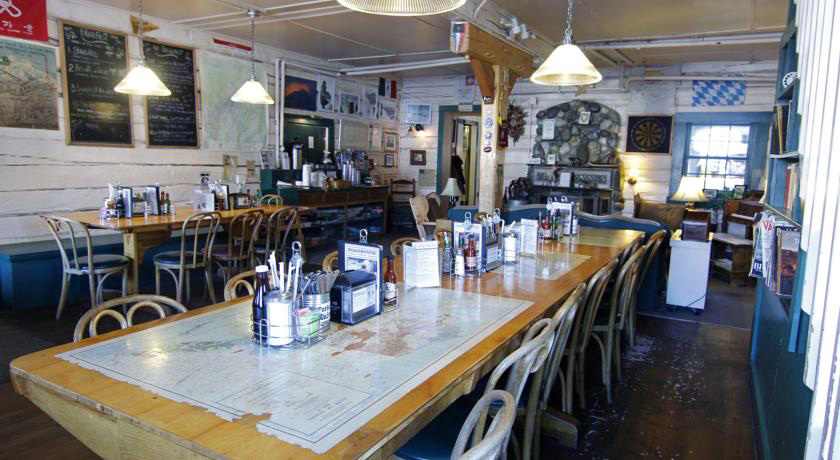 Talkeetna Roadhouse Menu
They offer a wonderful home-cooked menu that does not disappoint especially in portion size and flavor. Some of the items that you can expect to find include:
Strong and delicious tasting coffee
Huge homemade cinnamon rolls
Hand rolled bagels
Hearty soups
A variety of fresh made breads
Homemade pies (Trisha even offers pie making classes)
Cakes and cookies
Hotcakes bigger than the plates they're served on (The sourdough recipe is from 1902)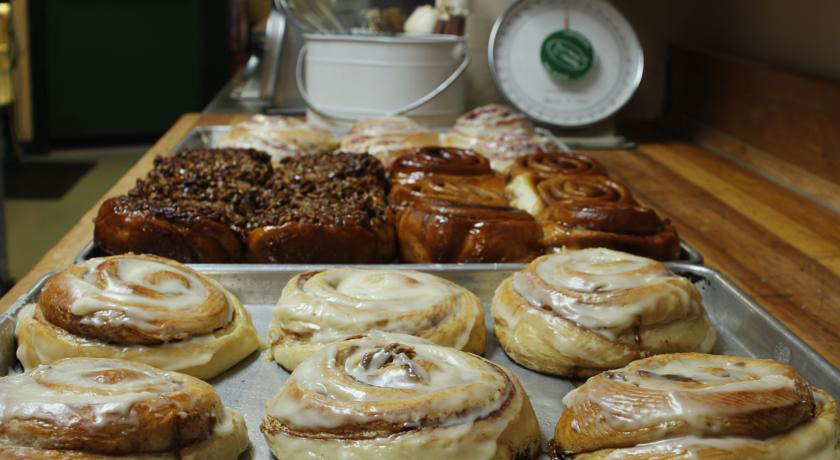 Talkeetna Roadhouse favorites include:
Roadhouse Standard – Scrambled eggs, home fries, super thick peppered bacon, honey whole wheat toast, juice and pitcher of bottomless coffee or tea.
Granny's Chocolate Potato Cake
Homemade Apple Pie
BluBarb Pie – Blueberry and rhubarb pie.
Gooey Cream Cheese Brownies
Their breakfast menu is served with coffee, tea, or cocoa and your choice of orange, cranberry, apple, grapefruit or V-8 juice.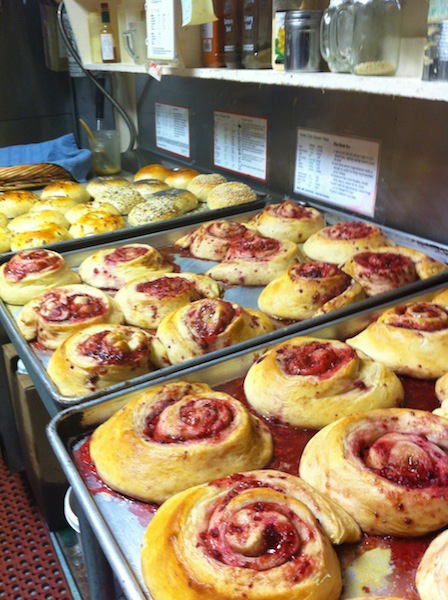 Here's a list of some of the items on their menu and prices:
Roadhouse Standard – $13.95
Biscuits & Gravy – $12.50
Sourdough Hotcakes – $11.95
Green Chili & Cheese Breakfast Casserole (Kind of like a crustless quiche made with mild green chilies, corn potato and cheese.) – $7.75
Breakfast Wrap (Whole wheat tortilla that's filled with scrambled eggs, cheese, home fries and bacon.) – $7.50
Loaded Home Fries (Home fries covered in Reindeer sausage gravy and cheese and covered in Black Bean Chili that's served with sides of green chilies, jalapenos, guacamole and salsa.) – $10.50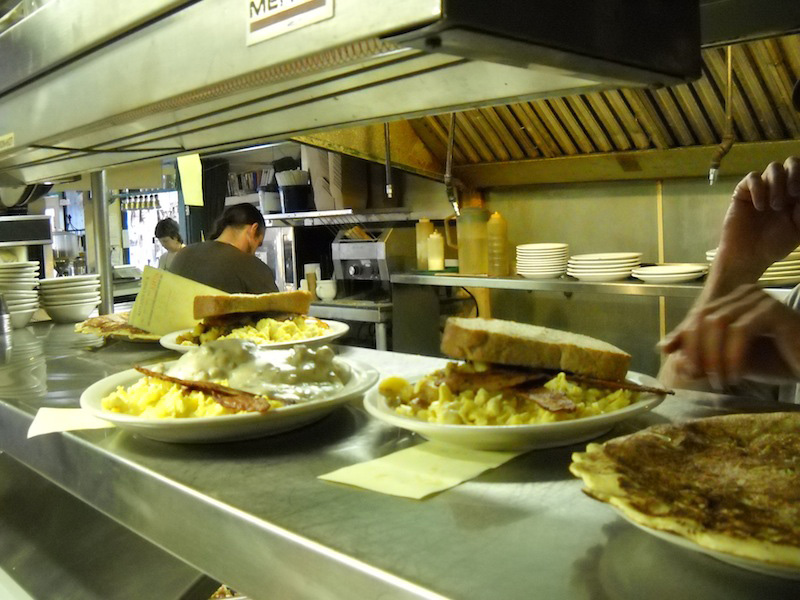 There "Not Breakfast" Menu includes some really tasty homemade food such as:
Pasty or Quiche Meal (Comes with chips, salad, soup, chili, Mac & Cheese) – $14.00
You can choose from the following:
Traditional Beef Pasty
Patty Melt Pasty
Cheezy Onion Potato Pasty
Wild Salmon Pasty
Curried Potato & Pea Pasty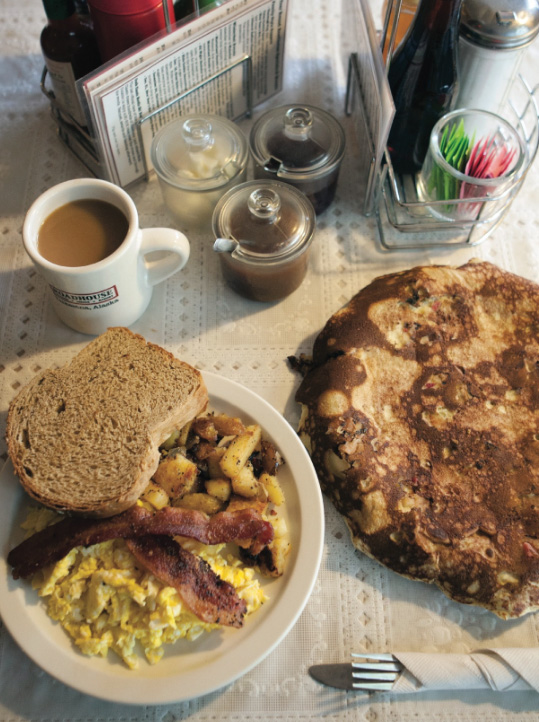 There are three different kinds of quiche you can choose from:
Spinach & Deviled Ham
Mushroom Swiss
Garden Vegetable (carrots, summer squash, broccoli and zucchini)
If you are looking for something lighter they have a couple of choices that are served with chips, salad, soup, chili or Mac & Cheese for $12.00.
Square Bun – This is the Roadhouse's version of a slider. They are petite square buns that they make daily with their Potato Bread. You can choose from Veggie, BBQ Pulled Pork, BLT, Reindeer Meatloaf, Alaska Salmon Salad or the Specialty of the Day.
Chili-Rudy – This is their signature cheese stuffed reindeer link that's baked in dough and is covered in Reindeer Chili or Black Bean Chili and then topped with Jack cheese and green onions.
You can also enjoy homemade soups served with fresh bread, oyster crackers or corn muffins:
There's also two kinds of homemade chili Black Bean with no meat or their Reindeer No Bean Chili or you can even combine the two together if you like. Both chilies are topped with Jack cheese and green onions and served with your choice of corn muffin, fresh bread or oyster crackers.
They even have a special bread schedule so patrons will know when their favorite homemade breads are being made and served hot and fresh out of the oven.
Bread Schedule:
Mondays – Squaw Bread
Tuesdays – French Bread
Wednesdays – Honey Whole Wheat Bread
Thursdays – Onion Dill Rye Bread
Fridays – Potato Bread
Saturdays – Oatmeal Beer Bread
Sundays – Struan Bread
Talkeetna Roadhouse: Amazing Place To Stay
There's more to the Talkeetna Roadhouse than just great tasting food and good strong coffee. If you are looking for a great place to stay that's historic and cozy then you'll not have to look any further. This is an ideal spot to break up a long trip especially if you are traveling from Anchorage to Denali Park Entrance since the Roadhouse is halfway between these too places. As an overnight guest you will be gently woke up by the smell of fresh cinnamon rolls baking and hot coffee brewing. Their rooms are extremely cozy and are great for singles, couples and even families.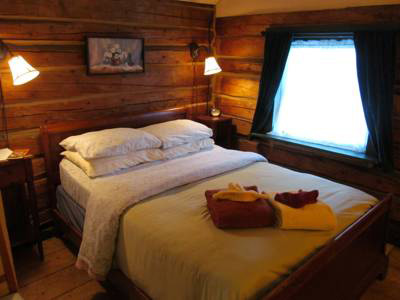 There are three rooms that are upstairs above the cafe and they all share one bathroom in the old tradition of many roadhouses. The bathroom upstairs is complete with a genuine claw foot tub and a shower, sink and toilet. There are two rooms located downstairs. One is called the Bunk Room and the other is the "Little Cabin in the Back" These two rooms have access to four different bathrooms that are just down the hall and three of the four have showers. The "Little Cabin in the Back" is their on site cabin that's located behind the main log building of the Talkeetna Roadhouse. This quaint little cabin can sleep up to five people with it's queen, single and two full beds in the sleeping loft. It has a nice fireplace, a microwave, small refrigerator and TV with a movie library.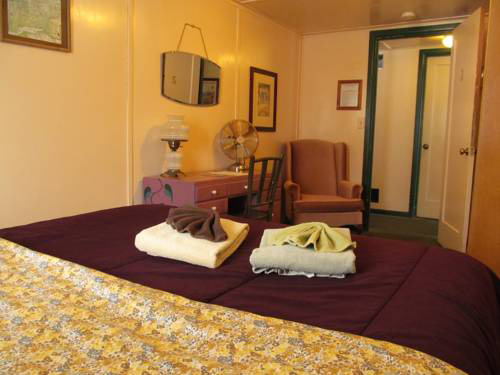 The Main Room that's in the Roadhouse is furnished with huge tables where you can play cards or your favorite board games on. You can sit down and write a letter to a friend or family member while enjoying a cup of coffee or even a beer if you like. The living room has a piano that anyone is welcome to place, a nice rock fireplace, and a host of magazines you can casually browse through while sipping hot cocoa in front of a warm fire.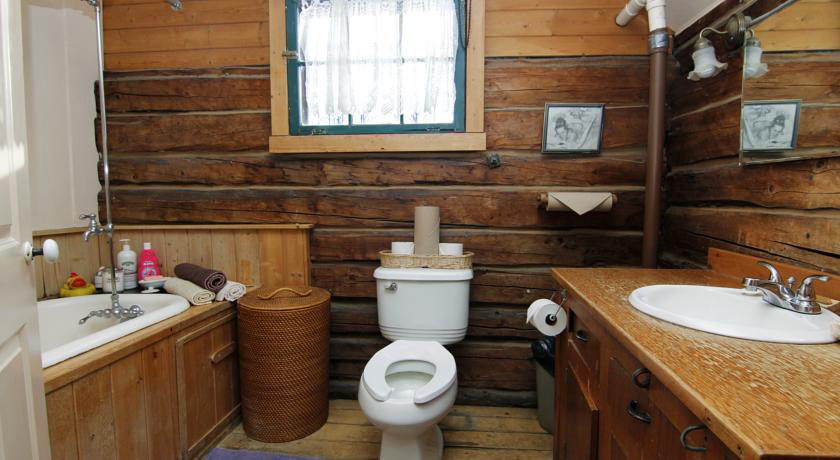 They also offer coin-op washers and dryers that can be used all year round. And for those techies out there, don't worry you do have access to WiFi in the main building!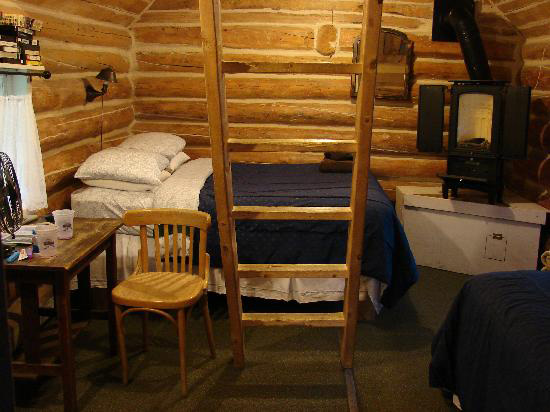 This great historic coffee shop also has two other cabins that are separate from the Roadhouse:
Trapper John's Cabin
This is a beautiful historic log cabin that's on a miniature homestead that is located near the Sustina River and it's just a short little walk to historic downtown Talkeetna and the Talkeetna Roadhouse. You'll love the way this little cabin is decorated. It's filled with trapping memorabilia that screams "Alaska". This cabin sleeps four people and the beds are all covered in warm and cozy flannel sheets. It has a full on kitchen, electricity, TV with VCR/DVD. It does have a famous 5 Star Outhouse, but it also has it's own indoor bathroom with tub, toilet and sink, so don't worry about visiting that outhouse.
The Museum Apartment
This apartment is located at the end of the block that goes behind their Main Street location. It is actually located on the top floor of the "Little Red Schoolhouse". It has it's own private entrance and will sleep up to five people. The queen bed provided has it's own room and then there is a single bed and a full sized funton in the living room. There is a full on kitchen that includes a fridge, gas stove and oven, microwave and a coffee maker. They also provide coffee, tea, cocoa and condiments. It also has a bathroom with sink, shower, tub and toilet. All guests who stay here are given free passes to visit the Talkeetna Historical Society Museum which is on the main floor of the same building.




If you're interested in visiting this unique cafe and want to stay for a few days here are the rates you can expect to pay:
Summer is May 1 – Sept. 30
Winter is Oct. 1 – April 30
Room #1 Summer Rates:
Single – $55.65
Double – $66.15
Tripe – $76.65
Room #1 Winter Rates:
Single – $47.25
Double – $57.75
Triple – $68.25
Room #2 Summer Rates:
Single – $59.85
Double – $70.35
Room #2 Winter Rates:
Single – $51.45
Double – $61.95
Room #3 Summer Rates:
Single – $80.85
Double – $91.35
Triple – $101.85
Room #3 Winter Rates:
Single – $69.30
Double – $79.80
Triple – $90.30
Room #4 Summer Rates:
Single – $80.85
Double – $91.35
Triple – $101.85
Room #4 Winter Rates:
Single – $69.30
Double – $79.80
Triple – $90.30
Room #5 Summer Rates:
Single – $80.85
Double – $91.35
Triple – $101.85
Room #5 Winter Rates:
Single – $69.30
Double – $79.80
Triple – $90.30
Little Cabin in the Back Summer Rates:
Range from $101.85 to $143.85 (Single to Quint)
Little Cabin in the Back Winter Rates:
Range from $87.15 to $129.15 (Single to Quint)
Trapper John's Cabin Summer Rates:
Range from $138.60 to $180.60 (Single to Quint)
Trapper John's Cabin Winter Rates:
Range from $118.65 to $160.65 (Single to Quint)
Museum Apartment Summer Rates:
Range from $149.10 to $191.10 (Single to Quint)
Museum Apartment Winter Rates:
Range from $128.10 to $170.10 (Single to Quint)
Hostel Style Bunks Rantes:
Summer & Winter – $23.10




If you are visiting Alaska and are looking for a great place to eat, stay and learn a lot about history then you might want to see for yourself why we chose the Talkeetna Roadhouse as the Best Coffee Shop in Alaska.
Location and Contact Information
Address: 13550 East Main Street, Talkeetna, Alaska
Phone: 907-733-1351
Website: http://www.talkeetnaroadhouse.com/
Facebook: https://www.facebook.com/talkeetnaroadhouse
Hours of Operation: Summer
Bakery Summer Hours – Daily 6:00 am to 8:00 pm
Breakfast Summer Hours – Daily 7:00 am to 2:00 pm
Not Breakfast Summer Hours – Daily 11:00 am to 8:00 pm
Hours of Operation: Winter
Bakery Winter Hours – Daily 8:00 am to 8:00 pm
Breakfast Winter Hours – Mon. thru Fri. 8:00 am to Noon, Sat. & Sun. 8:00 am to 2:00 pm
Not Breakfast Winter Hours – Daily 11:00 am to 8:00 pm
Feel free to call them to ask any questions or make a reservation for one of their wonderful rooms or cabins. Make sure to visit their website and check out all the different activities there are available such as:
Sport Fishing
Flightseeing
Rafting, Canoeing, Rafting
Dog Sled Rides
Jetboat Tours
Museums
Horseback Riding
Hiking
---
What to read next: