---
Arkansas Best Coffee Shop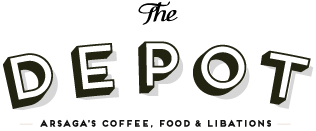 Arsaga's The Depot Ranked #1
When looking for the best coffee shops all over this country we're always trying to find those that don't just serve great coffee and great food, we also include those that are unique. This is why The Depot in Fayetteville, Arkansas comes to mind when ranking for the best coffee shop in Arkansas, 2017. The Depot is one of the newer members of cafes in Arkansas that we found to fit the bill to be called the Best Coffee Shop in Arkansas.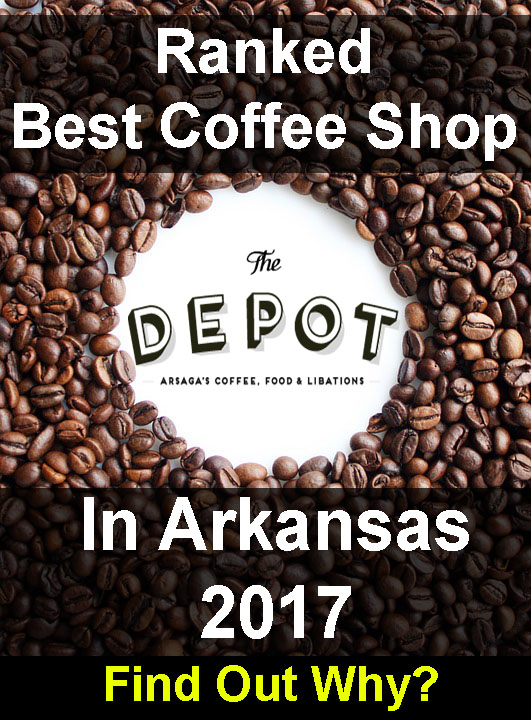 The Depot: History
Up until around 2000 this poor building was nearly forgotten and was in near shambles. The building itself was built in the early 1900's and was an old train freight building that was in total disrepair and really needed a face-lift. The owners of The Depot decided to do something about it and after about a year of demolition along with remodeling they returned the building back to a historic landmark again.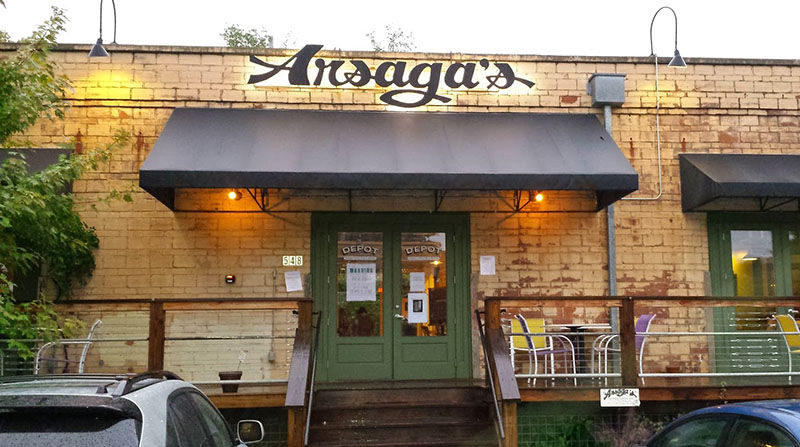 Looking at The Depot today you would never know that as recently as 2000 this building they occupy was right next to a train depot totally forgotten about. It once was occupied by a squatter who used the area of the railroad tracks to take old Pullman cars and do his best to refurbish them. The lot they found was nothing but gravel and there were rail car axles, panels and wheels all over the place. Basically what they had to work with was a junkyard!




A Unique Cafe Experience
The goal of the owners has not only been to restore an old building but to turn it into a very unique cafe that offers their customers great tasting and locally roasted coffee beans. On top of that they wanted to make sure that they also offered their customers a full service restaurant that serves delicious crepes, soups, salads and much more. They also wanted to make sure that all the food would be made with local ingredients available. So far, The Depot is a coffee shop and cafe that has accomplished their goals and has become a local favorite in Fayetteville.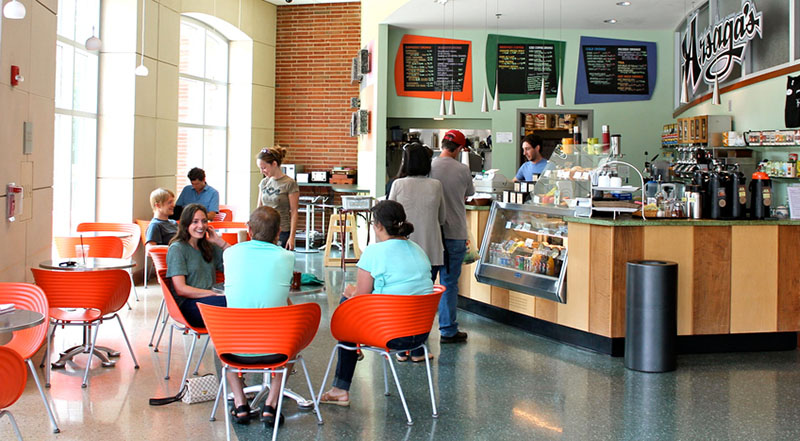 Arsaga's The Depot: Cozy – Right At Home Feel
This little historic cafe is a pleasure to walk into and you immediately notice the unique wooden floors and the very comfortable, cozy and lived-in feel you get immediately. The atmosphere is one that makes you feel right at home as soon as you step in. It also offers very spacious outdoor decks that you can enjoy when the weather is really nice.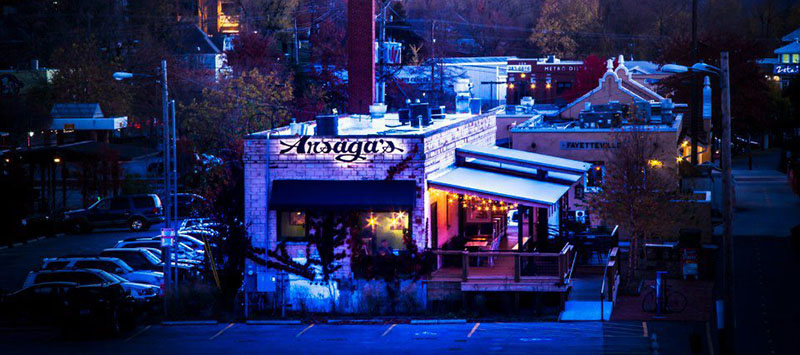 Central Location – A Place For Community Gathering
The owners have tried to use it's central location as key for making The Depot an inviting and convenient gathering place for the community and all of it's visitors to the area. With it's down home feel and the friendliness of it's staff they offer those who visit a home away from feeling.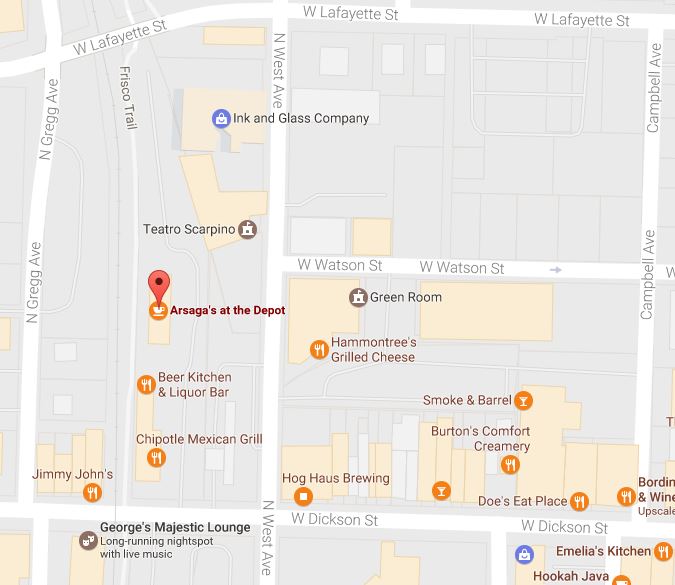 Group Meetings, Musical & Artistic Events and Parties
Not only does The Depot offer a great location that is filled with history, great food and coffee, they also offer a place where the locals can hold group meetings, have musical and artistic events, small parties as well as receptions of all sorts. They also love to be available for catering whatever their customers need catering for.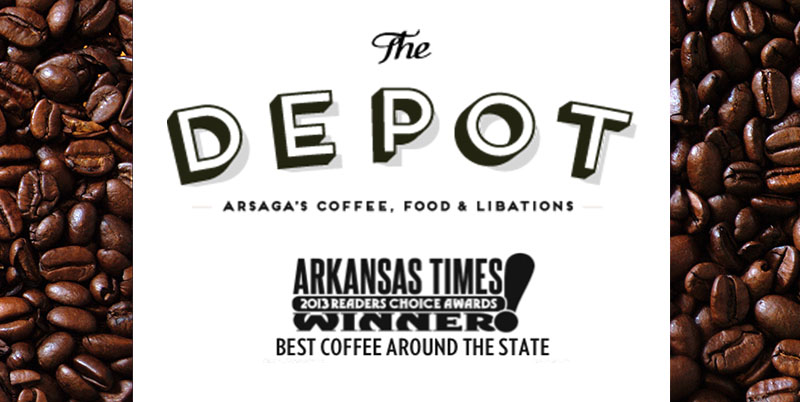 Espressogurus.com is not the first to award The Depot as the best coffee shop in Arkansas. Arsaga's The Depot has won the Arkansas Times 2013 Readers Choice Awards for "Best Coffee Around The State" in the past as well.
---
Arsaga's The Depot: Menu
They have a nice coffee menu that has a variety of different choices some of what you can expect is listed below and are reasonably priced:
ESPRESSO
Espresso $2.50 (one size)
Cappuccino $3.25 (8oz)
Lattee $3.25 – $4.75 (8oz – 20oz)
Mocha $3.75 – $5.25 (8oz – 20oz)
Americano $3.00 – $4.00 (8oz – 16oz)
In-House Mug $3.00 (one refill)
Bottomless Cup $3.75
Cafe Au Lait $3.00 – $4.25 (12oz – 20oz)
OTHER HOT BEVERAGES
Hot Chocolate $2.75 – $4.00 (8oz – 20oz)
Chai Latte $3.25 – $5.50 (8oz – 20oz)
London Fog (earl grey tea with steamed milk and homemade vanilla bean honey syrup) $3.50 – $4.95 (8oz – 20oz)
ICED COFFEE (All 16oz or 20oz)
Cold Brewed Coffee $3.00 & $3.50
Iced Latte $4.25 & $4.50
Iced Mocha $4.50 & $5.00
Cacao Cloud (cold brewed coffee and cacao syrup topped with a cold frothed vanilla bean milk) $5.25 & $5.75
Grasshopper (cold brewed coffee, chocolate milk and house mint syrup) $5.25 & $5.75
BLENDED/FROZEN BEVERAGES (All 16oz or 20oz)
Arsagaccino (a real local classic with chocolate or their seasonal caramel) $5.50 & $5.95
Frisco Trail (banana, almond butter, maple syrup, salt and soy milk) $5.50 & $5.95
Immortal Frog (orange juice, banana and spinach) $5.50 & $5.95
Fruit Smoothie ( apple juice blended with mixed berries) $5.50 & $5.95
They also offer a menu for seasonal drinks that they offer their customers that are quite interesting that you may enjoy while visiting The Depot cafe:
SEASONAL DRINKS
ButterBean (espresso served over grass fed butter with bee pollen and local honey) $3.25 (2oz)
Elder Lemon Tonic (hot lemonade sweetened with homemade elderberry and clove honey) $3.95 (8oz)
Burnt Over (espresso served over rich, sweet cream and orange bitters topped off with a caramelized sugar shell) $3.95 (8oz)
Golden Milk (turmeric and ginger chai that's steamed with coconut milk) $3.75 – $5.95 (8oz – 20oz)
Southern Living (rosemary and molasses butter that's melted into a cappuccino) $3.95 (8oz)
Pistachio Salep (pistashio, rose water and cardamom in warm, rice thickened milk) $3.95 (8oz)
You will also be pleased with some of the delicious foods that are made from locally produced items and made just like you were at home being served in the comfort of your own kitchen. The food is fresh and delicious and the prices really are pretty reasonable as well.
BREAKFAST PLATES
Brezinski (two eggs, fresh fruit, salt and pepper tomatoes, herbed potatoes with garlic aioli, two pieces of bacon and sourdough toast.) $10.95
Chorizo and Grits Omelet (El Ranchito chorizo, three eggs, poblano peppers, scallions and white cheddar grits that's topped with mojo verde. Served with arugula, pickled onion and sourdough toast) $11.95
Rice Omelet (Lightly fried rice with three eggs, kimchi, scallions and tonkatau sauce. Topped off with shichimi, served with arugula, chili pickled cucumber and sourdough toast.) $10.95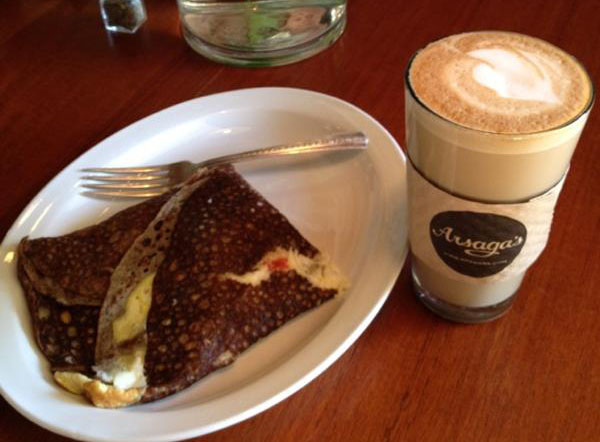 CREPES
(All crepes are served with choice of herbed potatoes and garlic aioli or fresh greens.)
Ozark (Local artisan sausage, white cheddar and roasted red peppers in a cornmeal crepe. Topped off with homemade crème fraiche.) $9.95
Crepe Atlas (Cornmeal crepe filled with roasted chicken, shiitakes, bacon, scallions, white cheddar and parmesan. Topped off with homemade crème fraiche.) $11.50
Love Me Tender (Peppered beef tenderloin, poblano peppers and caper onion aioli wrapped in a corn crepe. This is topped with a runny egg, tomato and mojo verde. Served on a bed of fresh arugula.) $11.95
El Corazon (Miso roasted sweet potatoes, scallions and caramelized mushrooms put in a buckwheat crepe. It's topped with beet ginger slaw and a bit of homemade crème fraiche.) $10.95
Poires & Porc (Caramelized pears, date goat cheese and bacon is inside a sweet crepe that is topped with maple butter, salted pecan streusel and mascarpone whipped cream.) $10.95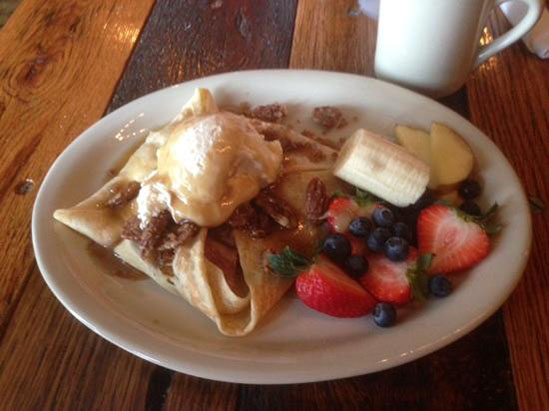 SWEET CREPES (These are served daily all day long)
Blood Orange Suzette (Blood oranges, butter and grand marnier. Flambe style. Served with whipped cream and blood orange segmenta.) $7.50
Nutella (Crepe with a chocolate hazelnut spread) $4.95 with banana or strawberry add $.50
Key Lime Crepe (Crepe with key lime cream, pie crust crumbles and topped with whipped cream and some fresh berries) $7.95
Preserves (Crepe filled with strawberry, raspberry or blueberry preserves.) $4.95 with homemade ricotta or chocolate ganache add $.50
Arsaga (Salted dulce de leche and chocolate ganache on an espresso crepe with a mascarpone whip.) $5.95
The Depot: Soups & Salads
If you are not in the mood for a breakfast plate or crepes they also offer a variety of different freshly made soups and salads you can choose from. Here's a few favorites:
SOUPS & SALADS
Soup & Salad (Soup and ½ a salad of your choice) $10.95
Soup Du Jour (Pick from their veggie or non-veggie options of the day. The soup is served with sourdough toast and whipped mascarpone honey spread.) $6.50
Curry Chicken Salad (This has roasted chicken, pickled carrots, chickpeas, coriander, dates and arugula that is tossed in a curry carrot dressing and topped with Spanish peanuts and scallions and served with a corn crepe.) Whole $10.95 Half $7.95
Salad Nicoise (Combines Tilapia, potatoes, pickled onions and carrots, tapenade, a five minute egg and cucumber on butter lettuce with a citron vinaigrette dressing and is served with a buckwheat crepe.) Whole $12.95 Half $9.95
Brussels Sprouts (Fried fresh Brussels sprouts with schichimi, aioli and scallions) $4.95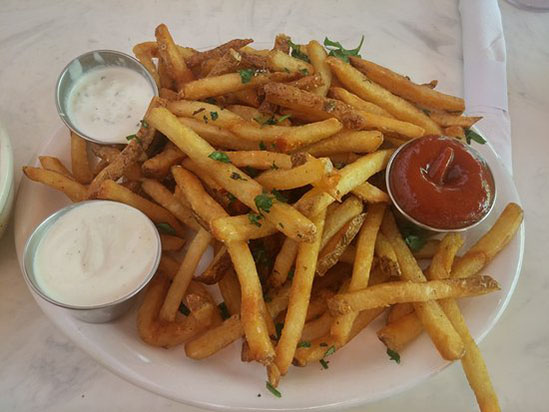 They also include a special little section on their hand cut fries:
HAND CUT FRIES
Herbed Fries (Served with garlic aioli, curry ketchup, creamy ricotta dressing or just plain old ketchup.) Whole $6.95 Half $5.00
Beer Cheese Fries (These are topped with Gruyere, white cheddar and Lost Forty Belgian Blonde fondu.) $8.95 add El Ranchito chorizo for $2.00
Tonkatsu Fries (Fries topped with Tonkatsu sauce, aioli and a sunny egg that is topped with scallions and shichimi.) $8.95 add some peppered beef tenderloin for $3.00
Pastrami Fries (Fries topped with homemade pastrami, kimchi, fried capers, scallions and Russian dressing.) $9.95
The Depot: Sandwiches
Finally, if you are looking for a few good sandwiches to choose from they've got that as well:
SANDOS (All served with a choice of herbed potatoes and garlic aioli or fresh greens.)
Saladwich (Toasted Apple Blossom Rye filled with sliced pears, date goat cheese pread, pecans and dressed with arugula.) $8.95
Depot Pastrami on Rye (Features their homemade pastrami on Apple Blossom Rye with chili pickled cucumber, cream cheese and Russian dressing.) $11.95
The Gravlax (This is Citrus beat cured salmon with pickled carrots and red onions, everything bagel spice, capers, cream cheese and arugula on a toasted English muffin.) $9.95
Rise and Shine (Includes bacon, sharp white cheddar, a basted egg, fried garlic, chive cream cheese, garlic aioli and greens that's served on a toasted English muffin.) $7.95
The Depot: Brunch
Every Saturday and Sunday this unique little coffee shop also serves up brunch. Their brunch is homemade biscuits and gravy that is served with two eggs however you want them cooked and some greens tossed with some of their special chili pickled cucumbers for $8.95.
They also serve a variety of wines, beer, ciders and specialty drinks that are sure to please the taste buds.
If you are visiting Fayetteville, Arkansas make sure that you take the time to visit what we feel is the Best Coffee Shop in Arkansas. Here's where you can find them.
---

Location & Contact Information
Address: 548 W Dickson St., Fayetteville, AR 72701
Phone: 479-443-9900
Arsaga's The Depot Website: arsagasdepot.com
Email: hello@arsagas.com
For Music Bookings: andi@arsagas.com
For Reservations & Special Events: catering@arsagas.com
For Art Bookings: art@arsagas.com
Facebook: https://www.facebook.com/ArsagasDepot/
Hours of Operation
Monday – Saturday 7:00 am – 10:00 pm
Sundays – 9:00 am – 3:00 pm
---
The Depot: Local Attractions
While you are in the area you also might want to check out some of the local attractions to make your visit to The Depot complete. Here are a few things to check out once you have satisfied your coffee cravings and filled up on food from the Best Coffee Shop in Arkansas.
---

Northwest Arkansas Travel Guide (Click For Details)
---
If you love nature and gardens this is a must see when visiting the area. From springtime to winter there is always something beautiful to see and to explore. This is a great place for kids too with the vegetable garden, a train and chickens the kids can feed.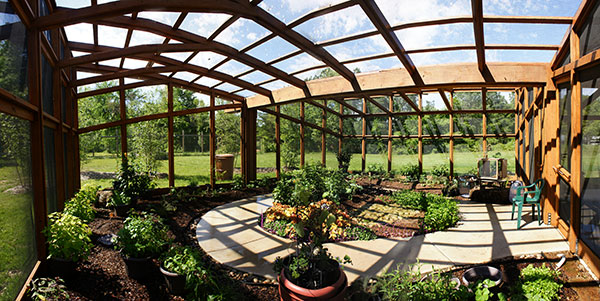 ---
Downtown Fayetteville Square & Gardens
Downtown offers a lot of history and enjoyable walking for those who love to take in historic sites. You'll enjoy the fact that they offer a Farmers Market that is open all year round so no matter what time of year you visit you won't miss out.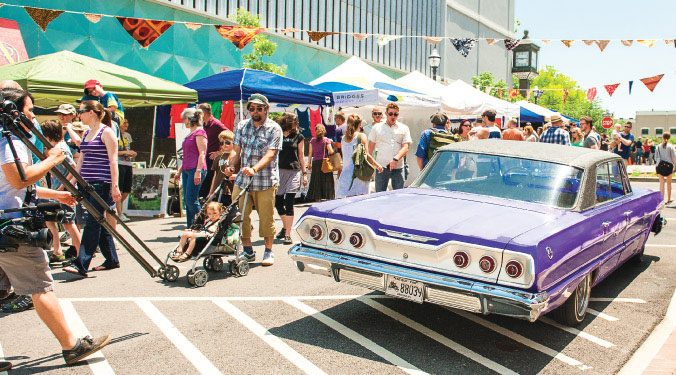 ---
If you're a Civil War buff then you'll want to check out this museum. It's a nice museum that gives you a look into what it was like in Arkansas during the Civil War.
---
If you are looking for something unique and different you'll want to check this attraction out. What is an escape room? It's a fun and interactive game that's designed for groups of people from 2-10 per group. The team of players are locked in a room for an hour and they have to figure out how to escape. They are required to find hidden items, solve different puzzles, figure out the clues and other challenging things. The main rule is that everyone has to work together. A very interesting and unique thing to do while visiting the area.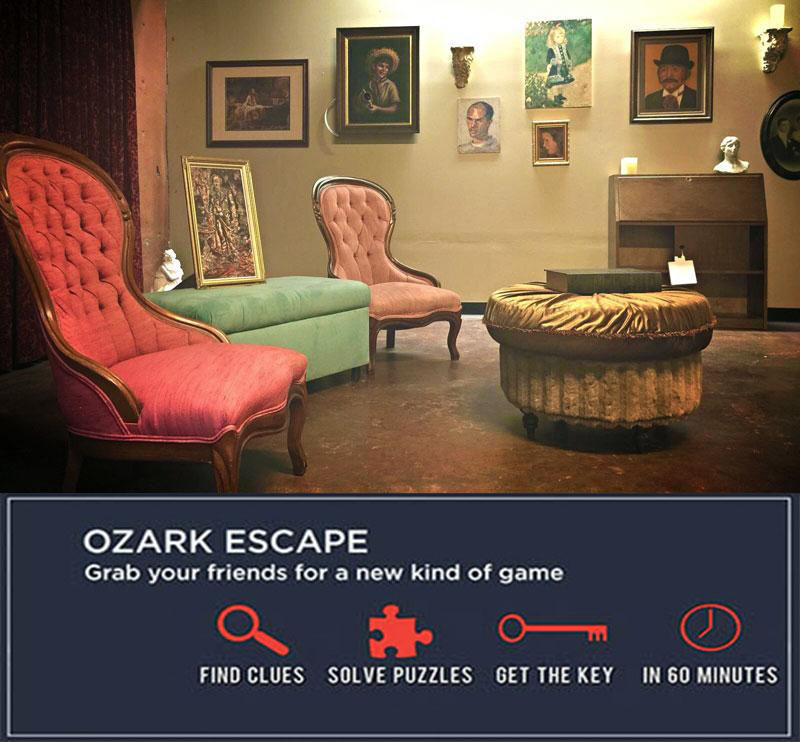 ---
What To Read Next:
2017 Best Coffee Shops In Every State Ranked
2016 Best Coffee Shops In Every State Ranked