The Best Coffee Shop in Georgia Ranked 2017

---
Best Coffee Shop In Georgia Ranked
It can sometimes be tough trying to find the best coffee shop when there is so much competition in all the different states. This was the case this time around when it came to finding the Best Coffee Shop in Georgia for 2017. There were so many different coffee shops, cafes and coffee houses to try to pick from it really seemed like a daunting task. However, we did finally come across one that has three different locations in Georgia. This would be Reveille Coffeehouse Cafe. Keep reading "The Best Coffee Shop In Georgia Ranked 2017" to find out why Reveille Coffeehouse Cafe is the best coffee shop in Georgia in 2017.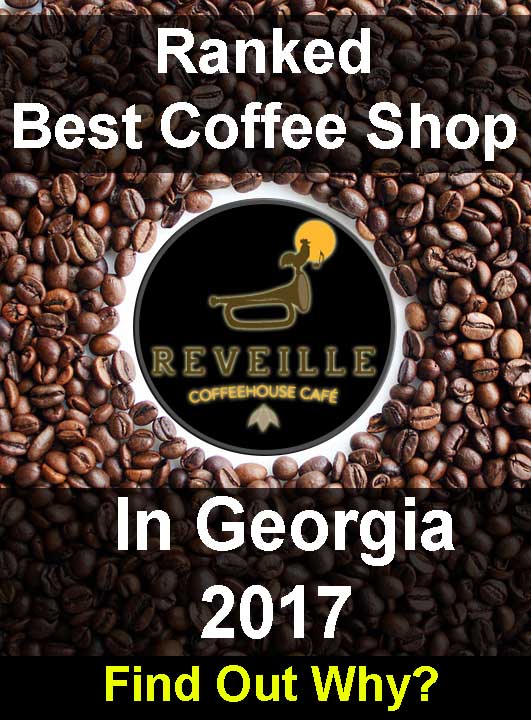 Reveille Coffeehouse Cafe Ranked No.1
Reveille Meaning:
One of the things that we really liked was the name Reveille Coffeehouse Cafe and it's meaning. When you look it up in the dictionary Reveille pronunced "rev-uh-lee" means the following:
wake-up call: the sounding of a bugle to awaken military personnel
signal to awake: any signal that it is time to get out of bed
Reveille Coffeehouse Cafe's – No Frills Just Great Tasting Coffee & Breakfast
This title and meaning seems to suit the Reveille Coffeehouse Cafe because of it's no frills great tasting coffee and a breakfast menu that will definitely wake up your taste buds and in turn will prepare you to be ready to start the day. We like our choice for the Best Coffee Shop in Georgia Ranked for 2017 for a lot of different reasons.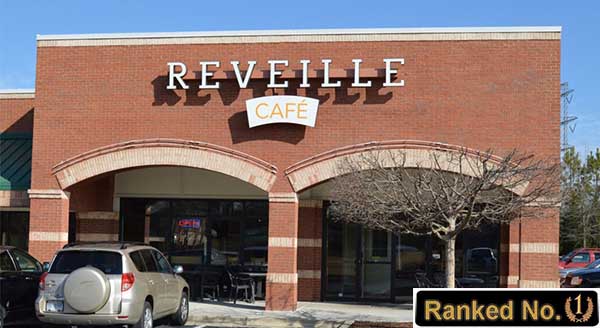 Atlanta, Georgia's Best Coffee & Food Served At Reveille Coffeehouse Cafe
One of the reasons is its unassuming look. It's really quite simple looking and from the outside you would never think that the Reveille Coffeehouse Cafe was in there dishing up what some say is the best breakfast in Atlanta. Looking at this coffee shop, there really doesn't look to be anything special about it, but the minute you walk in the Reveille Coffeehouse Cafe the aromas hit you immediately and you soon find out why we chose it to be the Best Coffee Shop in Georgia Ranked for 2017!
Reveille Coffeehouse Cafe Owner: Jay
The owner Jay opened the Reveille Coffeehouse Cafe so that he could offer people of his community good wholesome breakfast. He believes that over the years the fast food industry has destroyed the traditional breakfast that a lot of people grew up with. Something that was once considered the most important meal of the day has been turned into just a matter of convenience that you catch on the run or even skip it all together. However at Jay's cafe they still believe that it's an important time for nourishing the body with a hearty and healthy meal to get you going and ready to face the day.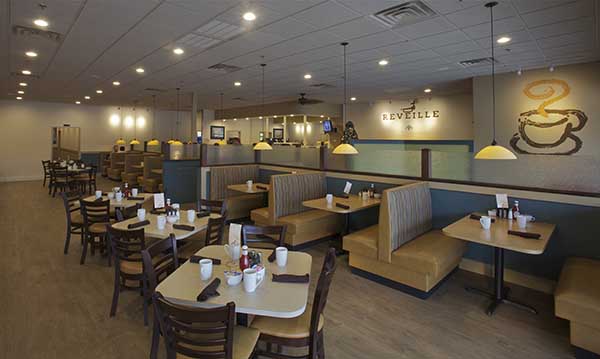 Enjoy A Fresh Start & Comfort Of Home At Georgia's Best
Breakfast has long been tied to mornings that encompasses new beginnings, they offer a new fresh start and also the comfort of home when you smell cinnamon and bacon filling the air. Or it could be the smell of warm maple syrup that makes your mouth water. Whatever it is that brings back good memories of home, the Reveille Coffeehouse Cafe believes it's important to make their customers feel like they are waiting for breakfast from their home kitchen like their moms use to make.




The Story Of Georgia's Best Coffee Shop
So why did Jay create Reveille Coffeehouse Cafe? His reason was that when he was growing up, it was Sunday breakfast  that was the most awaited for meal each week. He would always wake up to the wonderful smells of bacon and then would sit down and eat perfectly fried eggs that were cooked in the leftover bacon grease in his mom's old cast iron skillet. The bacon and eggs would be served with homemade potatoes and onions. It was also the only day of the week that the kids were allowed to drink fresh brewed coffee. All this was a huge treat for the family and it was the one time the kids got to pretend to be grown-ups.
The Secret Of Reveille Coffeehouse Cafe is Passion
The passion that Jay and the Reveille Coffeehouse Cafe has for breakfast is one of the big reasons why we chose them as the Best Coffee Shop in Georgia Ranked for 2017. When someone cares that much about breakfast it shows in the quality, care, time taken and most of all the taste of the food. To be sure, the Reveille Coffeehouse Cafe is going to certainly wake up your taste buds and more than likely stir up some old memories from your past.

The Fusion Of Old Fashioned Breakfast & Today's Favorites
This coffee shop has been able to recreate the good old fashioned and old breakfast tradition and then combined it with some of today's favorites. Don't worry, they also have made sure to include healthier options for those who may not be into those good old fashioned breakfasts of the past. This is another reason why we feel that Reveille Coffeehouse Cafe deserves to be named the Best Coffee Shop in Georgia Ranked for 2017.
Reveille Coffeehouse Cafe's Has Best Of Both Worlds: Breakfast & Lunch
This cafe not only serves an incredible breakfast and brunch but they also offer their customers some great tasting lunch items that are also sure to please. Along with great tasting homemade style food they also offer a nice bright and relaxing atmosphere on the inside. They offer the kind of environment that is welcoming for families, couples or just for people who like to come in and dine alone. The service has a small town feel and all of the staff are extremely friendly and seem to really enjoy serving their customers. This is yet another reason why they were voted to be the Best Coffee Shop in Georgia Ranked for 2017. There's nothing like both great food and good service.

Jay & Family Proud Supporters Of Local Communities
Another wonderful thing about Reveille coffee shop is that Jay and his family are all proud supporters of many local communities and often will hold fundraising drives all through the year and the money that is donated by the customers will always be matched by the Reveille Coffeehouse Cafe. Every season they get involved with different causes. Here are just a couple of the events that they raise money for:
Leukemia & Lymphoma Society/Light the Night Walk (Fall)
In 2013 they joined in on this cause by raising money with $1 of all of their Sweet Potato Pancake orders. This since has become a yearly thing and it's a service that offers patient support services and advocate for lifesaving treatments in cancer research. The Light the Night Walk are several evenings filled with inspiration. On the leisurely walk there are illuminated balloons, white are for cancer survivors, red ones are the supporters, and gold ones are in memory of those who have died from cancer.
Reveille Adopt a Family (Winter)
Reveille Coffeehouse Cafe started this program in response to the community need. This program provides local families in need with basic goods for the home, clothing, toys, books and even school supplies. They want to make sure that these families have a happy holiday season.




Community Support Reveille Cafe's Key To Success
These two things alone caught our eye and realized that this coffee shop was more than just your run of the mill business. Because of their caring so much for their community we felt this helped make our decision easier on calling them the Best Coffee Shop in Georgia Ranked for 2017.
Reveille Coffeehouse Cafe Ranked The Best Coffee Shop In Georgia 2017
Besides community ties and service let's not forget the delicious breakfasts, brunch and lunches that they offer to their community. It's a lot of this food that the Reveille Coffeehouse Cafe serves that helped us rank it for the Best Coffee Shop in Georgia for 2017. They do not list the prices on their menu however, you can easily call them and there's no doubt that their staff will be kind enough to give you prices if you ask. The staff are always willing to answer questions which made it easy to choose them as the Best Coffee Shop in Georgia Ranked for 2017.
---
The Best Coffee Shop In Georgia Ranked 2017
---

Reveille Coffeehouse Cafe Menu
Wake Up Call Menu
They help you start off the day with their own fresh squeezed orange juice. They never use processed orange juice to get your breakfast started.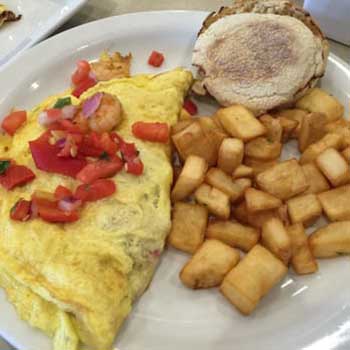 Bold Dakota – Light Breakfast Blend 
Even though they don't have a coffee bar in their cafe, they do offer a light breakfast blend or a bold Dakota. The coffee by the way is served to you in a pot that is never ending and all for one price. So you can have as much freshly brewed coffee as you want at this coffee shop for one price tag. Because of the great food, it didn't matter much there is no coffee bar, they still deserve to be named as the Best Coffee Shop in Georgia Ranked for 2017.

Some favorites on the Wake Up Call are:
Irish Oatmeal – Steel cut oats that are slow cooked and then topped with cinnamon apples, raisins and brown sugar.
The Breakfast Club – This is a BLT that is on grilled whole wheat bread and comes with a fried egg.
Sunrise Quesadilla – Flour tortilla that's stuffed with scrambled eggs, bacon, pico de gallo and mixed cheeses then grilled to a golden brown and served with guacamole and sour cream.
From the Griddle
Blueberry Lemon Cakes – Their homemade lemon pancakes that are filled with fresh blueberries and then topped off with zesty lemon cream.
Peanut Butter & Banana Griddlecakes – People fall in love with this one on the first bite. These are their sweet cream pancakes that are filled with Reese's peanut butter chips and sliced bananas and served with honey.
Mystic Stuffed French Toast – This is a hearty slice of Challa bread that's stuffed with a cream cheese filling and coated in corn flakes. Then it's grilled to a golden brown and topped with fresh strawberries and bananas and topped with a drizzle of their homemade vanilla rum sauce.
Reveille Coffeehouse Cafe – Healthy Choices
Chicken Sausage Plate – Patty style chicken sausage served with scrambled egg whites and served with fresh fruit.
Blanco Omelet – This is an egg white omelet that's filled with turkey, red onions, sauteed mushrooms, white cheddar and a dash of dill and served with fresh fruit.
Veggie Sausage Plate – This is a veggie patty that is served with scrambled egg whites and a side of fresh fruit.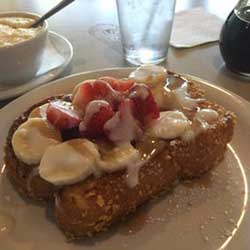 Reveille – House Favorites
The Kitchen Sink – Since some like a little of everything to start their day off with, Reveille Coffeehouse Cafe came up with this one. It's two eggs any style with a slice of bacon, sausage and your choice of potatoes or smoked gouda grits and then include a pancake or a slice of their Creme Brulee toast to make it complete.
Shrimp & Grits – Cajun shrimp, Andouille sausage, smoked bacon and grape tomatoes are all sauteed together in their homemade brown roux and then served on top of their homemade creamy smoked gouda grits.
Breakfast Burrito – Scrambled eggs with spicy chorizo and pico de gallo that's wrapped in a flour tortilla that's smothered with salsa ranchero and a melted cheese mixture and then served with black bean soup on the side.

---
Aahh-melets @ Reveille Coffeehouse Cafe
All of their omelets are served with grits or potatoes and a fresh homemade muffin. Here are just a couple of their favorites:
Firecracker – Cajun shrimp, tomatoes, onions, roasted red peppers and fresh jalapenos.
Matador – Spicy chorizo, roasted red peppers, cheddar cheese and pico de gallo.
Spinach & Bacon – Filled with spinach, sun-dried tomatoes and Bleu cheese.
---
Salads/Sandwiches @ Reveille Coffeehouse Cafe
Even though breakfast and brunch are top for this coffee shop they do have some pretty good tasting salads and sandwiches that you can enjoy. Here's a couple of them you might like:
Strawberry and Pecan Salad – Chopped lettuce that has diced chicken, candied pecans, strawberries, raisins, white cheddar cheese and topped off with raspberry vinaigrette.
BLT Salad – This is a simple but great tasting salad that has mixed greens topped with grape tomatoes, fresh cooked chopped bacon and topped off with bleu cheese crumbles.
Prime Rib Sandwich – A slice of blackened prime rib that's grilled and then served on a fresh pretzel roll that's topped with caramelized french fried onions and horseradish mayo.
Black Bean Burger – This is made from black beans, corn, brown rice and chili peppers to give it a little kick and is served on fresh made pretzel bun and topped with guacamole and Swiss cheese. You can also add lettuce, onion and tomato.
Reveille Melt – Their own creation of homemade chicken salad that's made with apples, pecans and grapes and is then served open faced on a fresh pretzel roll and topped with sliced tomatoes and melted cheddar cheese.
Dyne-o-mite Burger – This is a specially seasoned burger that is topped with cheddar, bacon and a fried egg with lettuce, tomato and onion served on a pretzel bun.
---
The Best Coffee Shop In Georgia Ranked 2017
---

Reveille Coffeehouse Cafe Location & Contact
If you are considering checking this coffee shop out or if you would like to get more information about the Reveille Coffeehouse Cafe here's the information for their three different locations:
Acworth Location #1
Address: 5330 Brookstone Dr., Acworth, GA 30101
Phone: 770-635-1900
Email: acworth@ReveilleCafe.com
Marietta Location #2 
Address: 2960 Shallowford Rd., Marietta, GA 30066
Phone: 770-971-6800
Email: sandyplains@reveillecafe.com
Haynes Bridge Location #3
Address: 9925 Haynes Bridge Rd. #640, Johns Creek, GA 30022
Phone: 770-360-0970
Email: haynesbridge@reveillecafe.com
---
Reveille Coffeehouse Cafe Social Media
Website: Reveille Coffeehouse Cafe
Facebook: Reveille Coffeehouse Cafe Page
Hours of Operation All Locations
Monday – Sunday
7:00 am to 2:00 pm
---
Attractions & Interesting Things To Do In Georgia
---
Reveille Coffeehouse Cafe Attractions
All of the different locations are in areas where you can find plenty of fun and interesting things to do when visiting. Here are just a few things from each of the locations:


Acworth, GA
Folklore Haunted House – This is considered one of the best and scariest haunted houses anywhere. It's 20,000 square feet of nothing but blackness and filled with incredible special effects and extremely frightening live actors.
Marietta, GA
Marietta Museum of History – If you're a history buff, this is a must see if you're in Marietta. This quaint little museum is in the Historic Kennesaw House and was built in 1845. It's also not too far from the historic Marietta Square. It's the perfect way to spend an afternoon discovering history about the area.
Johns Creek, GA
Autry Mill Nature Preserve and Heritage Center – This a great place to get away and commune with nature. It is 46 acres that's filled with nature trails, woodlands, a creek, pavilions, animal exhibits and historic buildings. Great place for the kids too.
---
WHAT TO READ NEXT:
Best Coffee Shops In U.S. Ranked – 2017
Best Coffee Shops In U.S. Ranked – 2016
How to Lose Weight With Coffee?
Opening a Coffee Shop? Find Out How Not To Fail!
---