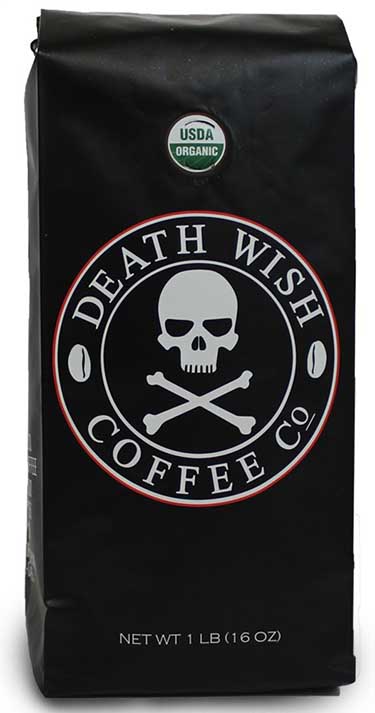 Death Wish Ground Coffee, The World's Strongest Coffee
---
If you are a coffee drinker who wakes up every morning looking for a good kick and want something that is strong enough to wake the dead, well look no further than Death Wish Ground Coffee, Dark Roast. This Dark Roast is just what you are looking for if you are looking for the strongest coffee that you have ever experienced. The label and name alone should get your interest peaked.
Death Wish Dark Roast – Strongest Coffee On Earth!
Even though Death Wish Dark Roast is considered to be the strongest coffee around you will be pleasantly surprised at its lack of bitterness and in fact when you drink it you might even notice that there are subtle hints of cherry and chocolate, chocolate lovers might really enjoy this cup of java. This is premium coffee that is made with extremely bold coffee beans, no arguing with that once you take your first sip of this wildly bold and super strong brew.

Death Wish Coffee The New Energy Drink
If you are looking for a kick start to your day or if you are half way through your day and need another jump start and you can't stand those 5 hour energy drinks, you will be happy to know that not only is Death Wish Ground Coffee some of the strongest and boldest tasting coffees but it is super charged with a caffeine overload and works as good if not better than any energy drink and tastes a lot better as well.
Death Wish Coffee & Caffeine
Even though Death Wish Dark Roast is filled with caffeine there is no need to be afraid that it is going to cause some huge issues with it transforming you into someone that looks like a "speed freak", rest assured the caffeine levels in it are at safe levels and you will be able to control yourself. However, it is not guaranteed that you will be able to control yourself with wanting to drink a lot of it because Death Wish coffee really is a good tasting cup of coffee and it might be hard to stop at just one or two cups once you get started.
Not only does Death Wish Dark Roast make a wonderful cup of hot coffee for that first wake up call in the morning but it also makes wonderful iced coffee which is great for when the temperatures rise and you don't want some hot coffee adding to the heat. Just brew it, chill it and add some ice and you have a great glass of refreshment that has a little extra boost for you at the same time. A great iced coffee to serve to anyone who is looking for something a little different to drink when the weather's hot.

Death Wish Ground Coffee, The World's Strongest Coffee
---
WHAT TO READ NEXT:
Opening a Coffee Shop? Find Out How Not To Fail!
How Does a Drip Coffee Maker Work?