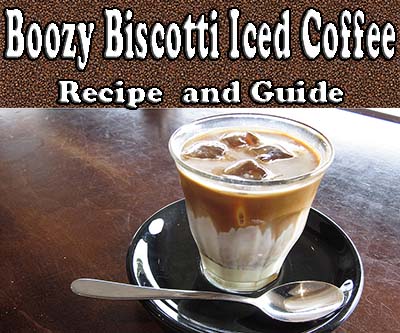 Cold Brew Coffee Recipe
Recipe & Guide: How To Make Boozy Biscotti Iced Coffee At Home
If you are looking for a good cold brew coffee recipe because you are in need of something refreshing, with a little kick and all your friends enjoy coffee you might really want to try this cold brew coffee recipe called Boozy Biscotti Iced Coffee. Not only will this little recipe fulfill the needs of coffee lovers but if you like the taste of Biscotti then this will be an added taste feature for this delicious tasting glass of cold brew coffee.




This Boozy Biscotti Iced Coffee cold brew coffee recipe is great for using as a beverage for holiday cheer, a birthday celebration, special promotions or even great for those who love to add a little class to an early morning tailgate party at their favorite college or professional football game instead of having the usual boring drinks, add a little class and flair with this cold brew coffee recipe. It's definitely a little recipe that's going to put the whole crowd in a good mood and quickly.
This cold brew coffee recipe can be brewed in a 32 ounce French press if you have one however, it's not really needed since you can actually make this Boozy Biscotti Iced Coffee recipe by putting the ground coffee in some water in a pitcher covered with plastic wrap. But back to that part later.
Here are the ingredients that you will need in order to make this cold brew coffee recipe that you and your friends will enjoy for many parties and get togethers to come.
Ingredients for coffee:
4 ½ ounces or 1 ¾ cups of coarsely ground coffee of your choice
3 ½ cups of cold water
Ingredients for the cocktails:
2 cups of cold water
8 ounces of chilled Amaretto
2 ounces of chilled Pernod
Ice
Milk for serving
Required Time
You need to be aware that the overall process of making this Boozy Biscotti Iced Coffee cold brew coffee recipe can take anywhere from 12 hours to one day to make a successful recipe so it's a good idea that you plan for that so that it's ready when you and your guests are ready to enjoy this great tasting recipe.
Instructions
For the coffee part of the recipe: (not using a French Press)
Put your coffee grounds in a 2 quart size pitcher then add the 3 ½ cups of cold water. Once you have done this just stir to combine the coffee grounds with the water. Once the two are mixed well take some plastic wrap and put it over the top of the pitcher and let the combination steep at room temperature for at least 12 hours and even up to 24 hours if you prefer.
Once the coffee mixture is ready you will need to have a fine mesh strainer that you have lined with your standard run of the mill coffee filter and then take both and fit over a medium bowl. You will need to work in batches by slowly pouring the coffee into the filter until all the liquid has passed through the strainer. This will be a slow stream so don't force it, you want it to be slow. You can stop when you reach the solids you find at the bottom of your pitcher, you don't want to pour them in the bowl. Throw away the grounds and everything left behind in the strainer.
Take the pitcher and wash and dry it and then transfer the strained coffee back into the pitcher. Once you have done that cover it again and refrigerate it until it is totally chilled. You should chill at least 2 hours.
For the cocktails part of recipe:
When you are sure you are ready to serve your Boozy Biscotti Iced Coffee add water, Amaretto and Pernod to the strained coffee and stir to combine all the ingredients. You then simply serve over ice and offer milk on the side.
The recipe may take some time to prepare but once you have tried it and your guests have tried it you all will agree that the flavor and enjoyment that you get from this cold brew coffee recipe was well worth the wait.