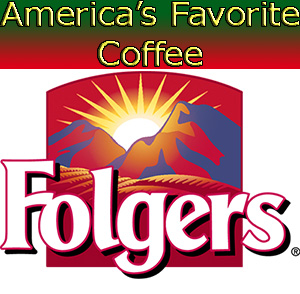 Why Folgers Coffee Is The Top Selling Coffee In America? The Reason May Surprise You.
Believe it or not, Starbucks is not the favorite in the average American household. It's actually good old Folgers with Maxwell House and Green Mountain coming in second and third.
The Secret To Folgers Success!
So, what is the secret to Folgers Coffee and it's success? Well, to begin with with Folgers Coffee has been around since 1850 and has held a place in America's culture for decades upon decades. And let's not forget the decades of Folgers Coffee commercials.




Folgers Coffee Commercial From 1965

---

Folgers Classic Roast Ground Coffee, 30.5 oz (Under $7 | Click Here To Order Now)
---
Folgers Coffee Has A Long History
Folgers Coffee originally began in California back in the hey day of the gold rush era. This San Francisco based then called Pioneer coffee company knew there was a market for coffee that was instantly ready to brew instead of using green unroasted coffee beans. A teenager by the name of J.A. Folger was first a carpenter who helped build the Pioneer coffee mill and by 1872 he owned the entire company and renamed it Folgers Coffee. He quickly expanded his company all through the west and then became part of Proctor and Gamble in the 20th century and later bought out by Smucker's, and to this very day their Classic Roast is the top selling mass marketed brand of coffee.




Why Folgers Classic Roast Is The Top Selling Coffee In America?
So what are the ingredients in their Classic Roast that makes it so popular? It's simple, 100 percent coffee and nothing else. No additives and no preservatives are contained in Folgers Coffee. There are two major varieties of coffee beans in the world and that would be Arabica and Robusta. Arabica beans create a coffee that has deep and complex flavors and aromas and the Robusta coffees have more caffeine in them with simpler flavors and often harsh and bitter tones to them. A lot of mass marketed coffees will use just Robusta beans because they are cheaper however, Folgers Classic Roast is a evenly blended combination of both Robusta and Arabica beans making it a very smooth tasting coffee. Folgers Coffee has always made sure that their coffee beans are sourced from the best growing areas in the world, those with higher altitude because for some reason coffees grown in these areas tend to have a flavor advantage over those grown in lower altitudes.
One of the main reasons why Folgers Coffee, especially their Classic Roast is so popular is that it is a medium roasted blend and has uncomplicated flavors. The flavor profile of their coffee has remained constant over the years and is thought that to this very day retains it's original 19th century blend.
Starbucks Wants What Folgers Took 100 Years To Get!
Starbucks seems to want a little of the action that Folgers Coffee has had for over a 100 years but those who are faithful to the mild blend and quality of Folgers Coffee will probably find it difficult to let Starbucks take over their home kitchens. Especially since Folgers Coffee is far less expensive and still offers up a good tasting cup of coffee each and every time it's brewed.
Folgers Coffee is a good choice for a variety of reasons but the most important reasons would be that you are always guaranteed a good tasting cup of coffee at essentially a very good price as well. If you enjoyed this article please support us by following, sharing and liking. To order America's favorite coffee simply click the link below.

---
WHAT TO READ NEXT:
Best Espresso Machines Under 100
Home & Office Coffee Machine Reviews
Home & Office Coffee Grinder Reviews
[pt_view id="a669ee8t7h"]
---
All that reading about coffee might have you wanting some fresh coffee for yourself. Why not use the Amazon Search Tool below to order now!