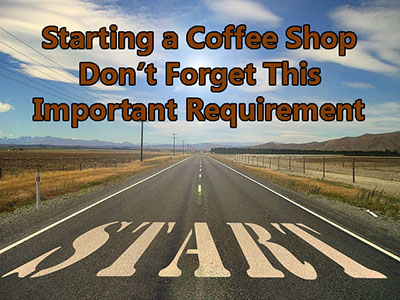 ---
Coffee Shop Business
Coffee Shop Licenses
A small coffee shop is still considered a restaurant and is usually smaller and more informal but this doesn't mean that there are no licenses needed because there will be. As the owner of a coffee shop you will need licenses or permits in order to just conduct general business. Because a coffee shop is also considered to be a retailer you may also be required to have a resale permit and because food and beverages will be handled the health department will also be involved in licensing.
1# Business License
Usually, all businesses, even a small coffee shop, that are found within the city limits will have to apply for a general business license. This can usually be done at the city's clerk office. If the coffee shop is located say in an unincorporated area of the county you may not need a business license. This you will have to make sure before you open up your coffee shop by contacting your county clerk's office. Usually  there is a flat fee for a business license and it needs to be renewed on a yearly basis.

The Daily Grind: How to open & run a coffee shop that makes money(Click For Price)
2# Resale License
Most states will require that retailers charge customers sales tax for their products. So, if you live in one of the states that has a state sales tax, you will need to get in touch with the state in order to get a resale license or permit for your coffee shop. Usually states will not charge a fee for this license and instead of having to renew it each year you keep the license active by filing all the necessary tax returns and submit all the sales taxes that were collected from your customers, to the state itself. Your license or permit can be revoked if you don't submit your tax returns on time. So, this is important one to pay attention to.
3# Health Permits
Health permits are usually issued by your county health department. These permits are to protect the public from restaurants that are found practicing unsafe food handling as well as storage procedures. Your coffee shop will be examined and questions will be asked by representatives of the health department before they will issue your coffee shop a health permit. Depending on where you live there might be a fee for your health permit. Your coffee shop then will have regular inspections made the health department to make sure that your coffee shop continues to follow health guidelines and if they find anything that might pose as a threat to public safety they can revoke your health permit. A lot of health departments will require that the employees need to have a food handler's card. This means they must take and pass a food handling class that shows they understand how to safely handle food.




4# Liquor License
Being a coffee shop you more than likely won't be selling any kind of liquor, but in case you should ever consider it, you would need a special liquor license that is issued by the state's liquor authority. As for licenses, this is probably the most difficult one to get and the most expensive one. Generally, if you are only going to sell beer and wine, then the license is cheaper and easier to get than a license for a full on bar. The rules for liquor licenses will vary from state to state. However, it will usually involve an application process and the state will investigate the person applying and talk to the neighbors of the coffee shop who have the opportunity to object to the shop getting a liquor license.

Quicken Legal Business Pro [Download]
---
What To Read Next?
Checklist for opening your coffee cafe
5 Marketing techniques to a successful coffee shop business you didn't know
4 Critical questions for your coffee shop grand opening you must know
These 4 improvements will make your coffee customers coming back daily