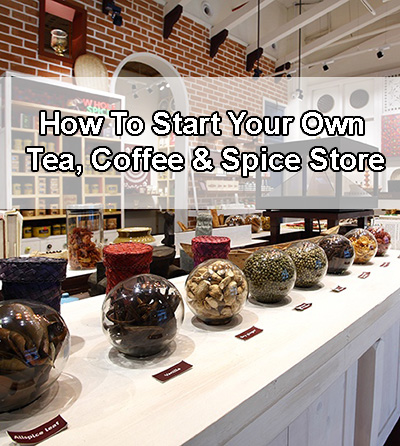 ---
DIY: Tea, Coffee & Spice Store
A tea, coffee and spice store is a lot different than your every day run of the mill coffee shop. This is basically a specialty shop that sells a variety of teas, different coffees, spices and accessories that customers might be looking for. Even though a lot of grocery stores offer a lot of these items, your specialty store can offer more by offering expert knowledge on all things tea, coffee and spices as well as the customers can get a lot more personal attention than they can in larger stores.

Start and Run a Sandwich and Coffee Shop (Small Business Start Ups)
Pick Your Location
It's really important that you research the area for your tea, coffee, and spice store and make sure that there is no real competition nearby. Especially competition from a big coffee shop retail chain. You might want to check out the local shopping malls and all downtown areas to see where there is high traffic that might be a good spot to open up shop. You may also want to look at places that are near bookstores, bakeries, wine shops and other personal service type businesses.

The Complete Idiot's Guide to Starting And Running A Coffeebar (Complete Idiot's Guides (Lifestyle Paperback))
Make Your Inventory List
Before you even get started you need to make sure that you create a good inventory list of the things that you want to sell in your tea, coffee and spice store. This list needs to include a variety of teas, different coffees, spices, and all the different accessories you plan on selling in your shop. If you are planning on selling fresh brewed coffee and tea as well as items for customers to take home you will also want a coffee maker that can brew coffee, espresso drinks and tea. You will want to make sure that you include a coffee grinder as well so that you can grind up coffee for your customers if they don't have their own grinders at home. Other things you might want to add to your list are:
Plastic bags for spices and loose leaf teas
Printed labels with your shop name and info on them
Coffee filters
Tea strainers
Spice racks
Decorative spoons
Tea pots
Mugs
Decanters to serve tea and coffee to customers
Gift bags and tags
Have the Right Display Equipment
If you want your merchandise to sell then you will want to make sure that you have the right display shelving, racks, hooks and other pieces of equipment to be able to do so. Make sure that you display all your items for sale in an attractive manner and that all items can be easily reached by the customer. Never have things out of reach where they need assistance. You may also want to set up areas around your tea, coffee and spice shop comfortable seating areas with chairs, tables, rugs, attractive artwork and other nice looking decorative elements so you make your shop comfortable and inviting.

Start and Run Your Own Coffee Shop and Lunch Bar: Expert Advice from an Author Who Has Been There, Done It, and Is Stll Doing It (How to Small Business Start-Ups)
Specialty Areas
If you are offering some teas, coffee and spices many customers may have never heard of you might want to devote special areas of the shop just for those unusual teas, coffees and spices. Then set up comfortable seating area where you can offer them information they can read comfortably in that section of the shop.




Market Your Shop
Get your name out there so that you can attract a variety of people to your tea, coffee and spice shop. Put ads in your local newspaper, in different community publications. Make sure you have a website and one that can offer the ability to buy some of your inventory online. You will also want to advertise at local businesses that are non-competitors such as:
Library
Schools
Churches
Community centers
Chamber of Commerce
Offices in the area
Make sure to offer them perks like coupons and loyalty programs so that it will keep your customers coming back for more.
Don't forget to advertise on the radio and TV as well as all the big social media sites out there to build an interest in your tea, coffee and spice shop.

---
What To Read Next:
Dont even think of starting a coffee shop without this
Checklist for opening your coffee cafe
These 4 improvements will make your coffee customers coming back daily
4 Critical questions for your coffee shop grand opening you must know