Need a Loan to Start Your Coffee Shop? Find Out How to Get One!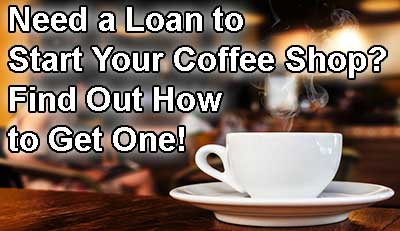 Coffee Shop Loans
The thought of starting up your own coffee shop can be extremely exciting but at the same time, it can be somewhat frightening. This is especially true if you don't have enough cash on hand to get it going. So, what do you do if you don't have the money to get your coffee shop started? Typically what most people do unless they're independently wealthy is to get some type of loan to help them get going.



There are a variety of different types of loans that you can try to get and in this article, we will cover some of them so you'll know what your choices are.
---

Home Equity Loan or Line of Credit
If you own a home, this is a loan that lets you borrow against the value that has been stored in your home known as equity. This type of loan can be useful if you need to borrow a large amount of money such as for starting your own coffee shop. This type of loan is often much easier to qualify for than some other loans because they are secured by your home.



If your home is worth more than what you still owe on it, then a home equity loan is a good way to provide funds for your coffee shop. To qualify, you need to have 20 to 30% equity in your home and you need a credit score of 650 or above.
PROS: These loans have low-interest rates.
CONS: If you can' pay it back you could lose your home.
---

Personal Loan
These types of loans can be either unsecured or secured. A secured loan is one that is one that is secured by the asset being purchased or there is a co-signer required. Unsecured loans or signature loans are given on the basis of the borrower's credit history and their ability to repay the loan through their personal income. Repayment normally is through fixed amount installments over a fixed term.
You need to have a credit score of 650 and above to qualify.
PROS: With some of these loans you can get your funding in less than a week. You can also get funded pre-revenue.
CONS: These loans are limited to $40,000.
Business Loan Brokering 101

Business Loan Brokering 101: The 1 Business Loan Brokering Start-Up Guide
---

Credit Card Loans
This is a loan that is borrowed from your credit card amount. Your credit score again needs to be 650 or above.
PROS: These are convenient and you only pay interest on the credit you use.
CONS: Limited to what your credit line is. Not very good for expenses that require cash.
The Daily Grind – Opening A Coffee Shop

The Daily Grind: How to open and run a coffee shop that makes money
---

Microloan from Nonprofit
A microloan is a program that provides loans to people up to $50,000. These loans are to help small businesses and certain non-profit childcare centers. The Small Business Administration can provide funds to specially designated intermediary lenders that are nonprofit community-based organizations with experience in lending as well as managing and technical assistance. They administer the Microloan program for those who are eligible. You need a credit score of 500 or above.
For more information on this type of loan visit the SBA website.
PROS: Can get as much as $50,000. The lenders don't need to make a profit from the loan.
CONS: The application process takes 3 to 4 weeks. Every lender has targeted businesses that they lend to. You can only qualify for $10,000 if the business isn't operating.
Startup Funding
---

SBA Loan
The most common type of loan that the SBA offers is the general small business loan. This loan is for financial help for businesses with special requirements. You need to have a credit score of 680 or above. It requires a 20% down payment, you need business or personal collateral and should have industry or business management experience. You can borrow up to $5,000,000. Find out more by visiting their website.
PROS: The interest rates are very low and they offer generous terms.
CONS: This type of loan is difficult to qualify for and the application process can take 2 to 3 months.
Starting & Running a Coffee Bar

The Complete Idiot's Guide to Starting And Running A Coffeebar (Complete Idiot's Guides (Lifestyle Paperback))
---

Family and/or Friend Loan
This is one where you need to have a willing family member or friend to give you a loan. This should be in writing. There is no minimum or maximum amount of funding amounts.
PROS: This type of loan is convenient and cheap.
CONS: Things can get pretty awkward if you can't pay the loan back.
How To Get Free Government Grant Money

How to Get FREE Government Grant Money for Almost Anything: How to get free government grants and money
---

Crowd Funding
This is where you convince a group of people to actually invest money in your coffee shop. They often become "silent partners". There is no minimum or maximum funding amount and no interest rates.
PROS: There is no loan to pay off.
CONS: This is all or nothing and may mean a lot of work without any reward for people. You also might need to deal with a lot of legal regulations and issues.
---
WHAT TO READ NEXT:
Please follow and like us: