Hot or Cold Discover Great Espresso Beverages With the Ninja Coffee Bar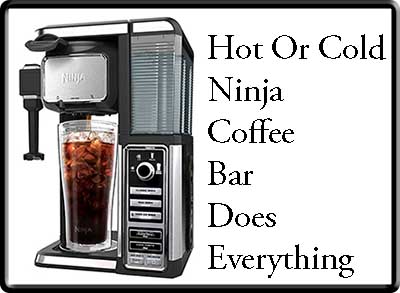 NINJA Coffee Bar
Looking for an espresso maker that can do it all and for just under $100? Well, your search can stop right here and now with the Ninja Coffee Bar. This is espresso machine produces great tasting beverages that will make you look like the neighborhood barista with great ease and no hassles.



---
NINJA Coffee Bar – Everything You Need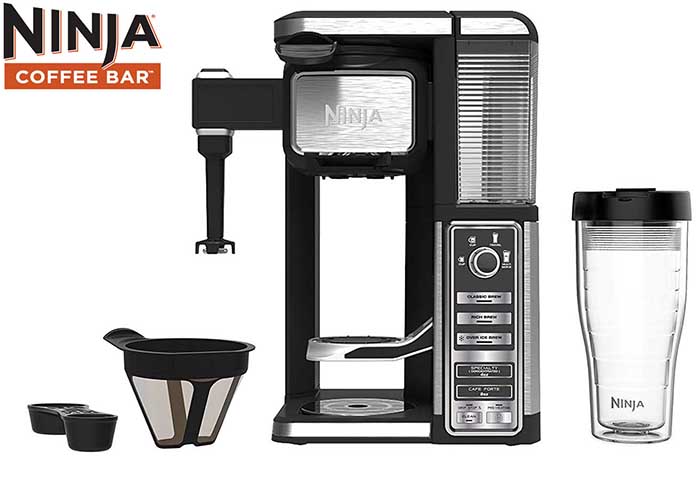 Has Four Brew Sizes
You don't have to worry about only being able to brew just one or two shots with this coffee brewing station. It gives you the ability to brew different sizes. Whether you are just wanting a single cup of espresso or coffee or you're serving the entire family, you can do it with this coffee bar. You can brew a single cup, extra-large cup, travel mug, and even a carafe so you can serve multiple people delicious tasting espresso beverages with the Ninja coffee bar.
NINJA Coffee Bar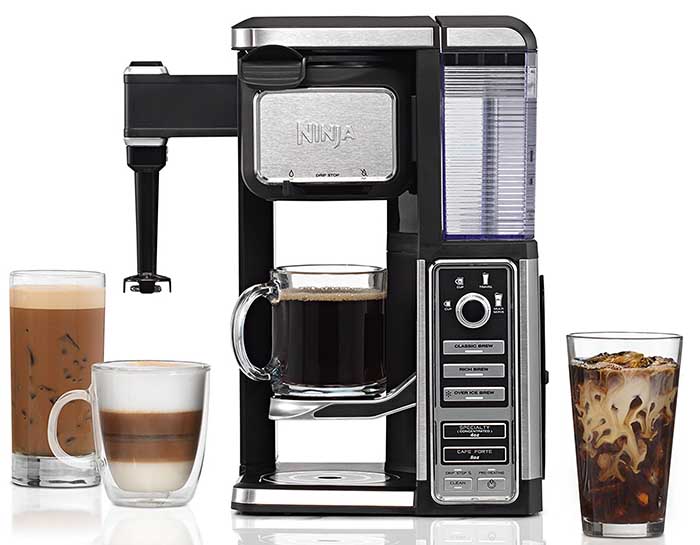 You Are in Charge
With the Ninja Coffee Bar, you are the one in charge. This is a pod free machine that gives you the freedom to choose any brand of coffee that you want and you can adjust the amount of coffee grounds you want in order to achieve unlimited variety and your own customization of your favorite espresso beverage.
NINJA Coffee Bar Is Convenient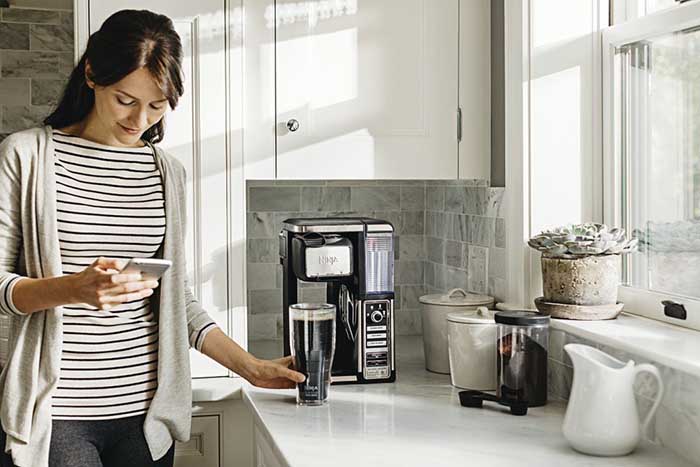 CHECK PRICE NOW
You can choose to use the Classic brew which gives you a very smooth, balanced flavor from your favorite coffee, the Rich brew where you'll get more intense flavors that will stand up well to milk, creamers, and other flavorings. You can also choose the Ice Brew option where you can take your coffee to a totally different level. There is also Cafe Forte and Specialty options. With the Cafe Forte, you'll get a full-bodied coffee that will amplify the coffee's unique nuances and the Specialty option which brews a super rich concentrate that you can combine with frothed milk in order to create a bold coffee house style drink that can be hot, cold, blended, or layered.
Beautifully Designed Yet Compact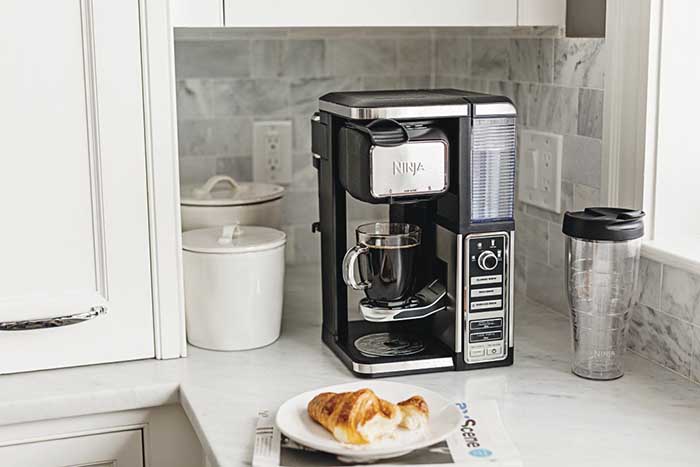 System Ran by Auto-iQ With Built-in Frother
This is a one touch intelligence brewing system that draws just the right amount of water from its reservoir based on the brew type, amount you want to brew. It also has a nice built-in frother that transforms your milk into a very silky microfoam that is ideal for your favorite specialty brews like lattes and cappuccinos and much more.
NINJA Coffee Bar – Auto-IQ + Built-In Frother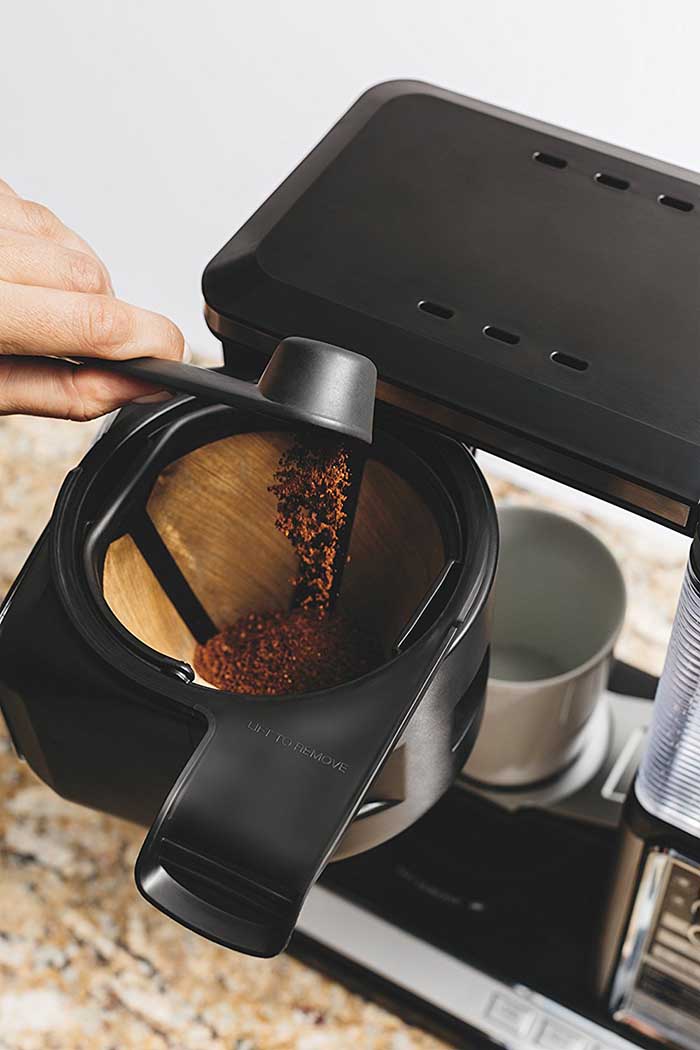 Some Extras
This espresso maker comes with the Ninja XL Thermal 22 ounce hot and cold multi-serve tumbler that holds enough for two servings of hot or cold coffee beverages. You'll also enjoy the coffee recipe book that gives you the opportunity to try forty different espresso beverages that you and your family will enjoy.
NINJA Coffee Bar Built-In Frother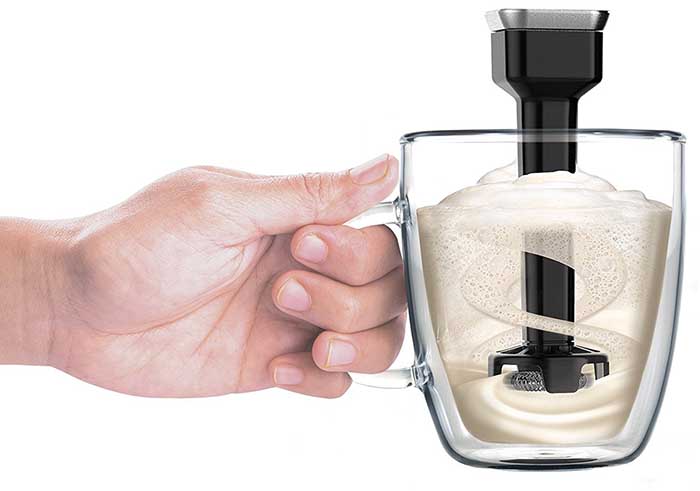 So if you're looking for an easy to use espresso beverage maker that will have you serving up great tasting coffee brews that will make you look a professional, you may want to stop right here and consider adding this nifty little machine to your kitchen. It's ideal for both the experienced and the novice espresso drinkers and should make anyone who tastes the great beverages want to stop going to the local coffee house to wait in those long lines just to end up paying outrageous prices for the same thing they could be making in the privacy of their own home. So what are you waiting for?
---
Ninja Coffee Bar® Single Serve System: Video Tutorial

Ninja Coffee Bar Single Serve System Customer Ratings & Review

Heard Enough? Want To Order The NINJA Coffee Bar Now & Have It Delivered To You Today, All At The Lowest Price? We Have You Covered! Click The Link Below And Have This Advance Coffee Bar Delivered To Your Doorsteps Today!
NINJA COFFEE BAR PRICE – CLICK THE LINK BELOW

NINJA COFFEE BAR – CLICK TO ORDER | PRICE
---
WHAT TO READ NEXT:
REF: NINJA Coffee Bar
Please follow and like us: