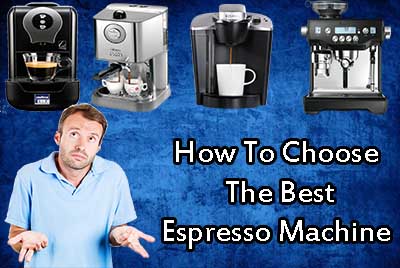 Espresso Machine | Buying Guide
Are you considering buying a real espresso machine so you can make authentic espresso, cappuccinos, and lattes right in your own kitchen? However, you've probably noticed just how difficult the choice can be with all the different espresso machines out there. Here are a few pointers to help you find an espresso machine that will fit your needs and your budget.



---
Choosing The Best Espresso Machine For Your Kitchen Or Office Made Simple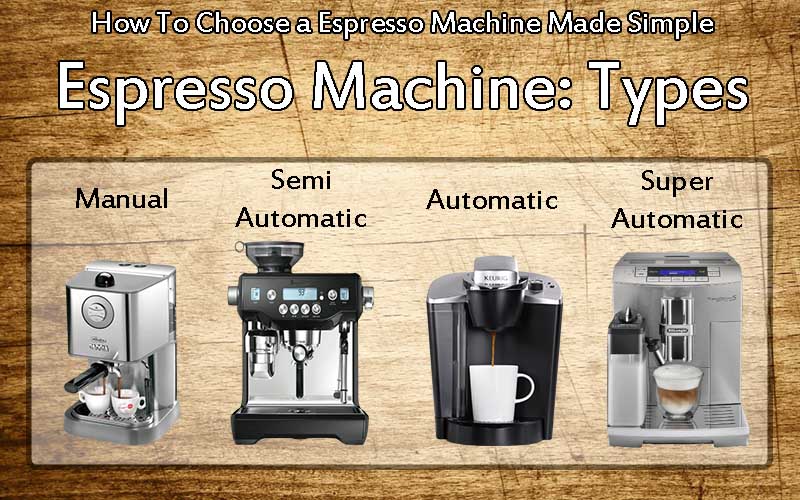 Most Common Styles
There are several different kinds or styles of espresso machines that you should be aware of because it will help you narrow down what type of machine you want for your kitchen. What you buy will depend on different factors that include:
Styles that are easy to operate which includes all the steps required for brewing and require little effort to optimize your espresso shots, plus any additional equipment needed like a grinder for example and what the maintenance and cleaning requirements are.
Whether you lean towards simplicity, high-tech, lots of features and automatic functions.
How much counter space you have for the espresso machine. Some are very compact and others are quite big.
Finally, your budget. Remember, you don't have to spend your life savings on an espresso machine to enjoy great tasting and authentic espresso, lattes or cappuccinos at home.
---
Semi-Automatic Espresso Machine | Explained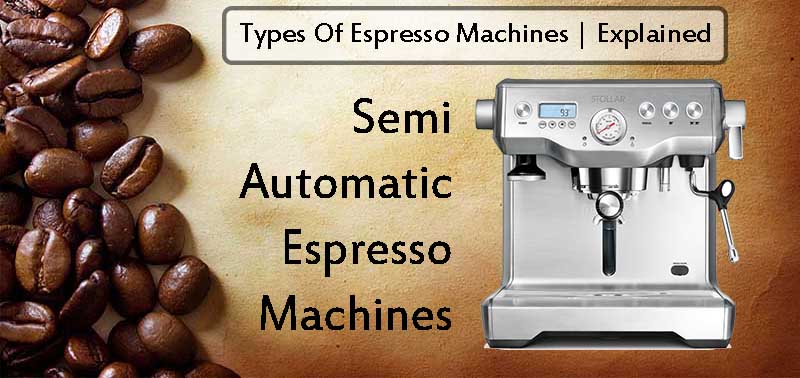 Semi-Automatic
This is the most common kind of espresso machine that features electric brewing pumps that are manually turned on by the user. These espresso machines are pretty simple to use but, they do require some manual work on the users part. Here are key points to think about when looking at semi-automatic machines:
Pretty easy to use and can produce a thick crema.
Some manual intervention required.
Simple machines and can use either pre-ground espresso or ESE espresso pods.
Simple mechanically and generally don't have circuit boards or complicated parts.
Most of them require very little counter space.
Start from just under $100 for good quality machines.
Espresso Machine Expert's Choice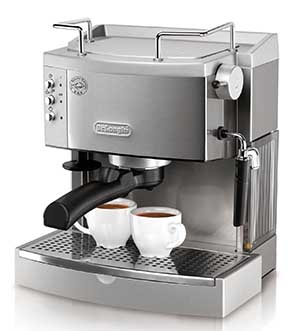 ---
Super-Automatic Espresso Machines | Explained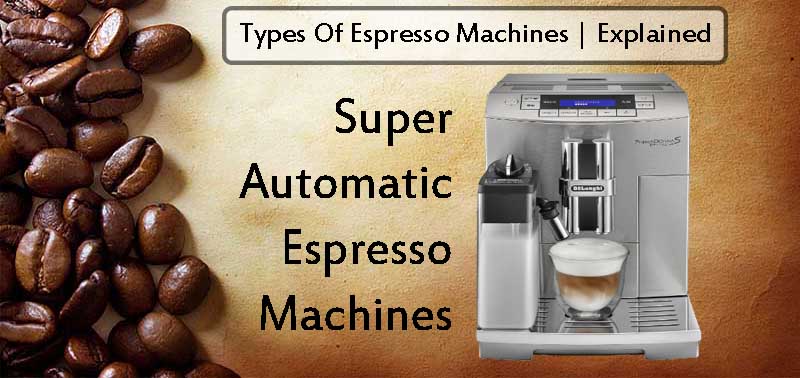 Super-Automatic
These espresso machines are much more sophisticated than the semi-automatic and they go from the bean to the cup with just one touch of a button. They often have built-in coffee grinders with brewing mechanisms that will automatically grind coffee, fill and tamp the filter basket, brew a pre-determined amount of espresso and dump the used grounds into their internal waste container. These machines will also froth milk for lattes or cappuccinos by using a steam wand or an automatic frothing system.
Here are a few key points about these machines:
Extremely easy to use and requires no skills.
Have less brewing flexibility but does depend on the features each model has.
Very complicated internally.
Often require more counter space in your kitchen.
More expensive with the average price starting at just under $400.
Espresso Machine Expert's Choice
Breville BES870XL Barista Express Espresso Machine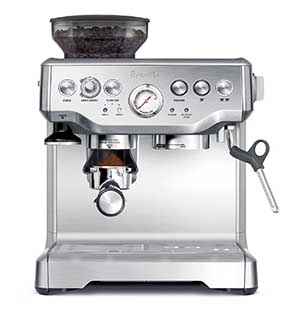 ---
Manual Lever Espresso Machine | Explained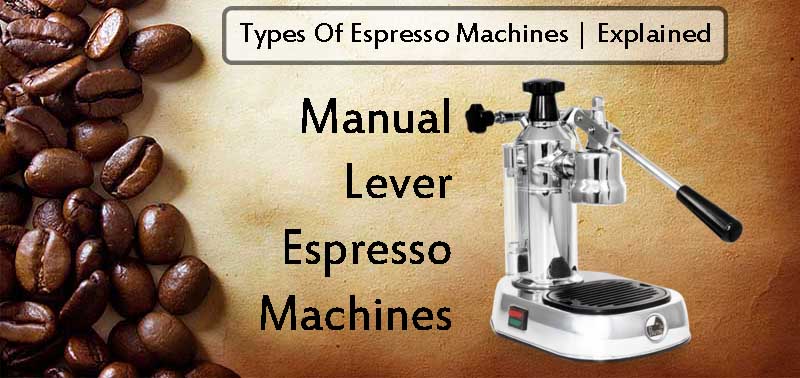 Manual Lever
These are more like old world style espresso machines that can brew incredible espresso but they require a pretty high level of skill to master them and are only recommended for the espresso purist who has the time and money to invest in them. Here are some key points when considering this type of espresso machine for your kitchen:
Really cool old school machines.
The most complicated to use and requires lots of patience and practice.
Lever machines will only take finely ground espresso at this time.
Require very little counter space.
Prices start at just under $800.
Espresso Machine Expert's Choice
La Pavoni EPC-8 Europiccola 8-Cup Lever Style Chrome Espresso Machine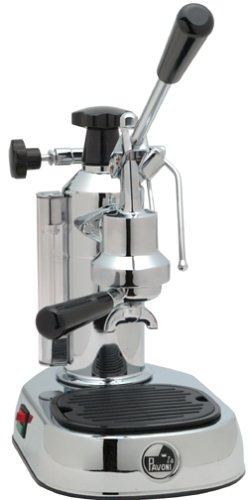 ---
Capsule Espresso Machines | Explained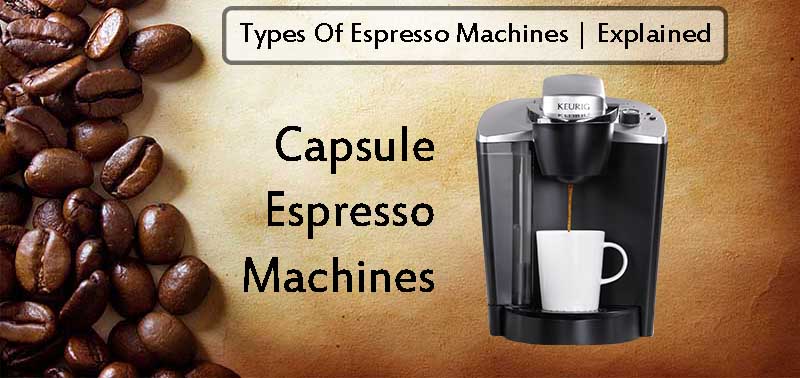 Capsule Machines
These are the top espresso machines when it comes to convenience and is ideal for the office or in a home kitchen. All you do is put in a capsule and the water and push a button for rich and thick espresso. Usually, are equipped with an automatic frothing system or a steam wand. Here are a few key points about these machines:
Super easy to use and no skills are required.
Produce excellent espresso and come with a huge variety of Italian brands and blends.
The internal complexity is somewhere between a semi-automatic and a super-automatic.
Counter space needed depends on the model.
Prices start at just under $200.
Espresso Machine Expert's Choice
Nespresso Vertuo Evoluo Coffee and Espresso Machine with Aeroccino by De'Longhi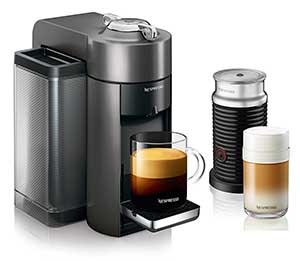 ---



WHAT TO READ NEXT:
Best Espresso Machines Under $100
Best Espresso Machines Under $200
Best Espresso Machines Under $300
Best Espresso Machines Under $500
Best Espresso Machines Under $1000
Home & Office Espresso Machine Reviews
Commercial Espresso Machine Reviews
Home & Office Coffee & Espresso Grinder Reviews
Commercial Coffee & Espresso Grinder Reviews
[pt_view id="a669ee8t7h"]
REF: DeLonghi USA, Breville USA, Nespresso, La Pavoni