A Brief History Of Viagra Coffee
It seems there may be a growing trend that involves coffee and yes, Viagra, or at least an ingredient that is quite like Viagra. It is something that has given the FDA some concern and they have actually issued an advisory regarding the consumption of this type of coffee. One product, in particular, they've focused on is Stiff Bull Herbal Coffee. Great name huh? Well, keep reading to find out everything you didn't know about Viagra Coffee.



---

FDA Examined | Viagra Coffee
The FDA reported that they examined this Viagra coffee product through some international mail shipments and what they found was alarming. They discovered that it had desmethyl carbodenafil, ingredients similar to what's found in Viagra. This is a chemical compound and often is an unlisted ingredient that the FDA has started advising consumers not to use for sexual enhancement.
---
StiffBull Viagra Coffee Commercial Video
---
FDA claims that even their coffee ad seems quite similar to a Viagra commercial and their company slogan is also suspect by saying "made for adults who want to maintain relationships."
Seriously? This coffee we're talking about, right?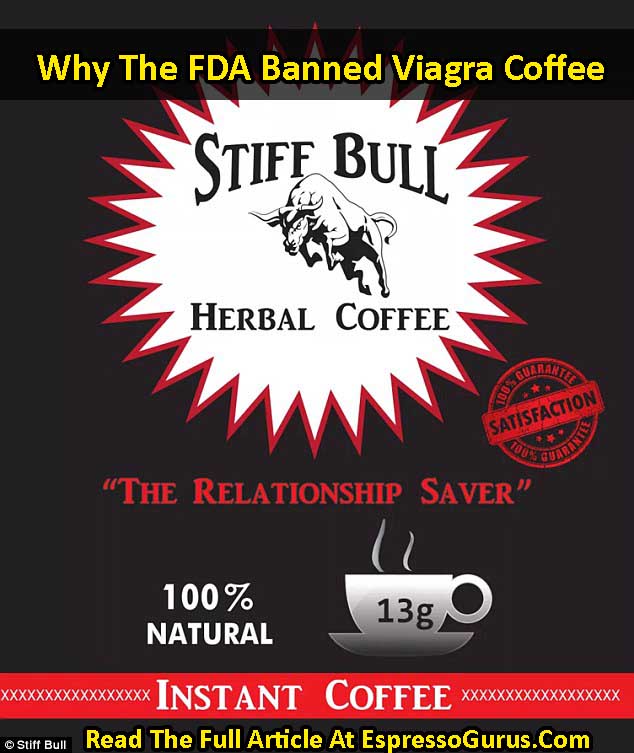 Company Claims It's All Natural FDA Says Otherwise
The company, Stiff Bull, is registered in the state of Maryland and has nine other distributors throughout the US and their website claims to be just a blend of Tongkat Ali, maca root, and guarana. But the FDA claims they don't declare the desmethyl carbodenafil as part of their ingredients.




The FDA is concerned that this undeclared ingredient that is in this coffee could adversely interact with some nitrates that are found in some prescription drugs like nitroglycerin and could actually lower one's blood pressure to very dangerous levels. There are many men that have diabetes, high blood pressure, heart disease or high cholesterol that is often prescribed nitrates.
---


H.I. COFFEE (Save Your Sex Life Now!)
---
Viagra Coffee Everything You Want To Know!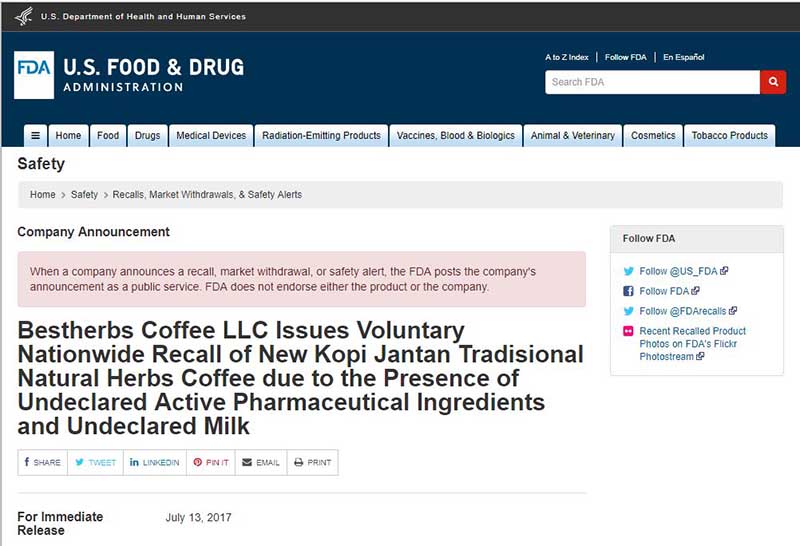 FDA Only Wants to Educate Consumers
The FDA has put out a warning on this product as a larger effort to help educate consumers about the growing trend of different dietary supplements or other types of foods that are promoted as being beneficial to sexual performance or health. They want consumers to understand that the fact is some of these foods and beverages may actually contain hidden ingredients that could be potentially harmful to their health and well-being.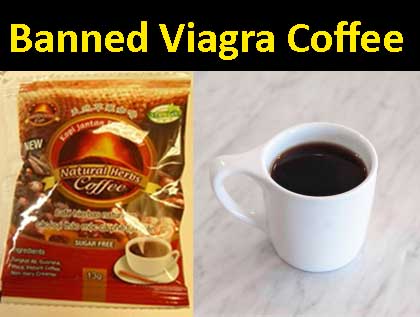 Another Company – Bestherbs Coffee Recalls Product
The company Bestherbs Coffee based in Grand Prairie has voluntarily recalled one of their coffee products because it also had a substance very similar to Viagra in it. After they read the FDA warning about desmethyl carbodenafil, they decided to recall all of its coffee called New of Kopi Jantan Traditional Natural Herbs Coffee.
Bestherbs distributed this kind of coffee all over the nation from July 2014 through June of 2016. Luckily there was no adverse reactions or illness associated with drinking the coffee reported to the company. But the company felt it was better to be safe than sorry.
It's probably very important that you know what's in your coffee and consider staying away from any coffee that claims to help your sex life because it looks like the Viagra type substance found in some of these coffees really might not be a good idea to be putting in your body.
Maybe it's a good idea to just stick with plain old coffee and go to your doctor for some legit Viagra if you're in the need for such a product. Sometimes the latest trends are not always what you should get involved with.
Want to know where you can get some Viagra Coffee? we have you covered! Click the link below and try the latest trend in coffee yourself.

Go-Hard Herbal Coffee, Natural (CLICK TO ORDER)
---


WHAT TO READ NEXT:
Favorite Coffee Shops of Celebrities
How to Lose Weight With Coffee?
Opening a Coffee Shop? Find Out How Not To Fail!
How Does a Drip Coffee Maker Work?
Hair Color Ideas: Color Hair With Coffee
[pt_view id="a669ee8t7h"]
REF: Coffee recalled for undeclared Viagra-like ingredient, Coffee with Viagra-like ingredient recalled after FDA discovery, Coffee with a Viagra-like ingredient was just recalled, and it reveals a bigger problem, Texas company recalls coffee with Viagra-like substance