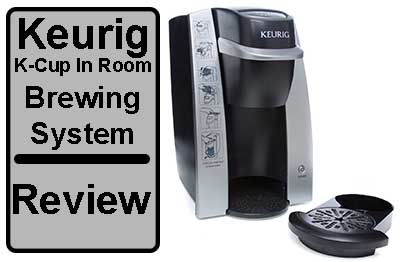 Keurig's K-Cup Brewing System
Not everyone is a huge coffee drinker, even if they love coffee, they just may not drink a lot of it. That's why it's always nice to see there are coffee makers out there to suit every kind of coffee drinker. If you're the kind of coffee drinker that only likes a cup to get you going in the morning then this Keurig K-Cup in Room Brewing System might be something you should take a closer look at. Espresso Gurus makes it easy for you to make informed purchases through our expert reviews of the latest coffee products.



---
Keurig K-Cup In Room Brewing System Expert Review
---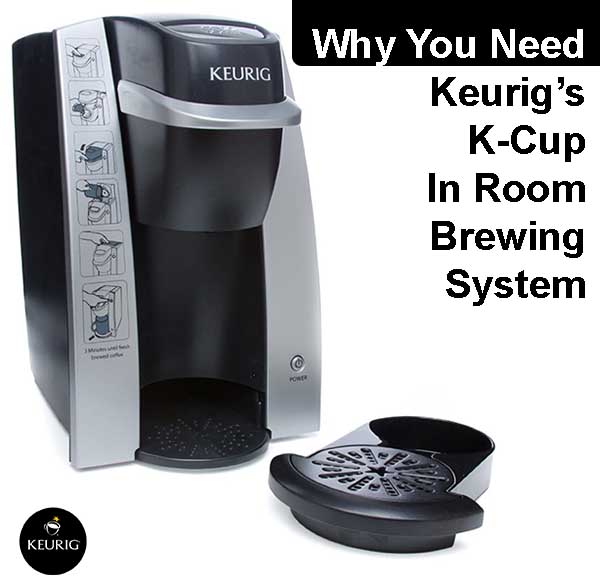 Keurig – Brews One Cup
Keurig's K-Cup is a small and compact little coffee maker and one that brews one eight ounce cup of your favorite K-Cup coffee at a time. This design is specifically made for those who love that cup of coffee in the morning but don't want to brew an entire pot or several cups at a time because either they don't have time for it or they just don't drink that much coffee.
---
---
Keurig K-Cup – Mug Sensor
This Keurig K-Cup in Room Brewing System comes with a great little mug sensor feature. This feature helps to cut down on any accidental spills and it also means that you don't have to worry about any glass pots to break, crack or clean after you are finished with your coffee. All you need is your favorite coffee mug and fill it up directly from the Keurig K-Cup in Room Brewing System. Less mess, less work for a single cup of morning coffee.
Water Reservoir
This is a simple water reservoir that is for single use only so you won't have to worry about measuring water when you go to refilling it. Ideal for the person who isn't a huge coffee drinker.
Keurig Is Easy to Use and Clean
Since there are really no parts like a large water reservoir or a coffee pot to clean and maintain this coffee maker is extremely easy to use, clean and maintain. You also don't have to worry about wet and messy coffee filters to get rid of and there are no coffee grounds to deal with either. You just put in the water, pick the K-Pod you want and a few minutes later you're enjoying a delicious cup of coffee.
Keurig Coffee Maker Saves on Energy
The Keurig K-Cup in Room Brewing System uses just 700 watts of energy and it has an energy saving mode that has an automatic on and off function when it's not in use it will shut itself off and you don't have to worry about doing it yourself. This saves on energy and the wear and tear on the coffee maker.
---
---
Keurig K-Cup – Ideal for Hotels
The Keurig K-Cup in Room Brewing System is highly recommended for those who own hotels and want to give their guests a feeling of being home away from home by putting these coffee makers in their rooms for their guests to use. Each room can be equipped with these great little single cup brewers and a basket of different coffee pods for them to choose from. This type of coffee maker is ideal for any hotel room because they are small and make little to no mess for housekeeping staff to worry about cleaning up.
---
Keurig K-Cup In Room Brewing System Pros & Cons
Pros
Easy to use
Very little clean up to deal with
Great for dorm rooms or hotel rooms
Great for those who don't drink a lot of coffee
Cons
Kind of slow in brewing takes about three minutes to brew a cup
Some complaints are that some machines seem to break down after a few months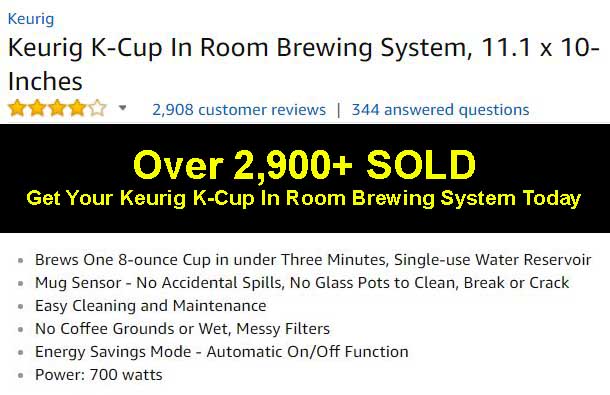 Keurig Coffee Maker Customer Reviews & Ratings
To Purchase Your Keurig K-Cup In Room Brewing System at a Discounted Price Click The Link Below!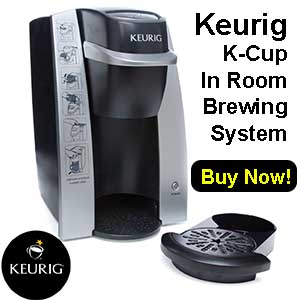 ---


WHAT TO READ NEXT:
Keurig K15 Coffee Maker | Expert Review
Keurig K45 Elite Brewing System | Expert Review
Keurig K55 Single Serve Coffee Maker | Expert Review
Keurig K250 Coffee Maker | Expert Review
Keurig K475 Coffee Maker | Expert Review
Keurig K575 Coffee Maker | Expert Review
[pt_view id="a669ee8t7h"]
---
Ref: Keurig –