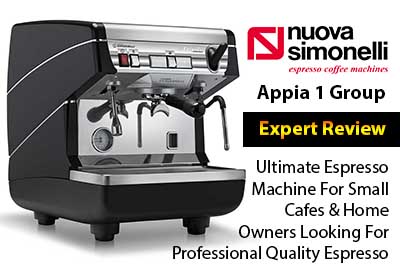 Nuova Simonelli Appia Review
Nuova Simonelli Appia Espresso Machine Review: If you are in the market for an espresso machine that is compact but also is one that is meant for use in a commercial setting, you might want to take a look at our Nuova Simonelli Appia review. We hope that our Nuova Simonelli Appia review will make it easier for you to decide whether or not you can use this machine for your business. Most often used for small businesses, however, if you want to have one in your home there's no reason why you can't. You'll just have to be willing to set up special plumbing for it. But once you have everything set up and ready to go, you will be able to enjoy professional quality espresso drinks at the comfort of your home at an extremely low price. After reading this review you will find out why Espresso Gurus has ranked this the ultimate espresso machine for small cafes or home.



---
Nuova Simonelli Appia Review
---
Nuova Simonelli Appia
Appia Espresso Machine | Great Technology
If you're looking for an espresso machine that has some of the best technology when it comes to brewing coffee some believe that this is the best 1 group commercial espresso machine ranked on the market today. Thanks to the innovative infusion system, hydraulic and thermal compensated systems this espresso machine is in the forefront when it comes to research and technology. This technology is what helps produce great tasting professional espresso to serve to your customers. This Nuova Simonelli Appia review has discovered that this machine offers excellent performance that guarantees that you serve up perfect creamy espresso shots every single time you go to use it. Their innovative systems will help you produce the high-quality coffee beverages that customers expect to receive from a professional establishment.



Ideal for Small Spaces
We found through our Nuova Simonelli Appia review that this espresso machine is the ideal machine for those places that have very little workspace to work with and because of its compact size it will fit just about anywhere you can find. We also discovered that just because the machine is smaller than other commercial espresso machines it doesn't mean that you lose any quality. Instead, you still receive high-quality coffee beverages because the raised groups enable you to brew your espressos for delicious lattes, cappuccinos, and other delicious coffee drinks. It also enables the user to serve these great beverages right in the cup they'll be serving to their customers. This is yet another feature that helps to make it the best 1 group commercial espresso machine ranked on the market currently.
Professional Espresso Machines Picked Just For You:


This particular espresso machine is possibly the ideal choice for those who own coffee carts, have a catering business, small restaurants, small cafes, or smaller coffeehouses. You will, however, want to make sure that you put it in a spot where it can remain because of the dedicated plumbing it requires to operate it.
Combines Features From the Aurelia
When doing our Nuova Simonelli Appia review we were pleased to find out that this version of this espresso machine also combines some important features that are included in the Aurelia. The Aurelia has been recognized by professionals as one of the best espresso machines to hit the coffee market in current years.



With the Appia, you find a combination of durability, functionality, versatility, ergonomics, and beauty that ensures the delivery of great tasting espresso shot after shot.
Nuova Simonelli Appia Review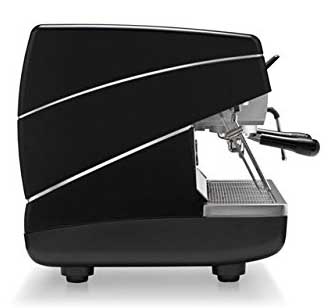 Click Here For Customer Ratings & Testimonials
Nuova Simonelli Appia: Great Features
Here is a list of the features that you can expect to get from what many consider the best 1 group commercial espresso machine ranked in the coffee serving industry:
Heavy-duty commercial construction
One group head
Two portafilters, one single and one double
Semi-automatic
Boiler automatically fills with water
Soft pre-infusion system
Rotary pump that's built-in
Direct plumbing with drain
Swivel steam arm that's long and made of stainless steel
Five-liter boiler
1500 watt heater
Measures 20.75" x 15.75" x 21.5"
Nuova Simonelli: Gold Service Plan
Something we really liked when we were doing our Nuova Simonelli Appia review is that the company offers anyone who wants it their Gold Service Plan. This plan is recommended because it offers its customers the following:
Single point of contact for all service needs
Inspection for machine damage
Bench tested machine
Professional installation
Water clarity and quality testing
Maintenance of equipment
Maintenance training
24-hour response
Automatic warranty claim processing
Free installation of a water softening system
---

Nuova Simonelli Appia Pros & Cons
Nuova Simonelli Appia: Pros
Easy for all to use
Free installation
Can prepare lattes and more in the same cup for serving in
Large Boiler
Extra long steam wand
Good for small work areas
Automatic boiler refill when machine is empty
Nuova Simonelli Appia: Cons
Not Suitable For Large Coffee Shops
---
Where To Buy & Get The Lowest Price?
Take advantage of Espresso Gurus Exclusive Price Link below and get the best price right now. Best of all if you use our exclusive price link you can have this professional espresso machine delivered to your doorsteps today!
Espresso Gurus Exclusive Price List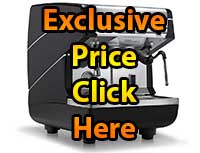 ---
WHAT TO READ NEXT?
Espresso Equipment:
Coffee Equipment:
Coffee Grinder Equipment:
Commercial Use Coffee & Espresso Equipment:
[pt_view id="a669ee8t7h"]
---
Ref: Nuova Simonelli