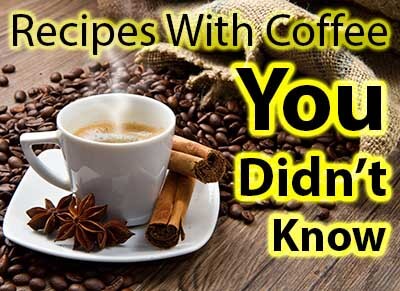 Recipes With Coffee
Recipes With Coffee: When it comes to coffee most people don't even give a second thought about drinking it, but quite often we forget that you can add coffee to a recipe and suddenly you have a dish that might be considered exotic. In fact, the truth is, a recipe with coffee's roasted quality, acidity, and even bitterness can make the perfect complement to recipes that are sweet, bold, nutty, or earthy. You'd be surprised what a taste combination like this is like. It can be extremely complex and surprising. So, in this article "Top Rated Recipes With Coffee", we'll give you a few samples of the top-rated recipes that contain your favorite breakfast beverage.



---
Top Rated Recipes With Coffee
---

Jamaican Coffee Brownies & Pecans Recipe
This recipe calls for Jamaican Blue Mountain coffee which is considered the worlds best because it lacks bitterness and has a very sweet flavor. Below is the recipe for this top-rated coffee recipe:
Ingredients
Nonstick vegetable spray
2 cups of sugar
15 tablespoons of unsalted butter
¾ cup cocoa powder
3 tablespoons of finely ground Jamaican Blue Mountain coffee beans
½ teaspoon of salt
3 large eggs
1 ½ teaspoons of vanilla
1 ¼ cups of all purpose flour
¾ cup pecan pieces
1 cup of semisweet chocolate chips
6 tablespoons freshly brewed Jamaican Blue Mountain coffee
30 thin strips of crystallized ginger



Directions
Preheat your oven to 350° F. Next, spray a 13 x 9 x 2 baking pan with the vegetable spray. Now combine the sugar, butter, cocoa, ground coffee, and the salt in a large metal mixing bowl. Put the bowl over a saucepan that has simmering water in it and whisk the ingredients until the butter melts and everything is blended. Remove the mixing bowl and let the mixture cool off to lukewarm. Whisk in your eggs and the vanilla. Sift the flour and fold it into the mixture. Mix in the pecan pieces.
Take the batter and spread it into the baking pan. Bake the brownies until testing the center comes out clean. This should take about 25 minutes. Remove the brownies and let them cool in the pan.
Also Try: 6 Coffee Cocktail Recipes You Must Know
Take the chocolate chips and put them in a small bowl. Add the brewed coffee to a small saucepan and warm to a simmer and then pour this over the chocolate chips and stir till the chips are melted. Let this stand until cool and starts to thicken, about an hour. Then spread this over your brownies.
Cut brownies into squares and then top each one with two ginger strips.
---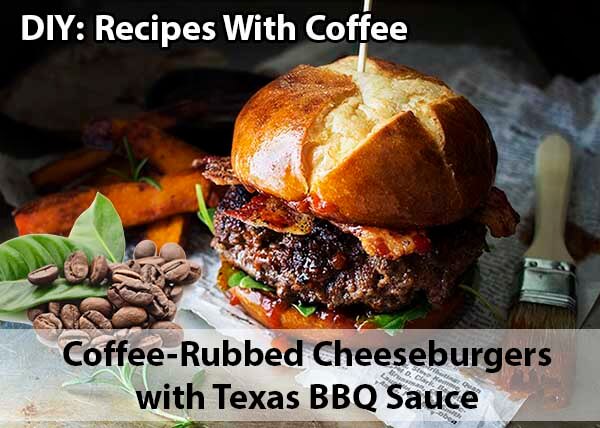 Coffee-Rubbed Cheeseburgers with Texas BBQ Sauce Recipe
Recipes with coffee: The freshly ground coffee adds a lot of depth to the spice rub and it brings out the true flavor of the meat. This rub will work great on steaks and chicken too, so you might want to keep it on hand.
Ingredients for Coffee Rub
1 tablespoon of freshly ground coffee
2 teaspoons golden brown sugar
2 teaspoons of freshly ground black pepper
½ teaspoon ground coriander
½ teaspoon dried oregano
½ teaspoon of fine sea salt



Ingredients for Cheeseburgers
8 slices of applewood smoked bacon
1 pound of lean ground chuck
1 pound ground sirloin
8 slices of your favorite cheese
8 potato bread buns
Toppings
8 slices red onion
8 slices tomato
Texas BBQ Sauce (see recipe at the bottom)
Directions for coffee rub
Mix all the ingredients in a small bowl. You can do this a week ahead and store in an airtight container at room temperature.
Directions for burgers
Cook the bacon in a large skillet till it's crisp. Put on paper towels to drain then break in half. Next, gently mix the chuck and sirloin together in a large bowl. Form into 8 hamburger patties and then put a slight indentation in the center of each burger with your thumb. Cover the burgers and chill.
Take the burgers out when ready to BBQ and sprinkle one teaspoon of the coffee rub on top of each burger. Put the burgers with the rub side down on the grill. Grill until they are slightly charred and then turn. Put two bacon halves on top of each burger and cook for three minutes.

Top each burger with one slice of cheese, cover and cook until the cheese melts, this should take about a minute longer. Next put the burgers on the bottom half of the buns. Top them with onion, tomato and a spoonful of the Texas Barbecue Sauce. Put tops on and serve immediately.
Texas Barbecue Sauce Recipe
Ingredients
1 tablespoon butter
1 minced garlic clove
1 cup ketchup
1/3 cup golden brown sugar
1/3 cup Worcestershire sauce
¼ cup fresh lemon juice
1 chipotle chile from canned chipotle chiles
¼ teaspoon ground cayenne
Directions
Melt the butter in a medium saucepan over a medium heat. Add the garlic and stir for 30 seconds. Stir in the ketchup and all the remaining ingredients. Bring the sauce to a boil then reduce the heat to a medium-low and simmer until it's reduced to 1 1/3 cups of sauce. Make sure to stir occasionally for about 15 minutes. Season with some salt and pepper, cool, cover and chill. You can make this a week ahead of your BBQ
Also Read: Kahlua Recipes: Frozen Mudslide
---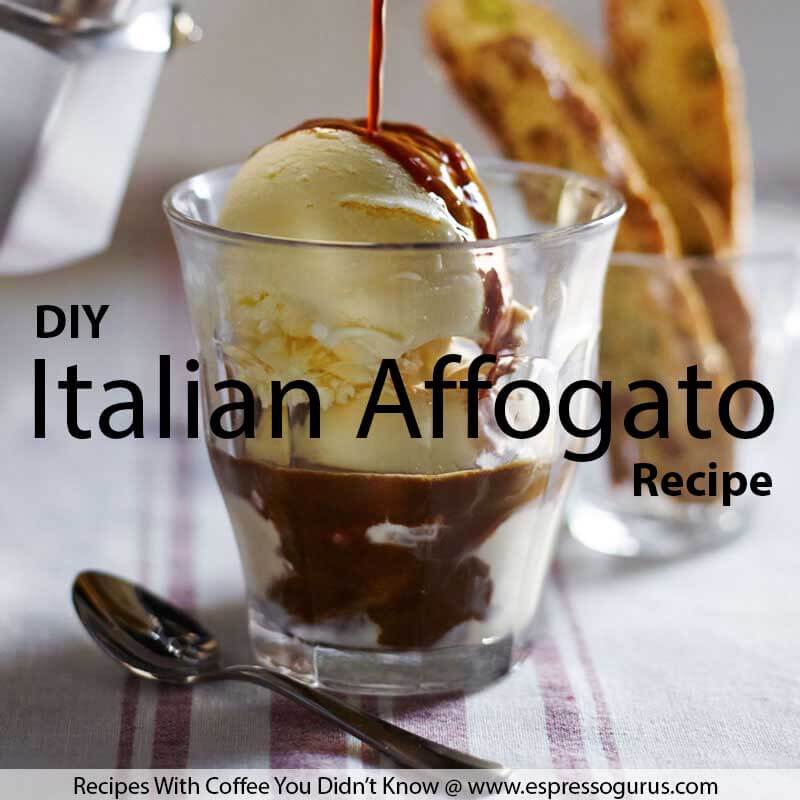 Italian Affogato Recipe
Recipes with coffee: Looking for a different way to enjoy ice cream? Well here's an Italian recipe that is drowned in espresso that you should enjoy.
Ingredients
1 pint of chocolate ice cream
8 tablespoons of finely chopped semisweet chocolate
8 tablespoons of hot freshly brewed espresso coffee
8 tablespoons dark rum

Directions
Put the ice cream in four dessert bowls or even coffee cups. Spoon 2 tablespoons of chocolate, espresso, and rum over each dessert bowl of ice cream. Serve immediately and enjoy!
Also Read: Great Tasting Coffee Date Bread | Recipe
---
Cappuccino Fudge Cheesecake
Leaving what we feel is best for last. Everyone should fall in love with this special coffee recipe. If you love coffee, chocolate, and cheesecake then this is the perfect coffee recipe for you.
Ingredients for Crust
1 9 ounce box of chocolate wafer cookies
6 ounces of semisweet chocolate, coarsely chopped
½ cup dark brown sugar
1/8 teaspoon ground nutmeg
7 tablespoons of melted unsalted butter
Ingredients for Ganache
1 ½ cups whipping cream
20 ounces of chopped semisweet chocolate
¼ cup Kahlua
Ingredients for Filling
4 8 ounce packages cream cheese at room temperature
1 1/3 cups sugar
2 tablespoons of all-purpose flour
2 tablespoons dark rum
2 tablespoons instant espresso powder or coffee crystals
2 tablespoons ground espresso coffee beans
1 tablespoon vanilla
2 teaspoons light molasses
4 large eggs
Also See:
Ingredients for Topping
1 ½ cups sour cream
1/3 cup sugar
2 teaspoons vanilla
Espresso beans
Directions for Crust
Finely grind the cookies, chopped chocolate, brown sugar and nutmeg in processor. Add the butter and process until the crumbs begin to stick together then scrape down after a minute. Put the crumbs in a 10 inch round springform pan that's three inches high on the sides. Wrap plastic wrap around your fingers and press the mixture firmly up the sides of the pan to within ½ an inch from the top and then press firmly on the bottom of the pan.

Directions for Ganache
Bring the whipping cream to a simmer in a large saucepan and then remove from the heat. Add the chocolate and the Kahlua. Whisk until the chocolate is melted and smooth. Pour two cups of the ganache over the bottom of the crust. Freeze until firm for about 30 minutes. Reserve any remaining ganache, cover and let it stand at room temperature to use later.
Directions for Filling
Preheat the oven to 350° F. Use an electric mixer, beat cream cheese and sugar in a large bowl until well blended. Beat in the flour. Stir in the rum, espresso powder, ground coffee, molasses, and vanilla in a small bowl until the coffee dissolves. Beat this into the cream cheese mixture. Beat in the eggs one at a time.
Pour the filling over the crust with ganache. Put on a baking sheet and bake the cheesecake until the top is brown, puffed and cracking at the edges and it only moves slightly when the pan is shaken. Remove from oven and cool for 15 minutes. During this time maintain your oven temperature.
Directions for Topping
Whisk the sour cream, sugar, and vanilla in a medium bowl and blend together. Pour the topping over the cheesecake and spread to cover it completely. Put back in oven and bake until the topping is set, this should take about 10 minutes. Take the cheesecake off the rack and refrigerate the hot cheesecake on a rack until it's cool about three hours.
Take a small sharp knife and run it between the crust and the pan sides to loosen from the pan. Put the cheesecake on a platter and spoon the reserved ganache into a pastry bag. Pipe six diagonal lines on top of the cheesecake making sure there's an inch between the lines. Then repeat in the opposite direction making a pretty lattice. Garnish with some coffee beans if you want. Chill finished cheesecake for another six hours before serving.
Serve and enjoy. Cover remaining cheesecake with foil and keep chilled.
Also Read: Wait! Keep That Leftover Coffee | DIY Leftover Coffee Recipes
---
WHAT TO READ NEXT?
Espresso Equipment:
Coffee Equipment:
Coffee Grinder Equipment:
Commercial Use Coffee & Espresso Equipment:
[pt_view id="a669ee8t7h"]