Hamilton Beach: 42 Cup Coffee Urn Review

(For The Latest Price Click Here)
Hamilton Beach 42 Cup Coffee Urn
---
This Hamilton Beach 42 Cup Coffee Urn is one that can serve a lot of different purposes. I've found that whenever there are large gatherings for family and holiday events that it is the perfect coffee urn to take care of all the people who love to drink coffee in the mornings and sometimes even later in the day.
Great for any large or small event
Hamilton Beach 42 cup coffee urn can be used for a variety of events where there is often a buffet style of entertaining going on and everything is self serve including the coffee. It's great for business meetings, for church events, for any kind of even where there is a lot of people to serve. This is because this Hamilton Beach coffee urn is specifically designed to be able to handle serving crowds.




You will also like the fact it's not one of those unattractive coffee urns. Instead this coffee urn has a very nice and sleek look to it because of the shining metal finish that it has so it's going to look good on whatever serving table you place it on.
 Hamilton Beach Coffee Urn Capacity & Speed: 12 to 42 Cups of Coffee – Quickly brews one cup per minute
This coffee urn can make anywhere from 12 cups of coffee to 42 cups of coffee and it has a speed of brewing one cup of coffee per minute so that's not bad for this type of coffee maker. It also has easy to read water level indicators so it's easy to know just how much water you are adding for the amount of coffee that you want the coffee urn to brew. It has a nice ready to serve light as well so you will always know when the coffee is ready to be served to your guests.
Serve The Crowd With Hamilton Beach 42 Cup Coffee Urn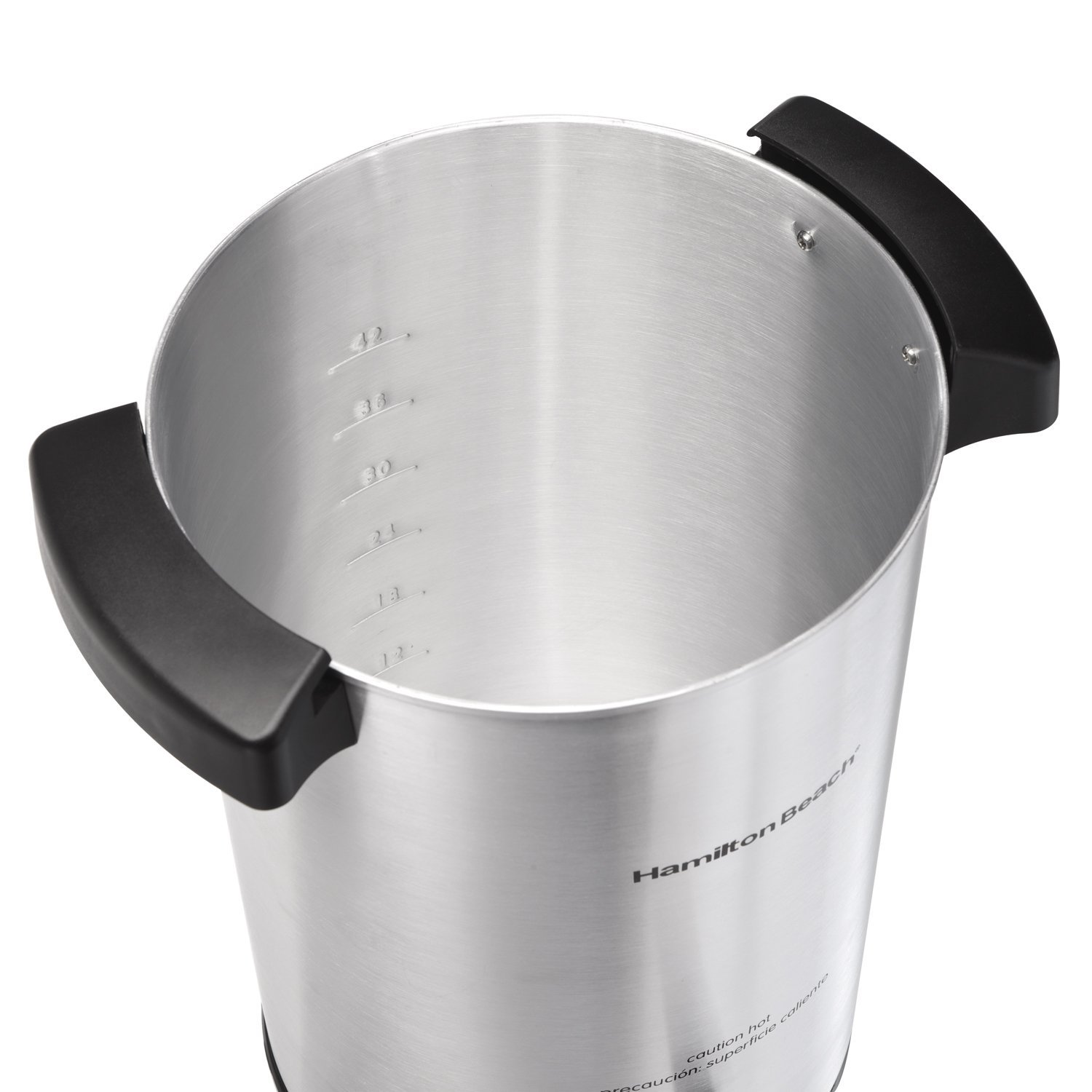 Hamilton Beach Coffee Urn Is Easy To Clean
Something this big you would think would be difficult to clean but it's not. It has an easy to remove cord so you don't have to worry about getting cord wet and the handles on this coffee urn are quite comfortable so it makes it very easy to be able to carry over to your sink to be dumped out and cleaned. This coffee urn also has a dishwasher safe lid as well as brew basket so you just pop those in the dishwasher when it's time to clean up.
Hamilton Beach Coffee Urn – Two Way Dispenser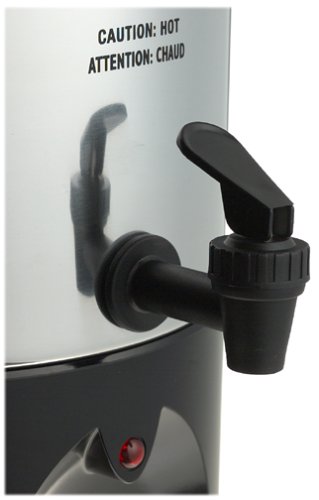 When using this coffee urn you will discover that it also has a two way dispenser for your convenience and this means that you can fill up a single cup of coffee or if you prop the dispenser up in a vertical position you can actually fill up a bigger carafe so that you can sit carafes at individual tables if you don't want your guests to have to go over and serve themselves one cup of coffee. So, this is a really nice feature to have.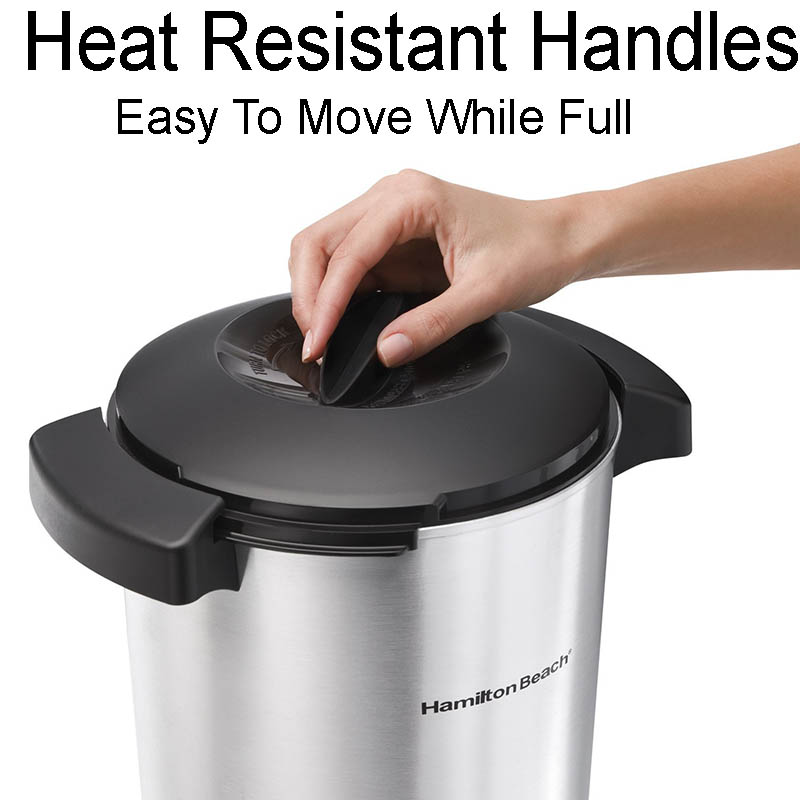 Hamilton Beach: Heat Resistant Handles
The handles on this coffee urn are heat resistant so there is no fear of burning yourself if you are moving the coffee urn with hot coffee in it and it has a great locking lid so that if you do have to move the coffee urn there will be no spilling of coffee while you are moving it.
Once you are finished using this Hamilton Beach coffee urn it is not only easy to clean but it's easy to store away with it's detachable cord that can fit inside of the coffee urn and then you can put the entire unit away for storing until the next time you have a need to serve a large group of people coffee.
The Verdict: Hamilton Beach 42 Cup Coffee Urn Is A Great Value For The Money. Must Have For Any Event!
If you are on a budget whether it's your personal budget or the office budget, the Hamilton Beach coffee urn is not going to make you go off your budget. It is priced at a very low and reasonable price and it does just what you want it to do and that is to be able to brew large amounts of coffee for large groups and keep the coffee warm for a very long time. That means there's no need to have to worry about your friends and guests getting served lukewarm or cold coffee during your event.
---
Hamilton Beach 42 Cup Coffee Urn Customer Ratings

(Click The Link Below For Price & Ordering)

Hamilton Beach 42 Cup Coffee Urn
---
To get the lowest prices on other great products use the Amazon search tool below.