Nespresso Machine: Inissia Espresso Maker Review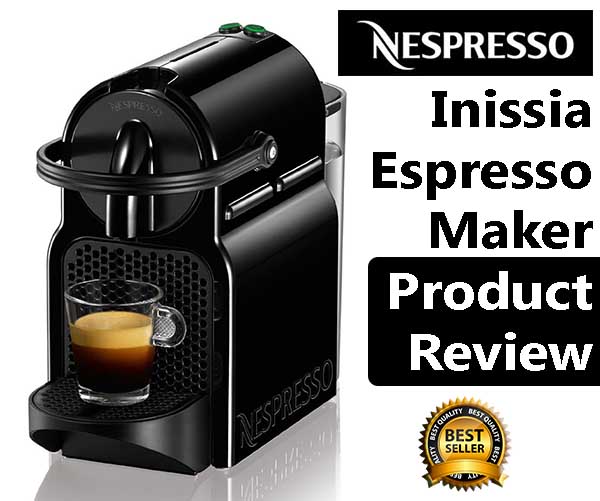 Nespresso Inissia Espresso Maker (Price)
---
Nespresso Machine Review
Inissia Espresso Maker
For those who love espressos but don't have the time to always go out to a coffeehouse to get one nor do they have the space in their kitchen for larger machines, this Nespresso Inissia Espresso Maker could be the nespresso machine you are looking for.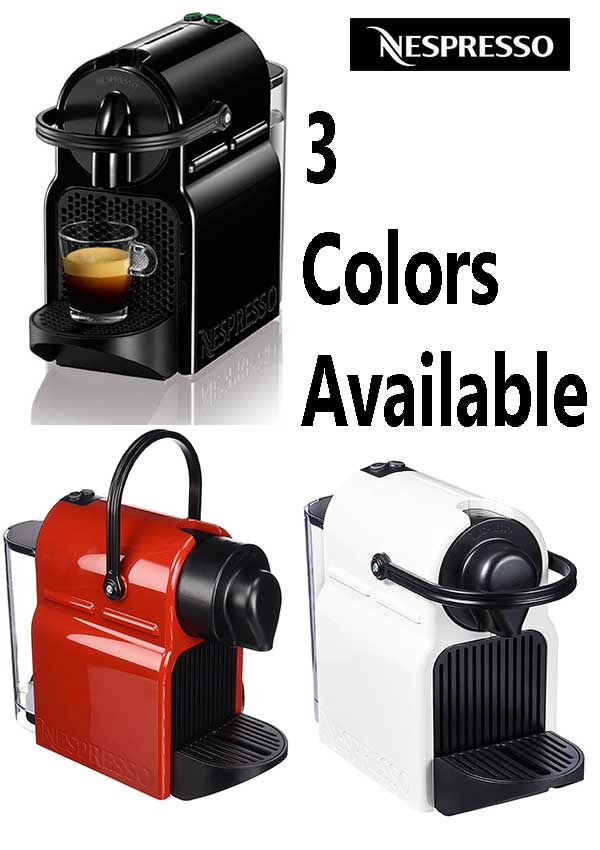 Nespresso Inissia Espresso Maker (Price)
Nespresso Machine – Compact & Colorful
To start with this nespresso machine is compact and comes in a variety of different colors that include white, black, silver, orange, red, and titan. It is extremely compact and has a nice ergonomic handle which makes it easy to move to wherever you want it to be placed. Because of this it will fit anywhere you want it without taking up much room in your kitchen. So, it's great for someone who has a small kitchen and little counter space.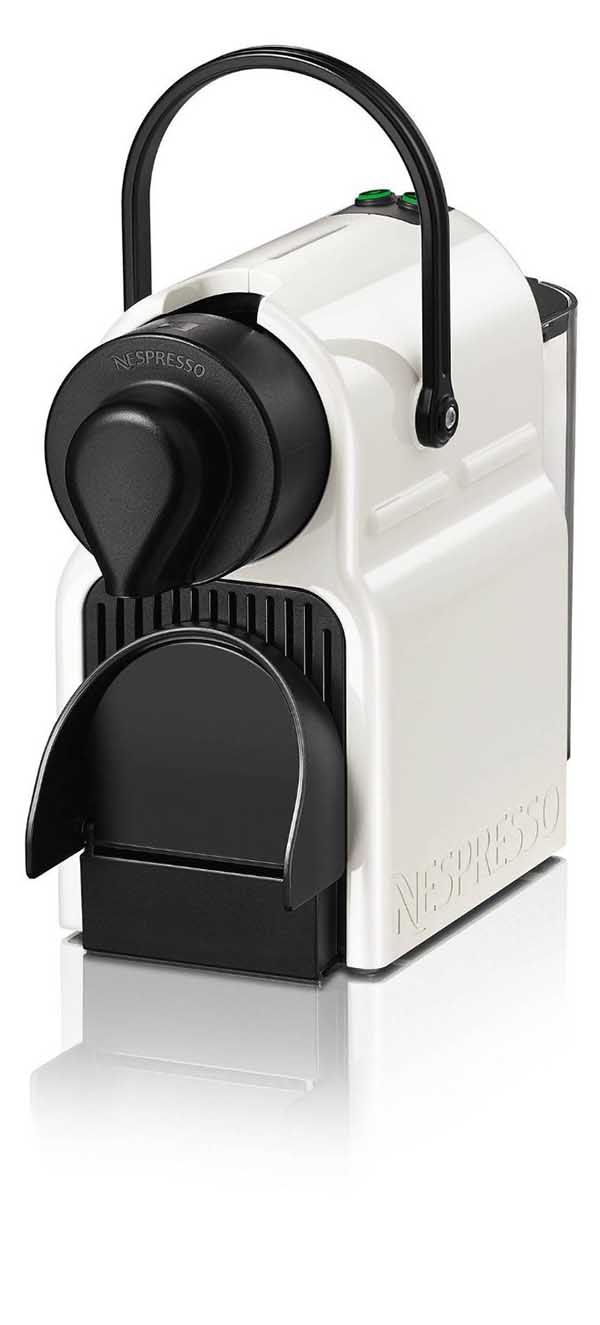 Nespresso Inissia Espresso Maker (Price)
Nespresso Inissia Espresso Maker Is Fast
One of the best features you'll enjoy about this nespresso machine is that there really is no waiting for this machine to warm up. In just a touch and 25 seconds later the water reaches the perfect temperature that allows you to brew up to nine coffees before you have to refill the tank. It also allows you to adjust the size of the cup with two different buttons, the espresso and lungo buttons.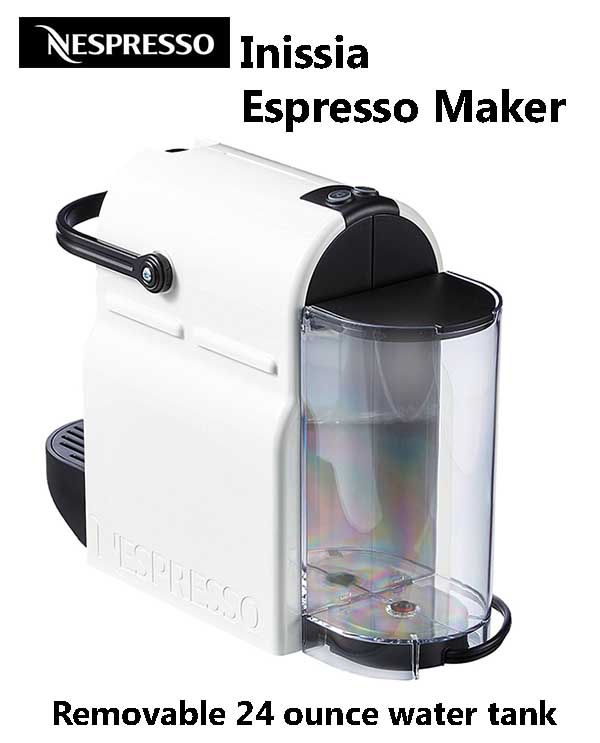 Nespresso Inissia Espresso Maker (Price)
Inissia Comes With 19 Bar High Pressure Pump
Because of it's high pressure pump this nespresso machine gives you professiona barista style coffee each time you brew a cup and this is because of its simple one touch type of operation. It also has it's own patented extraction system that can deliver up to 19 bar pressure.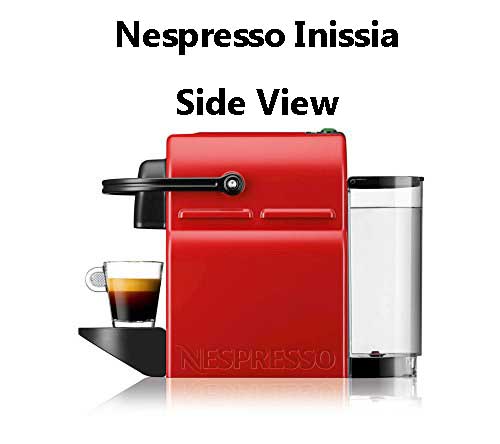 Nespresso Inissia Espresso Maker (Price)
This Nespresso Machine Is Energy Efficient
This nespresso machine can also save you energy because it has an energy saving mode that will automatically turn of this nespresso machine after nine minutes of non-use. This is a great feature especially if you are in a hurry and you forget to turn the machine off when you're rushing out the door.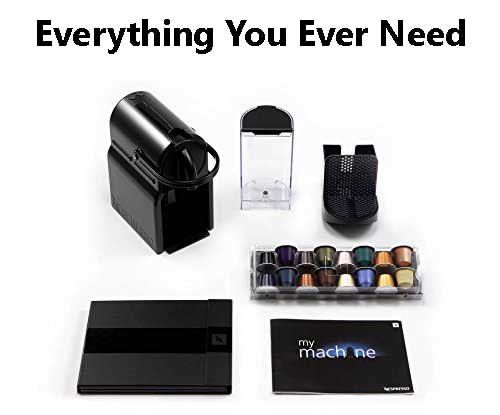 Nespresso Inissia Espresso Maker (Price)
Fold-able Drip Tray Fits Bigger Cups
It comes with a drip tray that folds and can accommodate bigger cup sizes and will drop down automatically when you go to remove your cup to catch any drips. This helps to cut down on any messes and makes clean up of this nespresso machine a lot easier.
Nespresso Inissia Includes a Capsule System
There is a special capsule system that is included with this nespresso machine along with 16 different capsules that you can try to see what flavors you like best. This capsule system by the way is one that consistently delivers different delicious coffees that all have their own unique aromas. This is because of the way the high quality coffees are prepared and hermetically sealed in aluminum capsules that can be recycled. All of this gives you coffee at the highest level possible.
The Nespresso Club Convenience
You also can conveniently order more coffee for this nespresso machine through their Nespresso Club either online, by phone or even in their own boutiques. You will be able to get personalized advice and even technical support for your nespresso machine should a problem with it ever come up. Help is available 7 days a week and 24 hour a day. The Nespresso Club also offers a service for recycling the coffee capsules as long as you're in the United States.
Nespresso Inissia Espresso Maker Customer Ratings


Nespresso Inissia Espresso Maker (Price)
Nespresso Inissia Espresso Maker: How To – Video
---
The Verdict: Nespresso Inissia Espresso Maker
Absolute must buy for any espresso lover who is looking for a espresso machine that not only brews great espresso but is convenient and great looking. This espresso maker is bound to catch the looks of everyone who comes over to your home. With all the features that are included in this espresso maker you would think this espresso maker is going to cost you a bundle of money, but you would be wrong! This espresso maker is very affordable and priced below what it should be. If you want to purchase this awesome espresso maker we have a great deal for you. Use our link below to get this espresso machine for a discounted price. Nespresso Inissia espresso maker is currently on sale for a limited time. Click the link below and order this Nespresso machine today.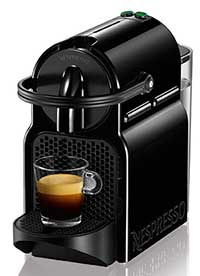 Nespresso Inissia Espresso Maker (Order)
---
Want to check out other options before you purchase this Nespresso Machine – Inissia Espresso Maker. We have you covered. We have assembled lists of top coffee equipment reviews for both commercial or home & office use. Now you won't have to waste hours of your precious time finding, researching, comparing for the best coffee equipment. Take advantage of our lists of top coffee equipment reviews.
Top Home & Office Coffee Equipment Reviews List
Top Commercial Coffee Equipment Reviews List