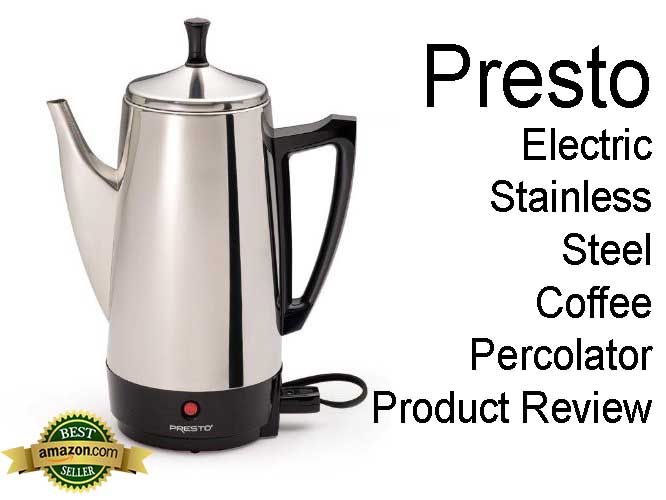 Presto Electric Coffee Percolator (Price & Order)
---
Presto Electric Percolator Review
Presto Electric Percolator is not just a wonderful percolator coffee machine but it's something that looks nice sitting on your kitchen with its stainless steel design. The compact size of Presto's electric percolator relative to other electric coffee percolator measures up to 13 inches tall and 8 inches wide. Some wrap around paper filters are provided along with the electric percolator and rest can be bought. Although one needs some hands-on experience in putting the parts together in brewing process but that doesn't rob the electric coffee percolator from richness of coffee. In fact the stainless steel part gives a better taste of coffee. Too much plastic in other electric coffee percolators delivers coffee below optimum level.
Presto Electric Coffee Percolator: Simple To Use & Classic Look
Presto electric coffee percolator doesn't have any digital buttons but rather it has a classic look and is simple to use. Another admirable feature which some users might find inconsequential in this electric percolator, is that the sprout is nicely designed which enables coffee to be poured without dripping. Presto electric percolator's entire body is stainless steel which generates quality coffee taste.
Presto Electric Percolator Is User Friendly
Using Presto's electric coffee percolator is as simple as it gets. Put appropriate amount of coffee grounds in wrapped paper filter. These wrapped paper filters are then put in one of the part of machine and then this part is adjusted on top of the coffee machine with water at the bottom of the machine. The manual of this electric percolator will easily guide the user if there is any misunderstanding. Presto's electric coffee percolator is then covered from top with another machine part and is plugged in to start the brewing process. This whole process may seem a little complicated here but it's really not and as mentioned it is very simple to use. The bottom part of the electric percolator heats the machine and thus the water which touches the coffee grounds for brewing purpose. The amount of time it takes to brew is the same as any other standard electric coffee percolator machine.
Electric Percolator: Cons
As far as Presto electric percolator's  disadvantages are concerned then some users have mentioned that the heating part is not stainless steel but aluminum and that it sometimes gives a metallic taste to the coffee. But such complaints are not significant enough to warrant concerns over this product. But another disadvantage that does warrant some concern is that when coffee is in brewing process then the electric percolator can get very hot except the handle so it is imperative that when the electric percolator is in such state it is far out of reach of children.
Presto Electric Percolator Customer Ratings

Over 3400+ Satisfied Customers Can't Be Wrong!
Presto Electric Coffee Percolator (Price & Order)
---
The Verdict: Presto's Electric Percolator (Must Buy)
Presto electric percolator's stainless steel design, smooth brewing process and easy to clean and use are some advantages that certainly puts a shadow over any major or minor disadvantages present in presto's electric coffee percolator. Electric percolators in the past have proven to brew quality coffee but when modern technology is added to it then certainly one could expect wonderful coffee from it. If your in the market for a new electric percolator then we would certainly suggest you to buy Presto's electric coffee percolator without any doubt. You don't even have to take our word for it, just take a look at the customer ratings of Presto's electric percolator and you will realize that over 3400 customers from one seller alone can't all be wrong. Presto's electric percolator has been listed as a best seller on amazon for a while now and there is a reason for it. Presto's Electric Percolator is one of the best products in its category. If you would like to purchase Presto's electric percolator then click the link below to get the lowest price. Click the link below and have this electric coffee percolator delivered to you today.

Presto Electric Coffee Percolator (Price & Order)
---
Want to order your Presto Electric Coffee Percolator today? Click the link above, Or if you want to search for other options then use the Amazon Search Tool below. Or take advantage of our in-depth reviews of your favorite products.
Top Home & Office Coffee Equipment Reviews List
Top Commercial Coffee Equipment Reviews List