Rancilio Silvia Espresso Machine: Review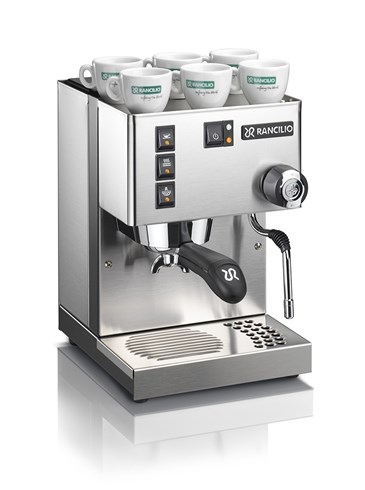 Rancilio Silvia Espresso Machine with Iron Frame and Stainless Steel Side Panels (Click For Latest Price)
Rancilio Silvia Espresso Machine Review
This Rancilio Silvia espresso machine has got both design and performance. It's a long term investment and spare parts are easily available and can be replaced. In terms of appearances, its got a nice heavy and solid look, smoothness in operation, a metal steam wand with high performance grouphead, handle and portafilter. Basically it's a machine which would look splendid sitting on any kitchen. It has top notch durability use and can be used 7-8 times a week with 6-7 espresso drinks per day without affecting the performance of the machine. The espresso it delivers is creamy and is as good as one can get in a nice café. Also the espresso shot it produces is of high quality meaning the taste is neither too bitter nortoo sour. The grind of beans would also have to be of high quality to support the machine in making great coffee therefore it is recommended to use a burr grinder of at least Rancilio Rocky quality.
Rancilio Silvia Review: Main Features
Starting off it has got the main power switch which powers the entire machine. Besides the button it has a light which indicates when the boiler heating and when it's up to temperature. So when it turns off, it will be known that it's ready for use. Then we have the brew button which activates the pump in the back to put water in the boiler and then out of the grouphead. It also has a hot water button which does all the things the brew button does but instead of coming out of the grouphead, it can be accessed through the steam value and eventually through the steam wand. Next we have the steam button to heat the water so that steam can be created. At the back is the water reservoir which is removable with two hoses. At the front we have a drip tray cover which is also removable.
Rancilio Silvia Accessories
Accessories that come with Rancilio Silvia espresso machine include a portafilter with two brew baskets. One basket holds seven grams for single shot and the other for 14 grams double shot. It also comes with a plastic temper and a filter for cleaning.
Rancilio Silvia Espresso Machine Extremely User Friendly
As one can see it's a very simple machine to operate and clean as well. The taste one receives is consistent which makes it a quality machine. But like all machines it has its minor drawback also. After extensive use it can show a little wear on the chrome plating around where the shot deal goes but this does not affect the quality of espresso shots. This Rancilio Silvia espresso machine is a great choice only if one possesses a good enough grinder as well. Low quality grinder won't give optimum level of espresso shots. So a little extra is needed to be spent on the grinder if one desires to extract amazing espresso from this machine.
Rancilio Silvia Espresso Machine: Best choice for any coffee lover
In all Rancilio Silvia is a great machine and unlike other machines, it heats up water very quickly too. One can easily look up for reviews on this machine and most have concurred with the above mentioned qualities of this grinder. It's an investment most users have said in their reviews that they'll make in a heartbeat.
---
Rancilio Silvia Espresso Machine With Rancilio Grinder Combination On Sale Now!

Rancilio Silvia & Grinder Plus Base (Click For Latest Price)
---
Making a Cappuccino with a Rancilio Silvia Espresso Machine Video

Want to search for other options instead of Rancilio Silvia? Why not use the Amazon search tool below.