---
Best Coffee Shop Ranked
(California)
The Savoy Cafe & Deli
There are so many places to be found in California it can often seem like a daunting task to try and find just the right spot that fits into the Best Coffee Shop in California, however, after a lot of searching both physically and soul searching, we finally came to the conclusion that The Savoy Cafe & Deli fits the bill for the Best Coffee Shop in California for 2017, located in the beautiful city of Santa Barbara.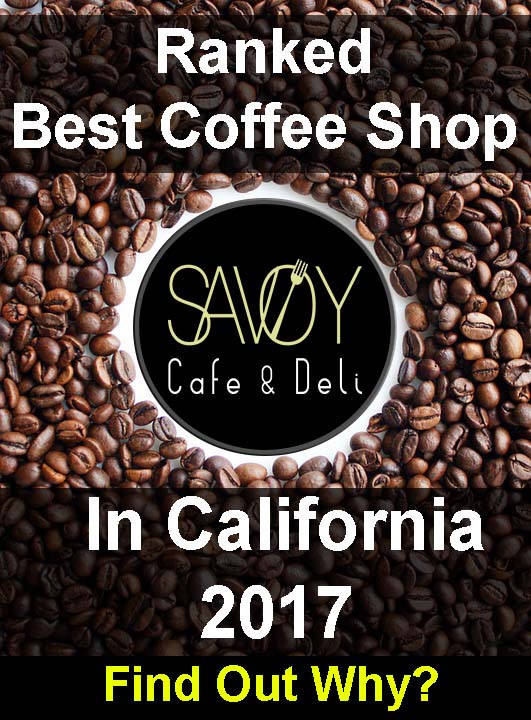 Why Savoy Cafe & Deli Is The Best?
The Savoy Cafe & Deli was the dream of Paul and Kathy Shields both Santa Barbara locals that share the love of good coffee and great food along with a true passion for serving other people. This is a true family run business because alongside Paul and Kathy, their four sons have been working by their sides for almost ten years helping them make sandwiches, peel carrots, chop onions, to bussing tables you name it, the kids have done it. All of this has given the coffee shop a true all in the family flair.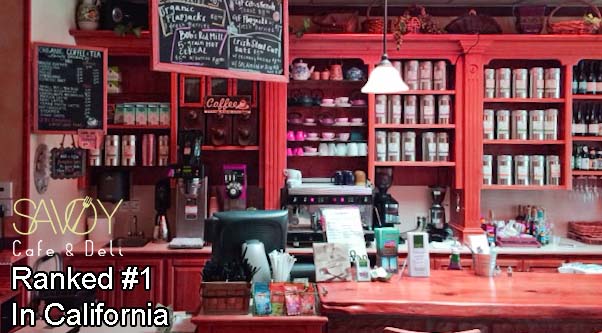 Savoy Cafe & Deli: Owners
Paul started cooking as a "professional" at the young age of 14 and has put his 37 years of restaurant, hotel, and his natural food kitchen experience together to help create The Savoy Cafe & Deli family experience. Kathy is the consummate baker of the family and she continually adds excitement to their bakery case with all kinds of delicious and tempting yummy treats. She spent many years working in local cafes and serving not just food to the locals but a lovely smile and great laughter. She's been baking since she was a little thing and her special carrot cake is a Santa Barbara favorite.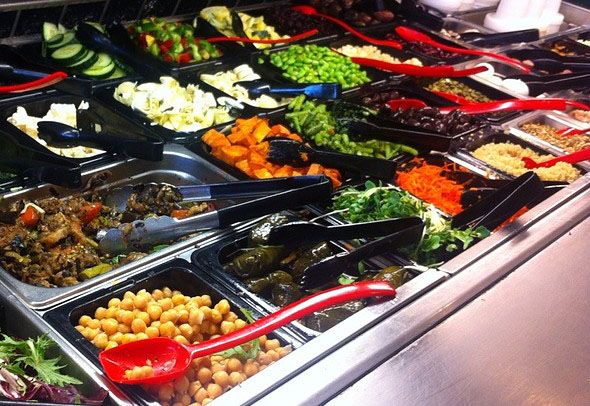 Savoy Cafe & Deli: Awesome Award Winning Salad Bar
The cafe offers customers an award winning salad bar something Paul and Kathy are quite proud of and should be because it's full of farm fresh seasonal picks that include such things as wild salmon, house roasted chicken and delicious grass fed beef. They also serve up four fresh made daily soups that offer vegan and vegetarian options. They also have wonderful cold and hot cases that offer over 30 different rotating dishes to pick from.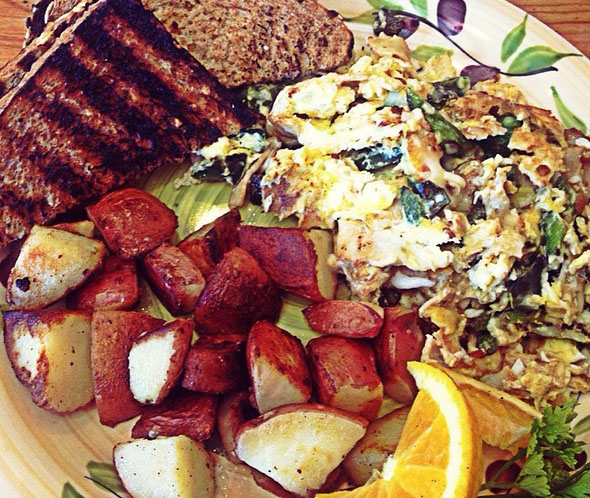 Sandwiche: A Piece Of Art At Savoy Cafe & Deli
Their sandwiches are only made with meats that are nitrate and hormone free and they roast and slice them right there in the cafe. They also serve delicious bread that is baked on a daily basis and their tempting dessert case is always full of homemade bars, cookies and cakes that are offer gluten free, dairy free, grain free or sugar free for those who desire them.




Savoy Cafe & Deli Beverage Menu
They have a beverage menu that offers over 50 different drinks and they offer wonderful local beers and wine and they serve only fair trade local and organic coffee that can be found being served at their own espresso bar.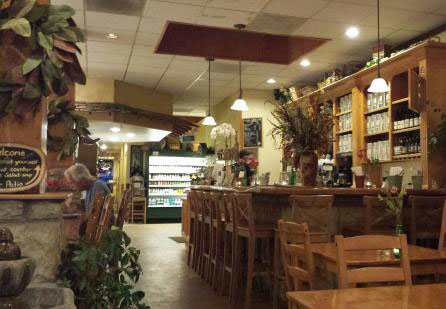 Savoy Cafe & Deli: Simple Design, Relaxed & Kick Back Atmosphere
The atmosphere of this coffee shop, cafe and deli is one that is quite simple in design and it really reflects the very relaxed and kick back attitude of the lifestyle that can be found in the lovely city of Santa Barbara that hugs the shoreline of the Pacific Ocean and sits at the foot of the Santa Barbara mountains. Even the interior of this little cafe and deli is made from wood locally. They also feature a very airy and plant filled patio that is welcoming even to their furry canine visitors.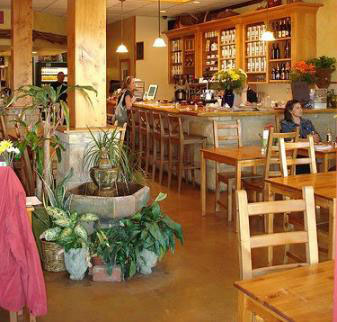 The Savoy Cafe & Deli: Relax. Refresh. Be Restored
Paul and Kathy are extremely passionate as well as committed to providing their guests with superb dining experiences that will really leave you feeling refreshed in all ways. Their motto is "Come just how you are. Relax. Refresh. Be Restored."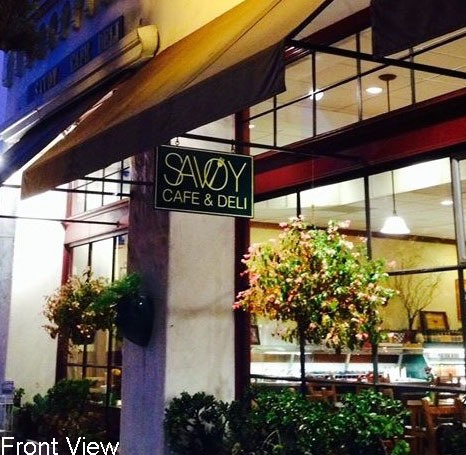 Best Cafe in California Ranked By Locals
Many locals call The Savoy Cafe & Deli the local favorite and that is exactly what the main goal was from the start to be local, keep it local and buy from local vendors. They have become a local favorite because the locals know they care and they have an incredible staff that helps promote this caring feeling.
The Savoy Cafe & Deli: Community Support
Another key thing that helps propel this cafe and deli to the top of our list making them The Best Coffee Shop in California is the fact that the owners of it specifically designed The Savoy Cafe to be a generous business that connects personally with schools, churches, theaters, non-profit organizations and more. They don't think of just their own business but fully support other small businesses in order to make life better for all who live there or visit.
---
The Best Coffee Shop In California Ranked 2017
---
The Savoy Cafe & Deli Menu
This passion filled cafe serves up some great tasting coffee and even greater food, so let's get down to what they have to offer for your taste buds to enjoy.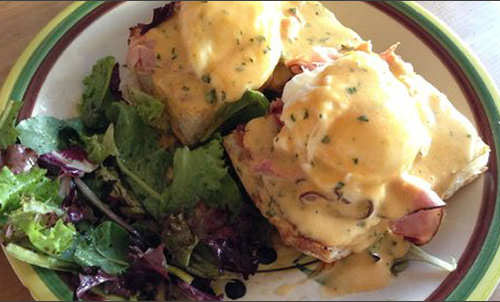 Organic Coffee & Espresso (Single/Double Sizes)
House Coffee – $2.50
Cappuccino – $3.50/$4.50
Latte – $3.75/$4.75
Mocha – $3.95/$4.95
Espresso Shot – $2.50/$3.50
Americano – $2.50/$3.50
Chilled Beverages (Single/Double)
Champagne Mimosa – $5.50
Organic Milk – $3.50/$4.50
Evolution Orange Juice – $3.00/$4.50
Almond Milk – $3.50/$4.50
House Brewed Iced Tea – $2.75
Iced Coffee – $2.50
---
The Savoy Cafe & Deli Breakfast
When it comes to their breakfast, they use only local eggs that are organic, organic potatoes, grains, greens, sunflower oil, local organic vegetables, wild salmon, meats that are hormone free and nitrate free, butter that's organic, coffee and milk that's organic as well as their half and half. Below are some of the locals breakfast menu favorites: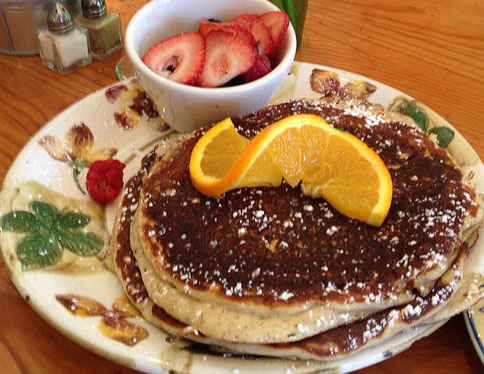 Specialties
Breakfast Burrito (Tortilla filled with homemade pico de gallo, eggs, potatoes, Jack and cheddar cheeses and avocado.) – $8.95
Huevos Rancheros (Fire roasted salsa, Jack cheese, black beans served on crispy organic corn tortillas.) – $12.95
Savoy Eggs Benedict (Served on grilled ciabatta with Black Forest ham, Savoy greens or potatoes with choron sauce.) – $13.95
Butter Poached Wild Salmon (Wild salmon that's seared and poached, 2 eggs, with greens or olive oil potatoes.) – $16.95
Protein Plate (Two eggs, chicken sage sausage or bacon with greens or potatoes and toast.) – $13.95
Vegan Power Bowl (Sauteed kale, broccoli, quinoa, olive oil potatoes and mushrooms.) – $10.95
Scrambles
All come with a choice of greens or olive oil potatoes and campfire toast. Pick from fresh baked breads: sourdough, ciabatta, baguette, rye, or whole wheat.
Turkey Pasilla Scramble (two eggs, turkey, pasilla, Jack cheese.) – $13.95
Garden Scramble (two eggs, spinach, zucchini, tomatoes, mushrooms and Jack cheese.) – $11.95
Spinach Feta Onion Scramble (two eggs, spinach, feta, onions.) – $12.95
From the Griddle
All served with organic maple syrup, butter, powdered sugar with fresh strawberries, blueberries, blackberries and raspberries then dusted with powdered sugar.
Citrus-Dipped French Toast – $10.95 (Gluten free add $1.00)
Gluten Free Flapjacks – $11.95
The Savoy Cafe & Deli Hot & Cold Dishes
The Savoy Cafe & Deli offer a nice variety of over 40 different hot and cold dishes that can be bought individually or even by weight. They can be also paired on their two and three item combo plates. Here are just a few of the local favorites:
Cold Case
Oven Roasted Beet Salad made with spinach and tossed with a maple vinaigrette.
Strawberry Organic Baby Spinach
Classic Greek Salad
Albacore Tuna Cranberry
Chicken Curry Salad
Forbidden Rice Salad
Homemade Quiche of the Day Which Includes:
Quiche Lorraine
Veggie Goat Cheese Quiche
Broccoli and Cheddar Quiche
Hot Chef's Case
Wild Salmon topped with fresh made Pineapple Salsa
Coconut Curry Chicken
Sweet Potatoes au Gratin
Chicken Marsala
Beef Stroganoff
Macaroni and Cheese
Chicken Enchilada
Sandwiches
(Sandwiches are served all day on locally made bread fresh daily) Listed here are a few of the favorites:
Savoy Originals
Lorraines (Served on wheat bread with dijon mustard, avocado, sprouts, cucumber, tomatoe and cheddar cheese.) – $8.50
Gaviota (Served on ciabatta with dijon mustard, house roasted chicken breast with rosemary, Savoy greens, tomato and melted provolone.) – $10.50
Gibraltar (Served on sourdough with sun dried tomato mayo, dijon mustard, lettuce, avocado, tomato, house roasted beef, turkey, bacon and provolone.) – $10.50
Hot Pastrami (All natural pastrami served on grilled rye with melted Swiss cheese, diced pickles, tomatoes, yellow mustard, and Savoy special sauce.) – $9.95
Veggie Wrap (Portabello mushrooms, homemade hummus, spinach tossed in olive oil and lemon juice, roasted red bell pepper, and avocado all in a veggie tortilla wrap.) – $9.95
The Savoy Cafe & Deli Homemade Soups
The Savoy Cafe & Deli also offers their customers a nice choice of homemade soups that are made daily and vary from day to day. Each day they offer four different daily special soups to choose from. Below is just a few of the many they have to offer:
Cup – $4.50      Bowl – $6.50      Quart – $10.95
Fresh Tomato Basil
Fresh Carrot Chipotle
House Roasted Turkey Posole
Fresh Butternut Squash
Black Bean
Barley Split Pea
Corn & Sweet Potato Chowder
House Roasted Chicken Tortilla
---
The Best Coffee Shop In California Ranked 2017
The Savoy Cafe & Deli
---
Bakery
Their bakery section, which is Kathy's favorite is filled with desserts that are all homemade right at the coffee shop each and every day, so you are always guaranteed to find something fresh and delicious to pick from. Below you'll find some special favorites:
Muffins Baked Daily – $2.95
Triple Bran
Pumpkin Streusel
Zucchini Basil
Nut Free Carrot Spice (Gluten Free)
Corn Muffin (Gluten Free)
Cookies Baked Daily – $.99
Chocolate Chip
Granola/Oatmeal Raisin
Peanut Butter
Ginger Molasses
Snicker-doodles
Double Chocolate
Cakes by the Slice – $4.00 – $4.50
Kathy's Carrot Cake
Chocolate Buttermilk Cake
Butter Pecan Coconut Cake
Whole Cakes
Kathy's Carrot Cake (9 x 13) – $32.00
Chocolate Buttermilk (9 x 13) – $30.00
Gluten Free Lemon Poppy Seed – $35.00
Daily Bars – $3.00 – $4.50
Apricot Cranberry Oat Bars
Fresh Lemon Bars
Gluten Free Brownies with Mocha Ganache
White Chocolate Raspberry Bars
Kathy's Killer Krunch Bars
Cupcakes – $3.00 – $3.50
Lemon Cream
Farm Cakes
Vanilla or Chocolate Raspberry
Coconut
Chai Tea
Beet Juice Dyed Red Velvet
Old Fashioned Spice
The Savoy Cafe & Deli: Pies
Pies are 9 inches and serve 6 to 8 – $25.00 – $30.00 By the Slice – $5.00
Dutch Apple with Strudel Oat Crumb Topping
Triple Berry
Pecan Pie
Pumpkin Chai
Gluten Free Blueberry Cream
Pumpkin Pie (Gluten Free, Dairy Free & Sugar Free)
Meringue Pies
They have two great tasting meringue pies that serve 8 to 10 people:
Key Lime in a graham crust with toasted meringue
Fresh Lemon in a graham crust with toasted meringue
Cheesecakes are 10" and serve 10 to 12 – $35.00 – $40.00
Key Lime in a Pecan Crust with Lime Sour Cream Topping
Mom's Traditional Graham Crust with a Sour Cream Topping
Coconut in a Macadamia Nut Crust
White Chocolate Raspberry
Tropical Mango and Lime in a toasted Coconut Graham Crust
Triple Chocolate with Ganache Topping
---
The Savoy Cafe & Deli
Featured On The Food Network
---
How To Find The Best Coffee Shop In California
If you are in the Santa Barbara area and want to check out The Savoy Cafe & Deli and give your taste buds a thrill, here's where you can find out more and where they can be found.
Location & Contact Information
Address: 24 West Figueroa Street, Santa Barbara, CA 93101
Phone: 805-962-6611
Website: http://thesavoycafe.com
Facebook: https://www.facebook.com/SavoyCafe
Instagram: https://instagram.com/savoycafeanddeli/
Hours of Operation
Monday – Saturday open 7:00 am to 9:00 pm
Sundays open 8:00 am to 4:00 pm
---
The Best Coffee Shop In California Ranked – 2017
The Savoy Cafe & Deli
---
Other Attractions In California
After you've checked out our pick for the Best Coffee Shop in California (The Savoy Cafe & Deli), take some time to enjoy all the charm and beauty that Santa Barbara has to offer, especially if it's your first visit. Here are just a few highlights that are well worth checking out:
Santa Barbara County Courthouse – You might laugh at this one but you'd be amazed. This is a beautiful historical building that is a must see if you're a first time visitor. It is a prime example of beautiful Spanish-Moorish architecture that you'll see all over this city. It has beautiful gardens and when you climb up the 85 foot El Mirador clock tower you'll see an amazing view of the entire city and the Pacific Ocean. It's well worth the price – Free!

Mission Santa Barbara – This is considered one of the most beautiful missions of all built in California. It is often called the Queen of Missions because of it's beautiful architecture and it's garden that is a showcase of Spain's agricultural influence on the surrounding landscape, it even still has plants that date back to when the mission was founded in 1786! An absolute must see for any history buff. It's open to visitors daily from 9:00 am to 5:00 pm. Adults $7, Students, Military & Seniors $5 and Kids 5-15 $2.

Beaches – There are three main beaches you should make sure to visit while there. They are Leadbetter Beach, West and East Beaches. Leadbetter has the harbor so you can enjoy the boats and stroll down the beautiful shore and just take in all the beauty of the area.

Santa Barbara Botanic Garden – This is a must see for all nature lovers. Originally began by the monks of the mission this is a huge carefully designed garden that shows the diversity of the plant life of the area and it gives you amazing views of the nearby mountains. The cost is $10.00 for adults. Ask about discounts for children, students and seniors.
---
What To Read Next: