---
Best Coffee Shop In Florida Ranked 2017
We're always looking for places that don't just focus on coffee, although that's very important, but we look for great food and atmosphere as well. Any cafe or coffee shop that combines all of this generally has a good shot at making our best coffee shop list. When it comes to Florida, the one that makes the Best Coffee Shop in Florida Ranked for 2017 would be the Midway Cafe and Coffee Bar. Considered by the locals to be a coffee shop that offers the best coffee in the Florida Keys.
Midway Cafe and Coffee Bar
The Midway Cafe and Coffee Bar was a cafe that was originally owned by someone else, in fact this cafe was owned by current owner Nicole Lindholm's good friend. She and her family use to always go to the Florida Keys year after year for vacations. One of their favorite spots to visit when in the Keys just happened to be the Midway Cafe and Coffee Bar.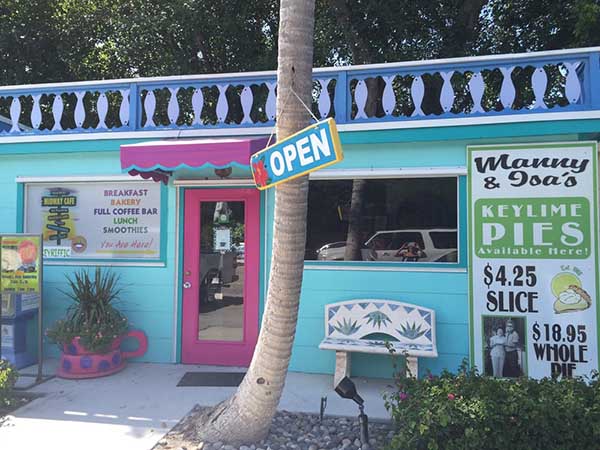 The History Of The Best Coffee Shop In Florida
After vacationing in the Florida Keys for so many years, eight years ago, Nicole and her family decided that since they spent so much time in the Keys anyway, they might as well move there permanently, and that's precisely what they ended up doing.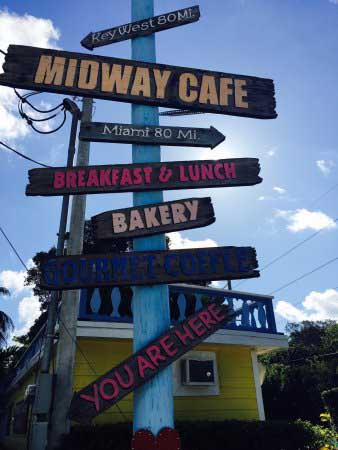 The Beginning of Midway Cafe and Coffee Bar
Once she and her family moved to the area it became apparent that her friend who ran this coffee bar was in need of some help. As soon as Nicole found this out, she didn't want her friend to lose one of the locals favorite spots so, she jumped on board and soon became a permanent part of the Midway Cafe and Coffee Bar team. Soon after she become extremely involved in the coffee bar it wasn't too long after that the kids joined in as well, as youngsters excited to be part of such a unique cafe. Even though her son is now in high school, he still works on the weekends. Her daughter is now attending college but whenever she's home for a visit she goes straight to work at the cafe.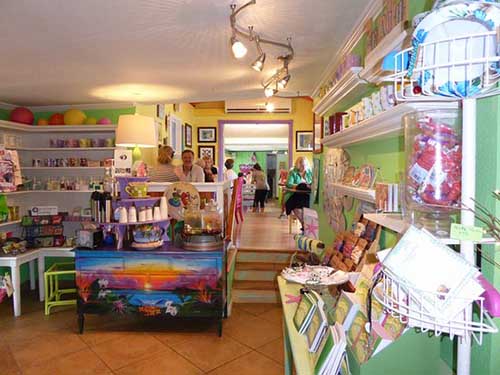 Feel Welcomed & At Home At Midway Cafe & Coffee Bar
The main and most important goal for their coffee bar is to make sure that whenever anyone walks through their doors of their cafe, they feel welcome and at home and are guaranteed great tasting java and incredible food and right smack in the middle of paradise. The feeling of home and togetherness is a big reason why we chose the Midway Cafe and Coffee Bar as the Best Coffee Shop in Florida Ranked for 2017.
Simplicity At It's Core
We also love the simplicity of this cafe because it doesn't try to fool you with over the top décor or chicness like you see in so many "trendy" coffee shops. There's nothing fancy about the outside and nothing fancy about the inside. Instead it has a common man's look and feel with the flair of island life. This is another reason why we felt it was a good choice for the Best Coffee Shop in Florida Ranked for 2017.

The Locals Agree: Midway Cafe and Coffee Bar Is Florida's Best!
The Midway Cafe and Coffee Bar is a huge local favorite in Islamarada but it's also one of the top spots for visitors to visit. A lot of different people from all over come to enjoy the coffee, food and the cozy atmosphere of this little cafe. Many visitors have commented on how the owners of this coffee bar go well above and beyond when it comes to service and making you feel at home. They tend to all agree that the food, bakery items and coffee beverages are just absolutely incredible.




A Tiny Cafe With A Huge Menu To Satisfy Your Hunger
Many customers also have commented on the fact that it might be a tiny little cafe it has a menu that is triple the size of its home style kitchen. To us, this is yet another reason why we believe that the Midway Cafe and Coffee Bar deserves to be considered the Best Coffee Shop in Florida Ranked for 2017.
---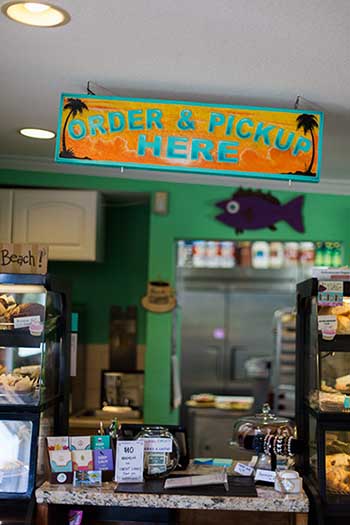 Midway Cafe And Coffee Bar
Menu
---
This coffee bar is a great find for those who stumble upon it when visiting the Florida, Keys. With its menu containing a huge variety of good healthy food and even not so healthy foods it offers a little bit for everyone. Not only do they offer up some wonderful food, they also make sure that their out of town visitors have the opportunity to buy some cute gift items to take back home with them.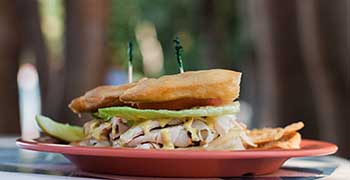 The Midway Cafe and Coffee Bar is a cafe that offers a variety of drinks and wonderful breakfast and lunch items to choose from. With so much variety it helps it be the Best Coffee Shop in Florida Ranked for 2017. There's so much on the menu that we can only show you some of the favorites of those who visit this coffee bar.
---
Breakfast – Eggs
House Favorite – Egg Pita (Warm pita stuffed with scrambled eggs, spinach, tomatoes, mozzarella or goat cheese) – $5.29 w/bacon or ham add $1.49 w/roasted potatoes add $1.99
Breakfast Burrito (Flour tortilla filled with two scrambled eggs, fresh made salsa, roasted potatoes, pepper jack cheese and choice of bacon or ham) – $8.79
Egg & Brie Sandwich (Two eggs over easy, brie, bacon topped with homemade raspberry honey sauce served on white bread) – $9.49
Skillet Your Way (Roasted diced red potatoes sauteed with three of favorite ingredients listed here: two scrambled eggs topped with melted cheddar cheese, fresh sauteed spinach, mushrooms, tomatoes, ham, bacon, red onions, turkey, roasted red peppers, green peppers, or black beans) – $9.25
They also serve a variety of omelets that come with a variety of choices to fill them with and their prices range from $7.99 to $9.49. They also make their own 7-Grain Wheat Bread and White Bread.

---
Lunch Menu
Their lunch menus is one that offers some absolutely delicious sandwiches and wraps that help make the Midway Cafe and Coffee Bar our choice for the Best Coffee Shop in Florida Ranked for 2017. Here are just a few of the delicious choices you can choose from:
Sandwiches (All sandwiches and wraps are served with pickles and seasoned homemade/baked pita chips.)
Holy Cow – A Killer Sandwich (roast beef with mozzarella and caramelized onions and garlic and their Midway special sauce and choice of bread served hot or cold) – $10.99
Staff of Life (open faced sandwich with melted cheddar cheese, tangy hummus topped with onions, green peppers, mushrooms, black olives and spinach placed in warm pita bread) – $7.99
Black Bean Garden Burger (all veggie burger with pepper jack cheese, lettuce and tomato on a fresh ciabatta roll) – $8.99
---
Wraps
Wraps (choice of wheat or white served with pickle and seasoned homemade/baked pita chips)
Santa Fe (jerked chicken, roasted red peppers, pepper jack cheese, caramelized onions and garlic with seasoned rice and splashed with house vinaigrette) – $9.99
Hot Veggie Wrap (roasted red and green peppers, tomatoes, caramelized onions and garlic, spinach and goat cheese) – $9.99
Grilled Chicken Wrap (chicken topped with bacon, avocado, tomato and mozzarella cheese) – $9.99
This coffee bar doesn't ignore the fact that people are individuals and might not always like what there is to offer. So, they also give you the choice to create your own sandwich or wrap starting at $8.95 where you can pick the kind of meat, cheese, veggies, and breads.
---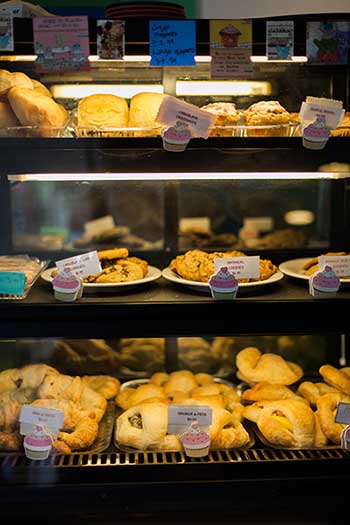 ---
Salads
For those coming to this cafe looking for something lighter than sandwiches and wraps you won't be disappointed with the salads they have to offer as well. Here's just a tease from their menu:
Greek Salad (mixed greens, tomatoes, cucumbers, olives, onions, stuffed grape leaves and feta cheese topped with Greek dressing) – $8.99
Cranberry & Walnut Salad (organic baby spring greens, bleu cheese crumbles, walnuts, dried cranberries topped with their house dressing) – $8.99
Savory Albacore Tuna (their own tuna salad served on a fresh bed of spring greens with baby heirloom tomatoes, red onions, and topped off with a sprig of fresh parsley with choice of dressing) – $10.99

---
Coffee
If you are just looking for some great tasting coffee drinks the Midway Cafe and Coffee Bar offers a full on coffee bar which is another reason why it make the Best Coffee Shop in Florida Ranked for 2017. Here are just a few items you'll have the pleasure of choosing from:
Espresso – $2.00, $3.00 & $4.00
Cafe Con Leche – $3.75, $4.75 & $5.75
Cappuccinos – $3.75, $4.75 & $5.75
Cafe Breve – $4.25, $5.25 & $6.25
Cafe White Mocha – $4.45, $5.45 & $6.45
Espresso Macchiato – $2.35, $3.35 & $4.35
Iced Latte – $3.75, $4.75 & $5.75
Almond Joy (hot or cold) – $4.45, $5.45 & $6.45
Cafe Viennese (hot or cold) – $4.45, $5.45, & $6.45
---
Teas, Smoothies & Blended Frappes
This coffee bar also serves a variety of teas, smoothies, and blended frappes. The Midway Cafe and Coffee Bar wants to make sure that they have something for everyone when they stop by to visit and as you can see, they pretty much have accomplished that as a great local cafe making them the Best Coffee Shop in Florida Ranked for 2017.
---
Catering
Another great service this cafe offers is catering, another plus that place it on our list the Best Coffee Shop in Florida Ranked for 2017. They cater anything from weddings to brunches and even will cater fishing lunches for all those local fishermen out there. They not only offer foods off their daily menu but they also have a pretty extensive bakery menu that includes all types of fresh baked items like muffins, croissants, scones, quiches and their delicious Key Lime Pie!
---
The Best Coffee Shop In Florida Ranked 2017
---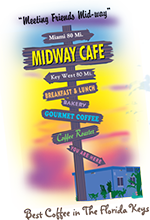 Location & Contact Info
If you've never been to the Midway Cafe and Coffee Bar and want to check it out why we feel it's the Best Coffee Shop in Florida Ranked for 2017, here's there information:
Address: 80499 Overseas Hwy, Islamorada, FL 33036-3775
Phone: 305-664-2622
Email: nicole@ricklindholm.com
Website: http://midwaycafecoffeebar.com/
Facebook: https://www.facebook.com/MidwayCafeCoffee?ref=br_tf
Hours of Operation
Monday through Saturday: 7:00 am to 3:00 pm
Sunday: 7:00 am to 2:00 pm
---
Other Attractions Near Midway Cafe
When visiting, you'll also be happy to know that there are tons of things to do and see in Islamorada, Florida. This quaint and beautiful area is only 20 miles long and barely 150 feet wide in some places. But it's wonderful to see. There's a legend that the area was named by some Spanish explorers because of the purple sky they saw at sunset so they called it "isla morado" "the purple island". Here are just a few things you might want to check out while visiting:
Windley Key Fossil Reef Geological State Park – This is a park that is made up of an exposed coral reef that was once the site for a quarry that constructed the Key West extension for the Florida East Coast Railway. It has a center that documents the park and the history of the area. They also have self-guided nature trails that go through beautiful mangrove hammocks.
Long Key State Park – Also called "Cay Vivora" or Rattlesnake Key because the shape looks much like a snake that has its jaws open. You can explore this little island in canoes and go through a chain of different lagoons or you can hike two trails on land. Its Golden Orb Trail is one that leads hikers through five natural communities of the island and there's an observation tower where you can see incredible views of the entire island.

Florida Keys History of Diving Museum – If you are a diver or just have an interest in it you'll want to visit this interesting museum. It has a special gallery that features different artifacts and recovery tools that were once used by the pioneer treasure hunter Art McKee. It also has a display of historic diving helmets from 25 different countries. This museum actually has the world's biggest collection of historic diving equipment that can be traced back 3,000 years.
Anne's Beach & Islamorada Library Beach – If you want to spend a relaxing day on the beach make sure you pack a picnic and head to one of these two beaches. Anne's Beach is situated on the roadside and is a really popular place to picnic, enjoy basking in the sun and lots of swimming. There's a nice boardwalk that takes you through mangroves and leads you to two nice sandy spots with covered picnic areas. Islamorada Library Beach is a little more hidden but it too has great picnic facilities.
---
WHAT TO READ NEXT:
The Best Coffee Shop In Every State Ranked 2017
The Best Coffee Shop In Every State Ranked 2016
The Best Home & Office Coffee Makers Reviewed